The employees you support demand the productivity and ease-of-use that tablets deliver. Early tablet adoption has cost IT due to lack of manageability and a significant risk to the overall business, because consumer tablets are not designed to meet the security needs of today's corporations and public institutions.

Now, business leaders never have to make the choice between the user experience and IT needs again.

Tablets running Windows 8.1 with Intel processors give your-end users the freedom of a tablet that can fully replace their desktops or notebooks, or function as a companion device that serves a specific task. Dell's portfolio of tablets can offer your organization meaningful flexibility and choice, allowing you to easily connect, access, and share in the way that is most natural for you – all supported by a full ecosystem of peripherals and services to make transitioning to tablets easy.

Register for this video discussion to learn how tablets can provide:
True business usability and productivity
Easy application access
Best in class security and manageability
Rob Orlando, Dell, End User Computing Field Marketing Manager – Federal Govt
Andrew Vanderploeg, Dell, End User Computing Field Marketing Manager – Large Institutions
Rob and Andrew are Field Marketing Managers for Dell's End User Computing (EUC) domain. In their roles, they meet with customers on a daily basis to discuss their EUC challenges and projects to address the unique requirements associated with client computing in today's fast-paced mobile world. This includes meetings in Dell's Executive Briefing Center, one-to-one and one-to-many conversations, and hosting road shows, webcasts, and industry events. They are both based in Austin, Texas.
If you are already a registered user of Enterprise Efficiency, please login to access this content without re-entering your information.
Latest Archived Broadcast
We talk with Bernard Golden about accelerating application delivery in the cloud.
On-demand Video with Chat
Register for this video discussion to learn how tablets can provide true business usability and productivity.
Why PowerShell Is Important
Reduce the Windows 8 Footprint for VDI
Rethinking Storage Management
SQL Server : 240 To de mémoire flash pour votre data warehouse
Quand Office vient booster les revenus Cloud et Android de Microsoft
Windows Phone : Nokia veut davantage d'applications (et les utilisateurs aussi)
Cloud Computing: Warum Unternehmen trotz NSA auf die "private" Wolke setzen sollten
Cloud Computing bleibt Wachstumsmarkt – Windows Azure ist Vorreiter
Enterprise Efficiency is looking for engaged readers to moderate the message boards on this site. Engage in high-IQ conversations with IT industry leaders; earn kudos and perks. Interested? E-mail:
[email protected]
Dell's Efficiency Modeling Tool

The major problem facing the CIO is how to measure the effectiveness of the IT department. Learn how Dell's Efficiency Modeling Tool gives the CIO two clear, powerful numbers: Efficiency Quotient and Impact Quotient. These numbers can be transforma¬tive not only to the department, but to the entire enterprise.
Read the full report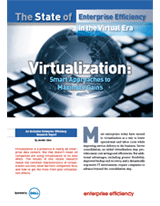 The State of Enterprise Efficiency in the Virtual Era: Virtualization – Smart Approaches to Maximize Gains

Virtualization is a presence in nearly all enterprise data centers. But not all companies are using it to its best effect. Learn the common characteristics of success, what barriers companies face, and how to get the most from your efforts.
Read the full report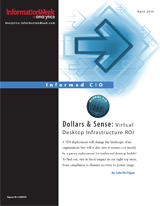 Informed CIO: Dollars & Sense: Virtual Desktop Infrastructure

Cut through the VDI hype and get the full picture -- including ROI and the impact on your Data Center -- to make an informed decision about your virtual desktop infrastructure deployments.
Read the full report