DATENSCHUTZERKLÄRUNG
gültig ab … März 2011
GELTUNGSBEREICH
Die Datenschutzerklärung findet auf diese Webseite Anwendung, die von United Business Media LLC betrieben wird. Sie regelt unsere Nutzung Ihrer personenbezogenen Daten, die von unseren Servern in den USA erhoben werden.
PERSONENBEZOGENE DATEN
Wir erheben Informationen, die Sie uns zur Verfügung stellen, beispielsweise wenn Sie sich auf unserer Webseite registrieren, Inhalte auf der Webseite veröffentlichen, Dienstleistungen anfragen oder an Umfragen teilnehmen.
Wir fügen möglicherweise Informationen aus anderen Quellen hinzu.
Wir verwenden allgemeine Internettechnologien, z. B. Cookies oder Webbeacons, auf unserer Webseite sowie in unseren Emails.
Unsere Logserver erheben IP-Adressen. Wir verknüpfen Ihre IP-Adresse nicht mit anderen Informationen, um Sie zu identifizieren, es sei denn, dies dient dazu, Missbrauch unserer Dienstleistungen oder anderes Fehlverhalten zu untersuchen.
DATENNUTZUNG
Wir nutzen Ihre persönlichen Daten
um die von Ihnen angefragten Produkte und Dienstleistungen zur Verfügung zu stellen, Ihren Account zu verwalten sowie um Sie über Änderungen unserer Dienstleistungen zu informieren,
um Sie, im Fall Ihrer Einwilligung, über andere Produkte und Dienstleistungen zu informieren, die für Sie interessant sein könnten,
um Ihnen die Möglichkeit zu geben, sich für unterstützte Inhalte (sponsored content) zu registrieren und direkt mit anderen Unternehmen in Verbindung zu treten, sowie
um die Webseite den Bedürfnissen unserer Nutzer anzupassen und sie dadurch zu verbessern.
IHRE MÖGLICHKEITEN
Der Einwilligung zur Nutzung Ihrer personenbezogenen Daten zu Werbezwecken können Sie jederzeit mit Wirkung für die Zukunft widersprechen. Verwenden Sie hierzu bitte den Opt-out Link am Ende der jeweiligen Marketingemail.
Ihre personenbezogenen Daten werden nur dann an andere Unternehmen weitergegeben, wenn Sie hierin eingewilligt haben.
Durch die Nutzung unserer Webseite, willigen Sie in die Speicherung von Cookies, Webbeacons sowie weiteren Dateien auf Ihrem Computer durch uns ein.

Um den Funktionsumfang unserer Webseite zu erweitern und die Nutzung für Sie komfortabler zu machen, verwenden wir sogenannte Cookies. Diese erlauben es beispielsweise dem Nutzer, sich auf der Webseite ohne wiederholte Eingabe des Passworts anzumelden. Ebenso ermöglichen sie uns die Webseite zu personalisieren und zu verwalten, um ihren Funktionsumfang zu erweitern und Trends zu analysieren. Zusätzlich nutzen wir Cookies um Sie über Produktempfehlungen sowie spezielle Angebote zu informieren, die für Sie von Interesse sein könnten. Wir verfügen nicht über Zugriff und Kontrolle über die von unseren Werbungsbetreibenden und Geschäftspartnern verwendeten Cookies und anderen Anwendungen auf unserer Webseite.
Sie haben die Möglichkeit das Abspeichern von Cookies auf Ihrem Rechner durch entsprechende Einstellungen in Ihrem Internetbrowser zu verhindern. Sie können der Verwendung der Cookies, die wir nutzen um Sie auf unserer Webseite zu erkennen widersprechen, in dem Sie auf einer jeden Seite auf "Logout" klicken und den Anweisungen dort folgen (opt-out).
WICHTIGE INFORMATIONEN
Wir erheben und verarbeiten Daten auf unseren weltweit aufstellten Servern, wobei wir von Dritten unterstützt werden. Die von uns erhobenen Daten werden außerhalb des Europäischen Wirtschafsraums (EWR) übermittelt, verarbeitet und gespeichert, einschließlich auf unseren Servern in den USA. Durch die Eingabe Ihrer personenbezogenen Daten oder durch die Nutzung unserer Webseite, willigen Sie in diese Übermittlung, Verarbeitung sowie Speicherung Ihrer Daten ein.
Wir führen angemessene technische und organisatorische Maßnahmen durch um Ihre personenbezogenen Daten zu schützen und verpflichten unsere Vertragspartner, die uns bei dem Betrieb unserer Systeme unterstützen, Ihre Daten ebenfalls in Übereinstimmung mit dieser Datenschutzerklärung zu schützen. Unsere Vertragspartner nutzen Ihre personenbezogenen Daten ausschließlich für die Erfüllung der Dienstleistungen, die sie für uns erbringen.
Diese Datenschutzerklärung regelt unsere Nutzung Ihrer personenbezogenen Daten. Wir können nicht kontrollieren, wie Dritte Informationennutzen, die Sie veröffentlichen oder freiwillig online offenlegen.
Änderungen dieser Datenschutzerklärung teilen wir zehn (10) Tage vor Inkrafttreten mit. Bitte prüfen Sie diese Seite regelmäßig. Durch Ihre fortgesetzte Inanspruchnahme unserer Produkte und Dienstleistungen, die durch diese Datenschutzerklärung abgedeckt sind, willigen Sie in unsere zum jeweiligen Zeitpunkt gültigen Bedingungen ein.
Wir empfehlen Ihnen, Ihre personenbezogenen Daten regelmäßig zu aktualisieren, um Ihre Daten fehlerfrei und aktuell zu halten. Um Ihren Account zu verwalten und Ihre Daten zu aktualisieren, können Sie die Webseiten-Funktionen nutzen. Alternativ können Sie uns per Email oder über die unten aufgeführte Anschrift kontaktieren, um Ihre personenbezogenen Daten zu aktualisieren, Informationen über die von Ihnen bei uns gespeicherten Daten zu erhalten sowie um Ihre Daten löschen zu lassen. Bitte geben Sie zur Bearbeitung Ihrer Anfrage Ihren Namen, Ihre Anschrift sowie Ihre Emailadresse an, damit wir überprüfen können, ob wir personenbezogene von Ihnen gespeichert haben.
KONTAKTINFORMATIONEN
Bei Fragen zu unserem Datenschutz wenden Sie sich bitte an: [email protected] oder an Privacy, United Business Media LLC, 600 Community Drive, Manhasset, New York 11030, USA.


The blogs and comments posted on EnterpriseEfficiency.com do not reflect the views of TechWeb, EnterpriseEfficiency.com, or its sponsors. EnterpriseEfficiency.com, TechWeb, and its sponsors do not assume responsibility for any comments, claims, or opinions made by authors and bloggers. They are no substitute for your own research and should not be relied upon for trading or any other purpose.


Latest Archived Broadcast
We talk with Bernard Golden about accelerating application delivery in the cloud.
On-demand Video with Chat
Register for this video discussion to learn how tablets can provide true business usability and productivity.
Why PowerShell Is Important
Reduce the Windows 8 Footprint for VDI
Rethinking Storage Management
SQL Server : 240 To de mémoire flash pour votre data warehouse
Quand Office vient booster les revenus Cloud et Android de Microsoft
Windows Phone : Nokia veut davantage d'applications (et les utilisateurs aussi)
Cloud Computing: Warum Unternehmen trotz NSA auf die "private" Wolke setzen sollten
Cloud Computing bleibt Wachstumsmarkt – Windows Azure ist Vorreiter
Enterprise Efficiency is looking for engaged readers to moderate the message boards on this site. Engage in high-IQ conversations with IT industry leaders; earn kudos and perks. Interested? E-mail:
[email protected]
Dell's Efficiency Modeling Tool

The major problem facing the CIO is how to measure the effectiveness of the IT department. Learn how Dell's Efficiency Modeling Tool gives the CIO two clear, powerful numbers: Efficiency Quotient and Impact Quotient. These numbers can be transforma¬tive not only to the department, but to the entire enterprise.
Read the full report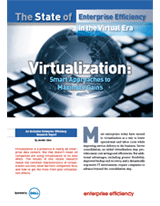 The State of Enterprise Efficiency in the Virtual Era: Virtualization – Smart Approaches to Maximize Gains

Virtualization is a presence in nearly all enterprise data centers. But not all companies are using it to its best effect. Learn the common characteristics of success, what barriers companies face, and how to get the most from your efforts.
Read the full report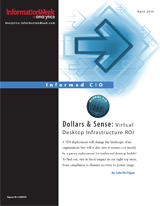 Informed CIO: Dollars & Sense: Virtual Desktop Infrastructure

Cut through the VDI hype and get the full picture -- including ROI and the impact on your Data Center -- to make an informed decision about your virtual desktop infrastructure deployments.
Read the full report