Susan Nunziata, Director of Editorial | 5/20/2014 |
95 comments
InformationWeek 2014 US IT Salary Survey, released May 19, to see how your compensation stacks up.

This far-reaching survey polled more than 11,000 respondents in all walks of IT life -- from admins and developers to C-level executives. The survey results are broken up into a series of reports on InformationWeek.com. There's a wealth of valuable information here for those looking to hire as well as for those who are looking to advance their own careers.

For today, though, I'm looking only at one slice of the results: IT executives.

In this category, the survey received responses from 328 CIOs, 239 CTOs, and 447 VPs of IT. What interests me most is what the survey reveals about median compensation for IT executives "of a certain age" and for females in these leadership roles. Let's start with the basics: How much do IT leaders earn? The table below shows median compensation levels for each job title over the past three years.

Table 1: Median Total Cash Compensation*

| | | | |
| --- | --- | --- | --- |
| Title | 2014 | 2013 | 2012 |
| CIO | $163,000 | $167,000 | $161,000 |
| CTO | $131,000 | $148,000 | $129,000 |
| VP of IT | $163,000 | $170,000 | $156,000 |
Pinpointing a single median salary is challenging, according to the report, because of the sheer number of industries and company sizes covered:
The median total cash compensation — $163,000 for CIOs and VPs of IT and $131,000 for CTOs — hides a big spread industry to industry, and within sectors. Among consulting and business services, one of the largest groups in our survey, base salaries range from $25,000 to $400,000. We saw similar disparity among IT vendors, financial services firms, and government and education.
With that caveat in mind, the report does reveal some good news for IT executives aged 46 to 55; survey respondents in this age group were the best compensated among their peers.
This lines up with the median number of years respondents have served in IT: 22 for CIOs, 21 for CTOs, and 20 for VPs of IT. The survey results also belie the myth that CIO jobs are short-term positions; the median amount of time respondents have been with their current companies is seven years. In addition, the vast majority of CIO respondents (73 percent) have worked at only one or two companies in the past 10 years.
Table 2: Annual Median Base Salary by Age

| | | | | |
| --- | --- | --- | --- | --- |
| Title | 26-35* | 36-45 | 46-55 | Over 55 |
| CIO | $118,000 | $121,000 | $175,000 | $157,000 |
| CTO | $90,000 | $120,000 | $134,000 | $135,000 |
| VP of IT | $112,000 | $140,000 | $153,000 | $138,000 |
When it comes to gender, median total compensation for male respondents is $25,000 higher than for females. According to the report, median total compensation for the 997 male IT executives responding to this survey was $160,000, compared with $135,000 for the 101 female respondents. Among VPs of IT, male respondents earn $139,000 compared with the $125,000 earned by their female counterparts.
Table 3: Annual Median Base Salary by Gender

| | | |
| --- | --- | --- |
| Title | Male | Female |
| CIO | $143,000 | $130,000 |
| CTO | $145,000 | $133,000 |
| VP of IT | $139,000 | $125,000 |
We'll be covering additional highlights from the InformationWeek 2014 US IT Salary Survey in the weeks ahead. Meanwhile, tell us what you think. Are these results going to send you rushing into the executive offices demanding a pay raise? Or do these median salaries help you feel better about how you're compensated in your own career? Tell us about it in the comments field below.


The blogs and comments posted on EnterpriseEfficiency.com do not reflect the views of TechWeb, EnterpriseEfficiency.com, or its sponsors. EnterpriseEfficiency.com, TechWeb, and its sponsors do not assume responsibility for any comments, claims, or opinions made by authors and bloggers. They are no substitute for your own research and should not be relied upon for trading or any other purpose.


More Blogs from Susan Nunziata
Susan Nunziata 5/28/2014
111 comments
For more than four years, EnterpriseEfficiency.com (E2) has been the best IT community on the Internet. As with all good things, soon our time together here will end.
Susan Nunziata 4/14/2014
15 comments
If you're looking for more than conjecture to back up the point that IT is increasingly crucial to the business, you'll find what you need in the report "The Gartner CEO and Senior ...
Susan Nunziata 4/7/2014
3 comments
Do you know what your CEO really wants from your IT team? Do you have a grasp of what matters most to your organization's chief marketing officer?
Susan Nunziata 4/1/2014
9 comments
There are plenty of challenges involved in leading an IT organization in the era of Bring Your Own Everything (BYOE), but there are also plenty of opportunities.
Latest Archived Broadcast
We talk with Bernard Golden about accelerating application delivery in the cloud.
On-demand Video with Chat
Register for this video discussion to learn how tablets can provide true business usability and productivity.
Why PowerShell Is Important
Reduce the Windows 8 Footprint for VDI
Rethinking Storage Management
SQL Server : 240 To de mémoire flash pour votre data warehouse
Quand Office vient booster les revenus Cloud et Android de Microsoft
Windows Phone : Nokia veut davantage d'applications (et les utilisateurs aussi)
Cloud Computing: Warum Unternehmen trotz NSA auf die "private" Wolke setzen sollten
Cloud Computing bleibt Wachstumsmarkt – Windows Azure ist Vorreiter
Enterprise Efficiency is looking for engaged readers to moderate the message boards on this site. Engage in high-IQ conversations with IT industry leaders; earn kudos and perks. Interested? E-mail:
[email protected]
Dell's Efficiency Modeling Tool

The major problem facing the CIO is how to measure the effectiveness of the IT department. Learn how Dell's Efficiency Modeling Tool gives the CIO two clear, powerful numbers: Efficiency Quotient and Impact Quotient. These numbers can be transforma¬tive not only to the department, but to the entire enterprise.
Read the full report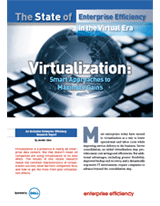 The State of Enterprise Efficiency in the Virtual Era: Virtualization – Smart Approaches to Maximize Gains

Virtualization is a presence in nearly all enterprise data centers. But not all companies are using it to its best effect. Learn the common characteristics of success, what barriers companies face, and how to get the most from your efforts.
Read the full report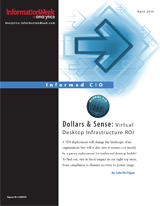 Informed CIO: Dollars & Sense: Virtual Desktop Infrastructure

Cut through the VDI hype and get the full picture -- including ROI and the impact on your Data Center -- to make an informed decision about your virtual desktop infrastructure deployments.
Read the full report