Susan Nunziata, Director of Editorial | 2/24/2014 |
61 comments
Top 10 mobile technologies and capabilities that enterprises need for 2015 and 2016," set a pretty clear roadmap for where we need to go. On the one hand, I have conversations on a weekly basis with CIOs, IT executives, and others in the EnterpriseEfficiency.com community about the day-to-day challenges of bring-your-own-device, mobility management, and setting coherent policies to ensure secure use of mobility in the enterprise. What I call "scratching the surface."

On the other hand, I see forward-looking reports that present a very big-picture view of enterprise mobility. This big-picture view takes into account not just the devices and the applications on them, but the user interface, the cellular and wireless networks on which they depend, and the growing scope of mobile data.

At this point, most enterprises I've seen haven't even come close to hitting on three, let alone all 10, of Gartner's top 10. Here's what every CIO needs to know about mobile technology and capabilities for 2015 and beyond, according to a February 24 statement from Nick Jones, distinguished analyst at Gartner:
Multiplatform/multiarchitecture application development: Most organizations will need application development tools to support a "3 x 3" future -- three key platforms (Android, iOS, and Windows) and three application architectures (native, hybrid, and mobile web).
HTML5: Despite many challenges, HTML5 will be an essential technology for organizations delivering applications across multiple platforms.
Advanced mobile user experience design: Leading consumer apps are setting high standards for user interface design, and all organizations must master new skills and work with new partners to meet growing user expectations.
High-precision location sensing: Precise indoor location sensing, combined with mobile apps, will enable a new generation of extremely personalized services and information.
Wearable devices: The smartphone will become the hub of a personal-area network consisting of wearable gadgets such as on-body healthcare sensors, smart jewelry, smart watches, display devices (like Google Glass), and a variety of sensors embedded in clothes and shoes.
New WiFi standards: The opportunities enabled by new standards and the performance required by new applications will require many organizations to revise or replace their WiFi infrastructure.
Enterprise mobile management: "Enterprise mobile management" or "EMM" is a term that describes the future evolution and convergence of several mobile management, security, and support technologies. These include mobile device management, mobile application management, application wrapping and containerization, and some elements of enterprise file synchronization and sharing.
Mobile-connected smart objects: Smartphones and tablets will perform many functions, including acting as remote controls, displaying and analyzing information, interfacing with social networks to monitor "things" that can tweet or post, paying for subscription services, ordering replacement consumables, and updating object firmware.
LTE and LTE-A: Long Term Evolution (LTE) and its successor LTE Advanced (LTE-A) are cellular technologies that improve spectral efficiency and will push cellular networks to theoretical peak downlink speeds of up to 1 Gbps, while reducing latency.
Metrics and monitoring tools: Mobile metrics and monitoring tools, often known as application performance monitoring (APM), provide visibility into app behavior, deliver statistics about which devices and OSs are adopted, and monitor user behavior to determine which app features are being successfully exploited.
Where does your organization stand when it comes to these 10? How far along are you with any of these? Which ones do you find most challenging? Tell us about it in the comments field below.
— Susan Nunziata,
, Director of Editorial, EnterpriseEfficiency.com
Related posts:


The blogs and comments posted on EnterpriseEfficiency.com do not reflect the views of TechWeb, EnterpriseEfficiency.com, or its sponsors. EnterpriseEfficiency.com, TechWeb, and its sponsors do not assume responsibility for any comments, claims, or opinions made by authors and bloggers. They are no substitute for your own research and should not be relied upon for trading or any other purpose.


More Blogs from Susan Nunziata
Susan Nunziata 5/28/2014
111 comments
For more than four years, EnterpriseEfficiency.com (E2) has been the best IT community on the Internet. As with all good things, soon our time together here will end.
Susan Nunziata 5/20/2014
95 comments
Is it time to ask for a raise? If you're a female IT executive, or more than 55 years old, your answer might well be a resounding "Yes!" Let's take a look at highlights of the ...
Susan Nunziata 4/14/2014
15 comments
If you're looking for more than conjecture to back up the point that IT is increasingly crucial to the business, you'll find what you need in the report "The Gartner CEO and Senior ...
Susan Nunziata 4/7/2014
3 comments
Do you know what your CEO really wants from your IT team? Do you have a grasp of what matters most to your organization's chief marketing officer?
Susan Nunziata 4/1/2014
9 comments
There are plenty of challenges involved in leading an IT organization in the era of Bring Your Own Everything (BYOE), but there are also plenty of opportunities.
Latest Archived Broadcast
We talk with Bernard Golden about accelerating application delivery in the cloud.
On-demand Video with Chat
Register for this video discussion to learn how tablets can provide true business usability and productivity.
Why PowerShell Is Important
Reduce the Windows 8 Footprint for VDI
Rethinking Storage Management
SQL Server : 240 To de mémoire flash pour votre data warehouse
Quand Office vient booster les revenus Cloud et Android de Microsoft
Windows Phone : Nokia veut davantage d'applications (et les utilisateurs aussi)
Cloud Computing: Warum Unternehmen trotz NSA auf die "private" Wolke setzen sollten
Cloud Computing bleibt Wachstumsmarkt – Windows Azure ist Vorreiter
Enterprise Efficiency is looking for engaged readers to moderate the message boards on this site. Engage in high-IQ conversations with IT industry leaders; earn kudos and perks. Interested? E-mail:
[email protected]
Dell's Efficiency Modeling Tool

The major problem facing the CIO is how to measure the effectiveness of the IT department. Learn how Dell's Efficiency Modeling Tool gives the CIO two clear, powerful numbers: Efficiency Quotient and Impact Quotient. These numbers can be transforma¬tive not only to the department, but to the entire enterprise.
Read the full report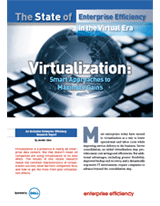 The State of Enterprise Efficiency in the Virtual Era: Virtualization – Smart Approaches to Maximize Gains

Virtualization is a presence in nearly all enterprise data centers. But not all companies are using it to its best effect. Learn the common characteristics of success, what barriers companies face, and how to get the most from your efforts.
Read the full report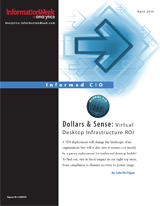 Informed CIO: Dollars & Sense: Virtual Desktop Infrastructure

Cut through the VDI hype and get the full picture -- including ROI and the impact on your Data Center -- to make an informed decision about your virtual desktop infrastructure deployments.
Read the full report