Michael Beck, Executive Coach & Business Strategist | 6/29/2012 |
120 comments
After reflecting on why this is so, I've distilled the reasons down to a few key issues. Though a good CIO is well versed in the technologies necessary to help the company succeed and understands how to help the team be productive, that's not quite enough to qualify that person for the top position.
For starters, a future CEO needs to be involved in all aspects of the business. You don't need to be an expert in all areas, but you do need to display some degree of business savvy in each area of the company, including finance, operations, sales, and marketing. Being knowledgeable in IT is important, but technology is just a tool for those disciplines -- not the means. Additionally, CIOs typically are analytical by nature, but a future CEO needs a high degree of emotional intelligence. You need to spend time developing people skills and leadership competencies to be able to lead a diverse team of professionals.
A good CEO also needs to be an excellent communicator, both internally (within the company) and externally (with clients, investors, and the community). Along the way, the CEO becomes a competent public speaker and a spokesperson for the company.
Finally, a CEO must have a vision for the company as a whole, not just for one department or another. You need to see the bigger picture, anticipate changes in the market, and learn to communicate that vision in a manner that inspires your team.
What can you do as a CIO to establish yourself as a candidate for the CEO spot? Here are some steps to take.
Enhance your emotional intelligence competencies. Take a 360-degree assessment, identify your areas of strength, and work to improve weaker competencies. Once your competencies are solid, practice using them throughout the organization to gain visibility.
Hone your public speaking skills. If you're not already an accomplished public speaker, join a Toastmasters club to refine your proficiencies. [Editor's Note: Or contact the editors of this site about joining us as a guest on our live shows.] Practice improving your presentation skills at every opportunity.
Become a student of sales, marketing, finance, and operations. Top executives are perpetual students. Spend time talking to individuals outside your department to learn as much as you can about what they do, how they do it, and the challenges they face.
Technology is finding its way into every part of the business. CIOs need to know more about the rest of the company than ever before. That makes it more realistic than ever that we will see CIOs take the big chair. By expanding your knowledge, your competencies, and your visibility, you'll position yourself as someone capable of standing at the helm of your organization. And you will place yourself at the top of the short list of CEO candidates.


The blogs and comments posted on EnterpriseEfficiency.com do not reflect the views of TechWeb, EnterpriseEfficiency.com, or its sponsors. EnterpriseEfficiency.com, TechWeb, and its sponsors do not assume responsibility for any comments, claims, or opinions made by authors and bloggers. They are no substitute for your own research and should not be relied upon for trading or any other purpose.


More Blogs from Michael Beck
Michael Beck 10/7/2013
26 comments
Transitioning from director to CIO means moving from a role as manager to one of leader. And although logically we all know that, the realities of what that means are a different story.
Michael Beck 9/25/2013
103 comments
What do Delta Airlines, Wal-Mart, MGM Resorts, Raytheon, and Walt Disney have in common? In 2012, they all had female CIOs.
Michael Beck 9/18/2013
27 comments
CIOs are like carpenters. Not literally, of course (although I know we'd often like to take a hammer to some of our equipment), but there are quite a few similarities.
Michael Beck 8/1/2013
27 comments
Most people hate meetings. They think they are a waste of time. And yet most of us spend a great deal of our time in meetings. If we think they're such a waste of time, why do we spend so ...
Michael Beck 7/11/2013
66 comments
Everyone talks about the importance of having integrity, but most people confuse being honest with having integrity. It's true that if you have integrity, you're honest, but just because ...
Latest Archived Broadcast
We talk with Bernard Golden about accelerating application delivery in the cloud.
On-demand Video with Chat
Register for this video discussion to learn how tablets can provide true business usability and productivity.
Why PowerShell Is Important
Reduce the Windows 8 Footprint for VDI
Rethinking Storage Management
SQL Server : 240 To de mémoire flash pour votre data warehouse
Quand Office vient booster les revenus Cloud et Android de Microsoft
Windows Phone : Nokia veut davantage d'applications (et les utilisateurs aussi)
Cloud Computing: Warum Unternehmen trotz NSA auf die "private" Wolke setzen sollten
Cloud Computing bleibt Wachstumsmarkt – Windows Azure ist Vorreiter
Enterprise Efficiency is looking for engaged readers to moderate the message boards on this site. Engage in high-IQ conversations with IT industry leaders; earn kudos and perks. Interested? E-mail:
[email protected]
Dell's Efficiency Modeling Tool

The major problem facing the CIO is how to measure the effectiveness of the IT department. Learn how Dell's Efficiency Modeling Tool gives the CIO two clear, powerful numbers: Efficiency Quotient and Impact Quotient. These numbers can be transforma¬tive not only to the department, but to the entire enterprise.
Read the full report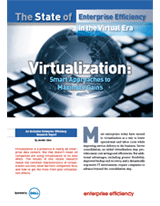 The State of Enterprise Efficiency in the Virtual Era: Virtualization – Smart Approaches to Maximize Gains

Virtualization is a presence in nearly all enterprise data centers. But not all companies are using it to its best effect. Learn the common characteristics of success, what barriers companies face, and how to get the most from your efforts.
Read the full report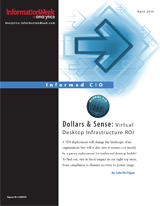 Informed CIO: Dollars & Sense: Virtual Desktop Infrastructure

Cut through the VDI hype and get the full picture -- including ROI and the impact on your Data Center -- to make an informed decision about your virtual desktop infrastructure deployments.
Read the full report