David Wagner, Managing Editor | 5/30/2014 |
21 comments
new site over at Information Week. If you look at the first line of the first Geekend it said that it was an experiment. I had no idea if anyone would like it or care about it. Three and a half years later it becomes an experiment again as I introduce it to a new group of geeks on a new site. I have no idea how it will be received. It has made me rather nostalgic.

So in typical Geekend fashion, I decided to think about how we have passed this time:
Of course, the earth rotated around its own axis roughly 1,250 times. It traveled 2.04 billion miles in space during this time. Which means, so did we.
North America and Europe moved 3.5 inches farther apart, and California continued its slow, but inevitable split from its own mother continent while I sat on it waiting for the "Big One."
Based on averages, 126.7 inches of rain fell on Seattle, 350 fell on the Amazon Rain Forest, but only 7 inches fell on Death Valley.
I wrote nine different stories about mice and things we've done to them scientifically. Since writing that first story, those mice probably died of old age, but not before becoming great-great-great-great-great-great-great-great-great-grandparents.
If you think that's a lot, there have been around 30,660 generations of mayflies in the same time.
Over 90% of all the data humans have ever created in their history were created in less time than the Geekend has existed -- just the last two years.
Facebook alone stored 180 petabytes of data since we got started.
We uploaded roughly 447 billion pictures on Facebook since then.
In that time, the musical question "What Does the Fox Say?" was asked on YouTube exactly 4,155,956,730 times. I was going to link to it to prove it, but then I decided I loved you too much to put that here.
When it comes to personal time, we spent over $71.75 billion on video games since the Geekend started talking about them. That's about $10 billion more than NASA's budget during the same period.
We've also spent on average 38,325 minutes (that's 638 hours or 26.6 days) in the bathroom. Personally, I'm hoping you guys spent some of that time in the bathroom reading the Geekend. Here's how I spent about two minutes of my time in the bathroom:
If you want a more human measure of what has happened in those three years, you only have to look to the World Cup about to start in Brazil. Three and a half years is less than a World Cup cycle, but in that time we've made some incredible advances. In July of 2011, I talked for the first time about the possibility of using active EEG so paralyzed people could manipulate a wheelchair and hopefully new limbs one day. Next month, a paralyzed person will get up and walk using an exoskeleton controlled by the mind, then kick a ball to start the World Cup.
I'm amazed and thrilled by how far we've come in just three and a half years. Not just as humans, but as a community at E2, as friends and as colleagues. We've laughed and argued, debated and agreed to disagree. Most of all, what we were doing was dreaming of a future that was better than the present. In this short time that has happened.
I had intended to finish this Geekend with a little song I was going to write. The last time I tried it, it went pretty well so I thought I'd do it again. But I stumbled on a song that really says all I ever wanted to say, and it says it in a language (several languages) we all understand.
I love getting to write this column. I love every Friday when I get to think about what will happen next. I love sci-fi and science. I love gadgets and geeks. Most of all, I love you, the best geeks a writer could ask to write for. Thanks to everyone for giving me your ears and eyes for so long, and here's to more every Friday on the other site.


The blogs and comments posted on EnterpriseEfficiency.com do not reflect the views of TechWeb, EnterpriseEfficiency.com, or its sponsors. EnterpriseEfficiency.com, TechWeb, and its sponsors do not assume responsibility for any comments, claims, or opinions made by authors and bloggers. They are no substitute for your own research and should not be relied upon for trading or any other purpose.


Latest Archived Broadcast
We talk with Bernard Golden about accelerating application delivery in the cloud.
On-demand Video with Chat
Register for this video discussion to learn how tablets can provide true business usability and productivity.
Why PowerShell Is Important
Reduce the Windows 8 Footprint for VDI
Rethinking Storage Management
SQL Server : 240 To de mémoire flash pour votre data warehouse
Quand Office vient booster les revenus Cloud et Android de Microsoft
Windows Phone : Nokia veut davantage d'applications (et les utilisateurs aussi)
Cloud Computing: Warum Unternehmen trotz NSA auf die "private" Wolke setzen sollten
Cloud Computing bleibt Wachstumsmarkt – Windows Azure ist Vorreiter
Enterprise Efficiency is looking for engaged readers to moderate the message boards on this site. Engage in high-IQ conversations with IT industry leaders; earn kudos and perks. Interested? E-mail:
[email protected]
Dell's Efficiency Modeling Tool

The major problem facing the CIO is how to measure the effectiveness of the IT department. Learn how Dell's Efficiency Modeling Tool gives the CIO two clear, powerful numbers: Efficiency Quotient and Impact Quotient. These numbers can be transforma¬tive not only to the department, but to the entire enterprise.
Read the full report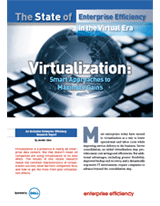 The State of Enterprise Efficiency in the Virtual Era: Virtualization – Smart Approaches to Maximize Gains

Virtualization is a presence in nearly all enterprise data centers. But not all companies are using it to its best effect. Learn the common characteristics of success, what barriers companies face, and how to get the most from your efforts.
Read the full report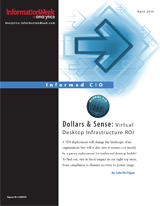 Informed CIO: Dollars & Sense: Virtual Desktop Infrastructure

Cut through the VDI hype and get the full picture -- including ROI and the impact on your Data Center -- to make an informed decision about your virtual desktop infrastructure deployments.
Read the full report