David Wagner, Managing Editor | 3/7/2012 |
5 comments
clinical intelligence (CI). In many ways, that might be a bigger challenge for healthcare CIOs than EHRs.

For those unfamiliar with the term, CI is essentially the healthcare equivalent of business intelligence. The goal is to collect and analyze data to support better clinical decisions. A longer definition can be found here. It is the obvious next step after EHR adoption.

EHRs have rationalized and digitized information that was previously difficult to access in large scale. Combining them with CI allows you to slice and dice your long-term data about clinical outcomes by gender, age, vital signs, symptoms, diagnoses, or anything else. The benefits are so numerous that it is hard to list them all, but let's highlight a few.
Research: Some of the most powerful yet most difficult research projects are longitudinal and cross-sectional studies, which track a population over a certain period. (Longitudinal studies often follow a person's entire life.) These studies have existed for a long time and have gotten easier with computer-generated data, but until recently, they have relied too much on very routine data (gender and age). As EHR use expands, so does the amount of easily searchable data -- bringing the advantages of parsing out more complete populations with more specific symptoms.

There are also benefits to determining which dosages and medicines work best for certain types of diseases. Do people with certain genetic characteristics respond differently to certain types of cancer drugs? Up to this point, that data has been difficult to store and access.

Clinical outcomes: Do patients with similar symptoms recover equally well with all of your doctors? In all of your rooms? Are infection rates higher where certain employees work? If you monitor certain vital signs remotely 24/7, does it allow you to intervene quicker for certain complications? The potential is endless. What we'll be measuring will go up exponentially in the next few years.
Insurance rates: We all know about doctors and unnecessary tests, but with better clinical outcomes, you can expect total costs to go down -- and hopefully, lower insurance costs will follow. In addition, CI is likely to reduce medical fraud.
Resource and supply planning: Many hospitals are accustomed to using BI to order supplies and stock the pharmacy. However, with the expansion of the CI database, you can expect improved planning tools and superior information, which can save hospitals time and money.
Some serious challenges come with the sudden surge in data. Hospitals are used to storing data, but using this data will require some new skill sets. The staff is trained in dealing with individual files, but working with larger groups of data will be new territory. Looking at the numbers and knowing how to respond may take new organizational capabilities. Nurses, since they are most responsible for responding to changes in patient status, will have to get used to processing much more automated data.
IT departments will likely have to create and service "dashboards" that track the ongoing automated data for clinical staff, as well as creating ways for researchers to access data in large scale while remaining compliant with privacy laws and regulations. Data warehouses will grow exponentially and create a big data problem that not only affects costs, but also takes a different kind of expertise to manage.
Clinical intelligence provides an opportunity to revolutionize medical care at every level. But it seems that, like most medical revolutions today, the CI revolution will be led by the CIO, rather than the clinical staff. Good CIOs will make this a priority and a competitive differentiator for their institutions now.


The blogs and comments posted on EnterpriseEfficiency.com do not reflect the views of TechWeb, EnterpriseEfficiency.com, or its sponsors. EnterpriseEfficiency.com, TechWeb, and its sponsors do not assume responsibility for any comments, claims, or opinions made by authors and bloggers. They are no substitute for your own research and should not be relied upon for trading or any other purpose.


Latest Archived Broadcast
We talk with Bernard Golden about accelerating application delivery in the cloud.
On-demand Video with Chat
Register for this video discussion to learn how tablets can provide true business usability and productivity.
Why PowerShell Is Important
Reduce the Windows 8 Footprint for VDI
Rethinking Storage Management
SQL Server : 240 To de mémoire flash pour votre data warehouse
Quand Office vient booster les revenus Cloud et Android de Microsoft
Windows Phone : Nokia veut davantage d'applications (et les utilisateurs aussi)
Cloud Computing: Warum Unternehmen trotz NSA auf die "private" Wolke setzen sollten
Cloud Computing bleibt Wachstumsmarkt – Windows Azure ist Vorreiter
Enterprise Efficiency is looking for engaged readers to moderate the message boards on this site. Engage in high-IQ conversations with IT industry leaders; earn kudos and perks. Interested? E-mail:
[email protected]
Dell's Efficiency Modeling Tool

The major problem facing the CIO is how to measure the effectiveness of the IT department. Learn how Dell's Efficiency Modeling Tool gives the CIO two clear, powerful numbers: Efficiency Quotient and Impact Quotient. These numbers can be transforma¬tive not only to the department, but to the entire enterprise.
Read the full report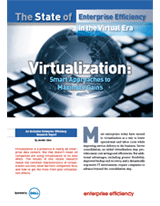 The State of Enterprise Efficiency in the Virtual Era: Virtualization – Smart Approaches to Maximize Gains

Virtualization is a presence in nearly all enterprise data centers. But not all companies are using it to its best effect. Learn the common characteristics of success, what barriers companies face, and how to get the most from your efforts.
Read the full report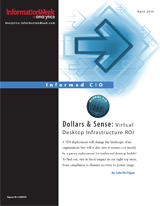 Informed CIO: Dollars & Sense: Virtual Desktop Infrastructure

Cut through the VDI hype and get the full picture -- including ROI and the impact on your Data Center -- to make an informed decision about your virtual desktop infrastructure deployments.
Read the full report