Mary E. Shacklett, President, Transworld Data | 11/29/2011 |
35 comments
Think of yourself as the technology "salesperson" if you're the CIO. This means being able to put yourself in your business users' shoes and to feel their pain with sales revenue, cost-cutting, running business operations, and managing risk. Only by understanding where they "live" each day will you be in a position to deliver the highest technology values to the business and to sell them on the technology investment.
Fine tune your communications skills. Communications exist on multiple levels, and the consummate CIO must be able to execute them all. It begins with person-to-person communications that go far beyond what is said or written in words. This includes the ability to recognize less obvious signs, such as body language, which some psychologists believe is 80 percent of the content of any face-to-face meeting. From here, communications extend into basic skills like the ability to make a strong presentation to the board or to make conscientious follow-ups on communications. Most importantly, everything you say about technology and how it can assist the business should be expressed in plain English. The moment you use jargon, you lose your audience.
Always put the business first. If you can't find a driving business reason to pursue a technology purchase or direction, don't do it. It's no longer good enough to invest in technology for technology's sake.
The technology side of what a CIO does is equally important, but in a different way. For most CIOs, this translates into how they interact and communicate with IT staff. Key points in this area are:
Understand and converse with staff about the technologies in play in the datacenter, but know where to draw the line. This is a difficult area to master for many CIOs who come from technical backgrounds. When they see staff responding at a slower rate than they would themselves, there is a natural tendency to want to "take over" and call the shots. Don't do this. If you dive in, you risk losing sight of the business side of the company, which should be your primary focus. Also, if you take that step, you risk demoralizing your staff, who may not feel you have faith in their ability to tackle a challenge. On the flip side, if you isolate yourself and don't have sufficient knowledge of the technologies your staff members are implementing, you risk making poor judgments about overall technology direction and losing the respect of staff, who expect you to be knowledgeable about every project.
Learn to delegate. This can be a difficult step for CIOs, who often come from a control-oriented discipline. However, if you don't let go and put trust in your senior staff, you will never be able to take care of the business issues that are so necessary for the formulation of a sound technology direction.
Engage your staff strategically, not just operationally. IT staffers will do a better job when they are thoroughly informed about what the business needs from IT and how the projects that they are undertaking are going to make a difference.


The blogs and comments posted on EnterpriseEfficiency.com do not reflect the views of TechWeb, EnterpriseEfficiency.com, or its sponsors. EnterpriseEfficiency.com, TechWeb, and its sponsors do not assume responsibility for any comments, claims, or opinions made by authors and bloggers. They are no substitute for your own research and should not be relied upon for trading or any other purpose.


Latest Archived Broadcast
We talk with Bernard Golden about accelerating application delivery in the cloud.
On-demand Video with Chat
Register for this video discussion to learn how tablets can provide true business usability and productivity.
Why PowerShell Is Important
Reduce the Windows 8 Footprint for VDI
Rethinking Storage Management
SQL Server : 240 To de mémoire flash pour votre data warehouse
Quand Office vient booster les revenus Cloud et Android de Microsoft
Windows Phone : Nokia veut davantage d'applications (et les utilisateurs aussi)
Cloud Computing: Warum Unternehmen trotz NSA auf die "private" Wolke setzen sollten
Cloud Computing bleibt Wachstumsmarkt – Windows Azure ist Vorreiter
Enterprise Efficiency is looking for engaged readers to moderate the message boards on this site. Engage in high-IQ conversations with IT industry leaders; earn kudos and perks. Interested? E-mail:
[email protected]
Dell's Efficiency Modeling Tool

The major problem facing the CIO is how to measure the effectiveness of the IT department. Learn how Dell's Efficiency Modeling Tool gives the CIO two clear, powerful numbers: Efficiency Quotient and Impact Quotient. These numbers can be transforma¬tive not only to the department, but to the entire enterprise.
Read the full report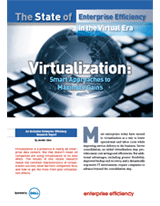 The State of Enterprise Efficiency in the Virtual Era: Virtualization – Smart Approaches to Maximize Gains

Virtualization is a presence in nearly all enterprise data centers. But not all companies are using it to its best effect. Learn the common characteristics of success, what barriers companies face, and how to get the most from your efforts.
Read the full report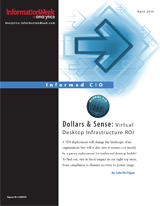 Informed CIO: Dollars & Sense: Virtual Desktop Infrastructure

Cut through the VDI hype and get the full picture -- including ROI and the impact on your Data Center -- to make an informed decision about your virtual desktop infrastructure deployments.
Read the full report