Mary E. Shacklett, President, Transworld Data | 10/20/2011 |
15 comments
When IT enters a contract or negotiates with vendors, the business entrusts IT managers to make sound evaluations and enter well-structured contracts. If you perform IT for a government agency, you already understand the importance of contracts, because myriad regulations force most agencies to set up separate areas that focus on contract administration. The same goes for large enterprises, which have their own legal departments. However, if you are the IT manager for a small or midsized business, you are often the person the company relies on to define and recommend the contract.
Regardless of where you're managing, the growth of cloud computing and other outside services makes it essential for any aspiring IT manager, director, or CIO to have a fundamental understanding of contract law. This understanding begins with some basic legal concepts in which decision-makers should be versed. They include:
Contract. A contract is an agreement between parties where promises are exchanged to do something in exchange for something else of value. The agreement is secured by consideration (e.g., a retainer fee) and must contain very specific terms for the price, item contracted, parties to the contract, and time of performance. If any of these are vague, be sure to clear them up before moving forward.
Adhesion. This term from contract law means that whoever first drafts the contract will generally draft it to be in that party's favor. Be sure to read the entire contract, including the fine print. Make notes if there are areas you need to modify or clarify.
Contract modifications. Contracts usually come in a "boilerplate" form. If you want to modify it by crossing out terms and adding others, the vendor usually comes back and tells you that its legal department won't accept it, because its policy is not to alter the body of the contract. Don't let this stop you! You can modify the contract by attaching your conditions in an addendum to the agreement.
Integration. Under contract law, courts look for everything entered in the contract to be done at the same time. If you modify a vendor's boilerplate contract with your own addendum to the contract, the way to effect an integration of your addendum with the boilerplate agreement is to draft a cover letter stating that the conditions in the addendum will supersede those stated in the boilerplate contract, and that the entire agreement (boilerplate contract, addendum, and cover letter) constitutes a fully integrated writing that represents your agreement with your vendor in its entirety.
Venue and arbitration. No one ever anticipates vendor disputes and having to go to court or arbitration, but just in case, make sure that the contract is set up for venue (i.e., where the court proceeding or arbitration will be held) in your home state. Vendor boilerplate contracts generally place venue in the state of the vendor's home office.
Finally, contract law is a highly specialized field and not one that most IT professionals want to spend much time with. But before you throw a contract over the wall to administration for review, take a few minutes to familiarize yourself with some legal background on the subject. It isn't difficult, and it will serve you well. And regardless of how good you get at it, always see an attorney for a contract review before signing on the bottom line!


The blogs and comments posted on EnterpriseEfficiency.com do not reflect the views of TechWeb, EnterpriseEfficiency.com, or its sponsors. EnterpriseEfficiency.com, TechWeb, and its sponsors do not assume responsibility for any comments, claims, or opinions made by authors and bloggers. They are no substitute for your own research and should not be relied upon for trading or any other purpose.


Latest Archived Broadcast
We talk with Bernard Golden about accelerating application delivery in the cloud.
On-demand Video with Chat
Register for this video discussion to learn how tablets can provide true business usability and productivity.
Why PowerShell Is Important
Reduce the Windows 8 Footprint for VDI
Rethinking Storage Management
SQL Server : 240 To de mémoire flash pour votre data warehouse
Quand Office vient booster les revenus Cloud et Android de Microsoft
Windows Phone : Nokia veut davantage d'applications (et les utilisateurs aussi)
Cloud Computing: Warum Unternehmen trotz NSA auf die "private" Wolke setzen sollten
Cloud Computing bleibt Wachstumsmarkt – Windows Azure ist Vorreiter
Enterprise Efficiency is looking for engaged readers to moderate the message boards on this site. Engage in high-IQ conversations with IT industry leaders; earn kudos and perks. Interested? E-mail:
[email protected]
Dell's Efficiency Modeling Tool

The major problem facing the CIO is how to measure the effectiveness of the IT department. Learn how Dell's Efficiency Modeling Tool gives the CIO two clear, powerful numbers: Efficiency Quotient and Impact Quotient. These numbers can be transforma¬tive not only to the department, but to the entire enterprise.
Read the full report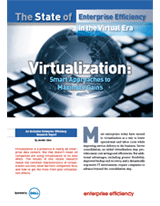 The State of Enterprise Efficiency in the Virtual Era: Virtualization – Smart Approaches to Maximize Gains

Virtualization is a presence in nearly all enterprise data centers. But not all companies are using it to its best effect. Learn the common characteristics of success, what barriers companies face, and how to get the most from your efforts.
Read the full report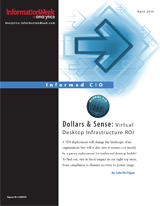 Informed CIO: Dollars & Sense: Virtual Desktop Infrastructure

Cut through the VDI hype and get the full picture -- including ROI and the impact on your Data Center -- to make an informed decision about your virtual desktop infrastructure deployments.
Read the full report