Webinars are free sponsored educational seminars that are accessed over the Internet. You can register for upcoming webinars or view archived presentations via the links below.
Client Windows Migration: Expert Tips for Application Readiness


Date:

12/5/2013
Sponsors: Dell & Microsoft
Host: Jefferson Raley, Portfolio Director, EUC Strategic Consulting Practice, Dell; Philip Dakas, Director, Global Application Services, Dell
View archived webinar With the looming April 8th 2014 end-of-support date for Windows XP, IT departments are working to wrap up the move to Windows 7 and Windows 8.Yet at many organizations, lingering concerns about application compatibility are impeding the process. Join us for a detailed, interactive webcast to hear expert advice on how to address application issues in your OS migration. You'll learn about pratical solutions that take the headache out of application readiness and much more.
Closing the Book on Windows Server 2003: Planning for Windows Server 2012 Opens New Possibilities


Date:

10/17/2013
Sponsors: Dell
Host: Brien Posey, Author & Microsoft MVP award winner; Karen Bannan, Contributing Editor, InformationWeek
View archived webinar End-of-life is coming for Windows Server 2003; Microsoft will end extended support on July 14, 2015. Many organizations are waiting until the last possible moment to upgrade, but a smarter strategy is to start planning for migration now. Those who do will reap the benefits of an operating system designed for the age of Facebook, touch screens, cloud computing and other developments that didn't exist when Windows Server 2003 was introduced. Join us for an in-depth look at how your organization can use Windows Server 2012 to achieve business goals.
Windows Upgrade: Key Processes And Resources Revealed


Date:

9/12/2013
More information and registration

The end of Windows XP support is quickly approaching yet many organizations still have users on XP with legacy applications. Register for this interactive webinar by Dell and discover how you can:
Accelerate your migration to Windows 7 or Windows 8
Automate the migration to reduce cost and timeline
Get control over the software library to optimize software license spend, harvest unused licenses and reduce ongoing support costs
Avoid XP custom support costs or the risks of running on an unsupported OS
Now is the time to seek the help needed to upgrade outdated hardware and migrate compatible hardware before XP support ends.
Preparing for the Future: Incorporating Touch Devices in Healthcare IT


Date:

6/27/2013
View archived webinar Join Dell and Microsoft in a discussion on industry trends that are creating significant changes in the way employees leverage technology. We will review the expanding breadth of touch-enabled devices from Dell, as well as share real world experience and best practices for developing a Windows migration and deployment strategy that is appropriate for your healthcare facility. Since Windows XP support will end on April 8 of 2014, now is your opportunity to learn more about migrating off of XP and enabling solutions to provide your organization with the agility to grow and thrive in the rapidly changing world of technology.

During this event you will:
Understand the features and benefits of Windows 8, including secure connections and EMR compliance
See Dell's latest generation of touch-enabled products and mobility solutions
Learn about migration strategies, services & tools to get you to modern Windows as efficiently as possible
IT Convergence Strategies: Why, When and How


Date:

6/18/2013
View archived webinar

Please join us for "IT Convergence Strategies: Why, When and How" to learn more about:
5 truths about infrastructure convergence today that go beyond the hype
How to exploit the 4 phases of convergence maximum efficiency and agility
Key milestones to plan for on the convergence journey
Why integrated management is a critical component of convergence plans
The importance of an open, modular approach, such as Dell's active infrastructure, to building a converged data center
Get Smart: Accelerating Workforce Performance with Touch Devices


Date:

4/25/2013
View archived webinar Join this webcast to learn more about: • The obstacles that confront IT professionals in integrating touch screen solutions into their enterprises • How to provide secure application access to workers using tablets, smart phones and other touch screen mobile devices • How to provide the kind of peripherals and support to mobile professionals in the field similar to the PC-like computing experience found in the office • Case studies of touch screen usage in field sales and service across a range of vertical industries • How a partner like Dell can help you realize the full benefits of touch screen technology for mobile workers to improve performance and increase revenues
Interactive Learning & Inclusive Technology for all K-12 Students


Date:

4/23/2013
View archived webinar

Join us for this engaging webinar with subject matter experts from the Dell Education Team to discuss:
How Windows 8 in changing the game for student enablement and engagement of students in the learning environment
How Windows 8 is empowering students and teachers in the ability to create and produce content
How Windows 8 is simplifying tablet deployments into schools for school technology teams
How Dell designed the Latitude 10 tablet to support education deployments 
How the Latitude 10 with Windows 8 can support students with special needs
How Dell provides a single source solution for all your assistive technology needs
The Intelligent Approach to an Enterprise-Class Cloud


Date:

3/26/2013
View archived webinar At this event, InformationWeek decodes the current cloud landscape, while Dell shares its blueprint for providing the business value of cloud adoption, as well as some useful implementation scenarios and technical implications of cloud and the impact on the enterprise. Intel will provide some practical experience, strategies, and advice they've learned by working within the building blocks of the evolving cloud environment.
Enhancing Mobility and Productivity via Touch Devices and Windows 8


Date:

1/17/2013
View archived webinar Please join us for the "Enhancing Mobility and Productivity via Touch Devices and Windows 8." to learn more about: *How to fit the right product to the right employee for the right job *How Windows 8 can boost end-user productivity within your workplace *And ways Dell eases transition to new hardware and software with full service support



Michael Hugos 12/12/2013

7 comments
Brien Posey 12/10/2013

9 comments
Whether you are a CIO or an IT manager, you probably have certain people on your staff whom you consider indispensable. These are your go-to people, who always get the job done regardless ...
Susan Nunziata 12/9/2013

12 comments
What does 2014 hold for CIOs? It depends on who you ask.
Brian Moore 12/9/2013

22 comments
We've all got too many projects.
Sudha Nagaraj Bharadwaj 12/6/2013

3 comments
As the cloud matures in India, enterprises which were earlier grappling with the "to deploy or not to deploy" question are now faced with a new challenge -- the management and ...

Latest Archived Broadcast
Storage is a critical asset in the datacenter -- but it can be more. New technology can turn storage into a system that gives your enterprise a competitive IT advantage.

December 19th 2pm EST Thursday

On-demand Video with Chat
Register for this video discussion to learn how tablets can provide true business usability and productivity.
12/17/2013 - This webcast will show how you can: -Transform your IT infrastructure by leveraging Dell's OpenManage integrated with System Center, our Hyper-Scale technologies, and factory capabilities -Connect with people-centric solutions with Dell Desktop Virtualization Solutions (DVS) -Inform your users with business intelligence based on Dell deployment, applications like Boomi, and comprehensive reference architectures


Why PowerShell Is Important
Reduce the Windows 8 Footprint for VDI
Rethinking Storage Management


SQL Server : 240 To de mémoire flash pour votre data warehouse
Quand Office vient booster les revenus Cloud et Android de Microsoft
Windows Phone : Nokia veut davantage d'applications (et les utilisateurs aussi)


Cloud Computing: Warum Unternehmen trotz NSA auf die "private" Wolke setzen sollten
Cloud Computing bleibt Wachstumsmarkt – Windows Azure ist Vorreiter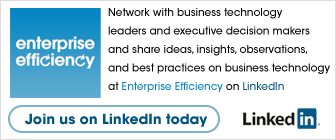 Enterprise Efficiency is looking for engaged readers to moderate the message boards on this site. Engage in high-IQ conversations with IT industry leaders; earn kudos and perks. Interested? E-mail:
moderators@enterpriseefficiency.com


Dell's Efficiency Modeling Tool

The major problem facing the CIO is how to measure the effectiveness of the IT department. Learn how Dell's Efficiency Modeling Tool gives the CIO two clear, powerful numbers: Efficiency Quotient and Impact Quotient. These numbers can be transforma¬tive not only to the department, but to the entire enterprise.
Read the full report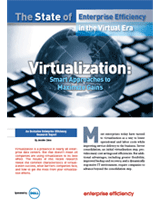 The State of Enterprise Efficiency in the Virtual Era: Virtualization – Smart Approaches to Maximize Gains

Virtualization is a presence in nearly all enterprise data centers. But not all companies are using it to its best effect. Learn the common characteristics of success, what barriers companies face, and how to get the most from your efforts.
Read the full report

Informed CIO: Dollars & Sense: Virtual Desktop Infrastructure

Cut through the VDI hype and get the full picture -- including ROI and the impact on your Data Center -- to make an informed decision about your virtual desktop infrastructure deployments.
Read the full report