Member Since: November 16, 2010
Sara Peters is editor-in-chief of Enterprise Efficiency. Most recently she was senior editor for the Computer Security Institute, writing and speaking about virtualization, identity management, cybersecurity law, and a myriad of other topics. She authored the 2009 CSI Computer Crime and Security Survey and founded the CSI Working Group on Web Security Research Law – a collaborative project that investigated the striking dichotomy between laws regulating software vulnerability disclosure and those regulating Web vulnerability disclosure. She is also an actor and live storyteller. Although she does occasionally do things that the cool kids do, she is a well-rounded geek-at-large who has played an android on stage, worked at a Renaissance Faire, and watched an entire 100-episode marathon of Naruto, which is a cartoon about ninjas.



Michael Hugos 12/12/2013

6 comments
Brien Posey 12/10/2013

9 comments
Whether you are a CIO or an IT manager, you probably have certain people on your staff whom you consider indispensable. These are your go-to people, who always get the job done regardless ...
Susan Nunziata 12/9/2013

12 comments
What does 2014 hold for CIOs? It depends on who you ask.
Brian Moore 12/9/2013

21 comments
We've all got too many projects.
Sudha Nagaraj Bharadwaj 12/6/2013

3 comments
As the cloud matures in India, enterprises which were earlier grappling with the "to deploy or not to deploy" question are now faced with a new challenge -- the management and ...

Latest Archived Broadcast
Storage is a critical asset in the datacenter -- but it can be more. New technology can turn storage into a system that gives your enterprise a competitive IT advantage.

December 19th 2pm EST Thursday

On-demand Video with Chat
Register for this video discussion to learn how tablets can provide true business usability and productivity.
12/17/2013 - This webcast will show how you can: -Transform your IT infrastructure by leveraging Dell's OpenManage integrated with System Center, our Hyper-Scale technologies, and factory capabilities -Connect with people-centric solutions with Dell Desktop Virtualization Solutions (DVS) -Inform your users with business intelligence based on Dell deployment, applications like Boomi, and comprehensive reference architectures


Why PowerShell Is Important
Reduce the Windows 8 Footprint for VDI
Rethinking Storage Management


SQL Server : 240 To de mémoire flash pour votre data warehouse
Quand Office vient booster les revenus Cloud et Android de Microsoft
Windows Phone : Nokia veut davantage d'applications (et les utilisateurs aussi)


Cloud Computing: Warum Unternehmen trotz NSA auf die "private" Wolke setzen sollten
Cloud Computing bleibt Wachstumsmarkt – Windows Azure ist Vorreiter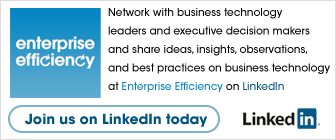 Enterprise Efficiency is looking for engaged readers to moderate the message boards on this site. Engage in high-IQ conversations with IT industry leaders; earn kudos and perks. Interested? E-mail:
moderators@enterpriseefficiency.com


Dell's Efficiency Modeling Tool

The major problem facing the CIO is how to measure the effectiveness of the IT department. Learn how Dell's Efficiency Modeling Tool gives the CIO two clear, powerful numbers: Efficiency Quotient and Impact Quotient. These numbers can be transforma¬tive not only to the department, but to the entire enterprise.
Read the full report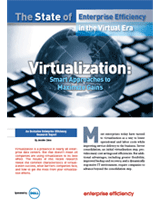 The State of Enterprise Efficiency in the Virtual Era: Virtualization – Smart Approaches to Maximize Gains

Virtualization is a presence in nearly all enterprise data centers. But not all companies are using it to its best effect. Learn the common characteristics of success, what barriers companies face, and how to get the most from your efforts.
Read the full report

Informed CIO: Dollars & Sense: Virtual Desktop Infrastructure

Cut through the VDI hype and get the full picture -- including ROI and the impact on your Data Center -- to make an informed decision about your virtual desktop infrastructure deployments.
Read the full report