SPONSORED BY DELL AND INTEL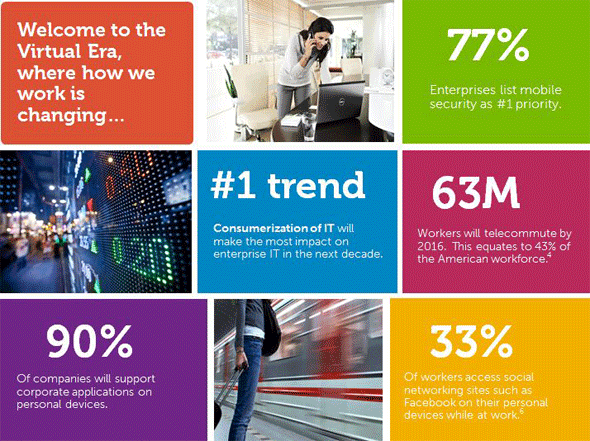 Best Practices






Demands for anytime-anywhere access are pushing organizations toward more cloud services and mobile devices. Staff use personal consumer smartphones for business purposes, whether you've authorized it or not. If you've been waiting to make a decision on whether to foot the bill for more end-user mobile devices or to allow a bring-your-own-device policy, you can't put it off any longer. Use the resources here to help you make the right decision.
Sources used:
Gartner, http://www.itbusinessedge.com/cm/blogs/all/no-surprise-google-at-forefront-of-consumerization-of-it/?cs=11373 Dell. (2010, November). Mobile Device Management and Security. Technology Business Research, Inc. Gartner/ Predictions 2011: Network Capacity & Consumers Impact Mobile & Wireless Technologies. 11/18/2010 Forrester Research, Inc. (2009, March 11). Telecommuting Forecast, 2009-2016
Celeron, Celeron Inside, Core Inside, Intel, Intel Logo, Intel Atom, Intel Atom Inside, Intel Core, Intel Inside, Intel Inside Logo, Intel vPro, Itanium, Itanium Inside, Pentium, Pentium Inside, vPro Inside, Xeon, and Xeon Inside are trademarks of Intel Corporation in the U.S. and/or other countries.