Monday
April 2nd
Cloud Computing: Rip & Replace or System Upgrade?

Many pundits advocate cloud computing as the solution for today's information technology challenges. The problem is how to get there? This E2 Great Debate looks at the best way to get to the cloud: Should it be an evolution or a revolution in the datacenter? Join our two teams of experienced IT professionals as they look at the complex issues around cloud deployment from a practical point of view. Is a complete IT reengineering the best way to go, or can you preserve your investment in standing infrastructure while migrating to the cloud as part of the normal infrastructure lifecycle? The answers to these questions will determine the success of your cloud initiatives, and our debaters will provide those answers from both "system upgrade" and "rip and replace" perspectives. Listen to the debate, join in the discussion, and vote on whether revolution or evolution describes the best path to a cloudy future for enterprise IT.




Latest Archived Broadcast
Data visualization can make complex data easier to grasp. Our expert guest will talk about the hows, whys, and whats of bringing the big picture to your enterprise.


May 30th 2pm EDT Thursday

On-demand Video with Chat
NBA CIO Michael Gliedman will tell us why the NBA decided to create NBA.com/stats
6/18/2013 -   Please join us for the "IT Convergence Strategies: Why, When and How " to learn more about: • 5 truths about infrastructure convergence today that go beyond the hype • How to exploit the 4 phases of convergence maximum efficiency and agility • Key milestones to plan for on the convergence journey • Why integrated management is a critical component of convergence plans • The importance of an open, modular approach, such as Dell's active infrastructure, to building a converged data center


Get Modern Apps on the Windows 8 Desktop
Application Audits Simplify Migration
Hardware Refresh Cycles Are Outdated


Windows Blue attendu en juin
Comment profiter d'une nouvelle expérience User Virtualization
S'équiper ou non d'un logiciel anti-virus ?


Leap Motion zeigt Gestensteuerung für Windows 8
Microsofts Surface Pro kommt nach Deutschland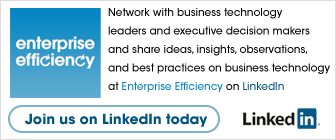 Enterprise Efficiency is looking for engaged readers to moderate the message boards on this site. Engage in high-IQ conversations with IT industry leaders; earn kudos and perks. Interested? E-mail:
moderators@enterpriseefficiency.com


Dell's Efficiency Modeling Tool

The major problem facing the CIO is how to measure the effectiveness of the IT department. Learn how Dell's Efficiency Modeling Tool gives the CIO two clear, powerful numbers: Efficiency Quotient and Impact Quotient. These numbers can be transforma¬tive not only to the department, but to the entire enterprise.
Read the full report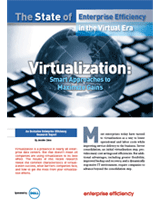 The State of Enterprise Efficiency in the Virtual Era: Virtualization – Smart Approaches to Maximize Gains

Virtualization is a presence in nearly all enterprise data centers. But not all companies are using it to its best effect. Learn the common characteristics of success, what barriers companies face, and how to get the most from your efforts.
Read the full report

Informed CIO: Dollars & Sense: Virtual Desktop Infrastructure

Cut through the VDI hype and get the full picture -- including ROI and the impact on your Data Center -- to make an informed decision about your virtual desktop infrastructure deployments.
Read the full report