The world has changed, and the role of the senior business technology professional has come to embrace a multitude of roles, including technology expert, business partner, financial modeler, mentor, risk taker, and business-value translator.

A further breakdown reveals that these people are now being judged in two primary areas:
Creating the strategic and technical framework/architecture to deliver the best possible technology services to the business at the best value
Using information technology and services to drive innovation through business process, customer connection, and the creation of new business models
This pressure is only exacerbated by the never-ending push to do more with less while also driving an intense pace of innovation – the need to drive efficiencies while still meeting the business needs that have been outlined as the core competency of the organization.

Enter Enterprise Efficiency: a unique interactive community of business technology leaders and executive decision makers – including CIOs, analysts, consultants, and other IT-involved professionals – to share ideas, insights, observations, and best practices, as well as the intellectual and emotional support to help enterprise technology executives make these goals a reality.

Enterprise Efficiency is designed to foster the sort of debates and discussions that truly matter to today's business technology decision makers – centered around those disruptive technologies and trends that often require the feedback of peers and trusted sources.

While Enterprise Efficiency appreciates the benefits of technology, this community is all about getting to the roots of a problem, outlining the reality of an over-hyped concept or trend and helping IT executives focus their time and energy on the issues that are most important to the business and their roles within it.

The site's content will not only be user generated – we will also feature a calendar of deep-dive analyst reports written in conjunction with InformationWeek Analytics, plus a series of Webcasts, video reports, and more. The beauty of the Analyst Reports – and our other original content – is that they reinforce the real world, peer-to-peer approach of the site, as they are all written by real-world IT professionals with actual experience in purchasing, running, deploying, and managing technology in business.

The key set of business technology themes that Enterprise Efficiency focuses on include (but are not limited to):
Cloud Computing: Myths, Realities & Metrics
The Business Value of Tomorrow's Data Center
The Mobile Enterprise: Devices, Apps & Services
Corporate IT Politics: Making Them Dance in Your Favor
The Secure Enterprise: Frameworks That Enable Agile Access
Managing TCO While Driving Innovation
Virtualization: The Mandatory Ingredient
GRC in Practice: The Storage, Security & Document Management Cluster
Outsourcing: How to Collaborate, From BRD to Execution
Automation: The Future of IT Management
Every business day, Enterprise Efficiency presents multiple blogs that delve deeply into our key themes and other issues of interest and importance to CIOs. The blogs will serve as the launching pad for the discussions, debates, and (eventual) definitions that will organically take root with the audience. This approach creates an open, no-holds-barred environment where technology professionals can really learn from each other, obtaining and sharing practical information they can apply to their own organizations.

Some of the entries will come from Enterprise Efficiency's full-time editorial staff, who bring decades of experience covering information technology at the highest levels, while others will come from an impressive lineup of industry thought leaders who have joined Enterprise Efficiency to share their insights, experience, and wisdom with our users.

Our all-star collection of bloggers includes CIOs, CEOs, analysts, consultants, journalists, and other leaders with a wide range of IT backgrounds and areas of expertise. The group has been carefully selected to represent all the key areas of coverage needed to give Enterprise Efficiency the voice of authority for high-level enterprise technology executives. More than 20 bloggers have already signed up, and more are joining every day.

As the blogs ignite the discussion, the Enterprise Efficiency message boards serve as the gathering place for our users to comment and debate on our posts. We are dedicated to creating a vibrant community and ensuring that even first-time visitors to the site can instantly see the existence of useful, thought-provoking conversations and make it easy to decide to jump in. And it's already happening, as you can see here. Please feel free to register and join the conversation. And if you're really keen, why not apply to be an Enterprise Efficiency moderator today?

Put it all together, and Enterprise Efficiency presents a unique anatomy of content: introducing topics through our blogs, enabling participation through our message boards, offering a deep dive through our analyst reports and research, and then creating "point-in-time" events to gather the group together.

We welcome your input and opinions. Send them to editors@EnterpriseEfficiency.com.

Contacts

Sara Peters
Editor in Chief
Sara Peters was most recently senior editor for the Computer Security Institute, writing and speaking about virtualization, identity management, cybersecurity law, and a myriad of other topics. She authored the 2009 CSI Computer Crime and Security Survey and founded the CSI Working Group on Web Security Research Law – a collaborative project that investigated the striking dichotomy between laws regulating software vulnerability disclosure and those regulating Web vulnerability disclosure. She is also an actor and live storyteller. Although she does occasionally do things that the cool kids do, she is a well rounded geek-at-large who has played an android on stage, worked at a Renaissance Faire, and watched an entire 50-episode marathon of Naruto, which is a cartoon about ninjas.

Peters@EnterpriseEfficiency.com

Curtis Franklin Jr.
Executive Editor
As executive editor at EnterpriseEfficiency.com, Curtis Franklin writes on a wide variety of subjects, conducts interviews with CIOs and prominent members of the IT industry, and is the regular host of E2 Radio. He is also a regular guest on This Week in Enterprise Technology, a weekly video show featuring the latest enterprise technology and trends from the IT industry.

Curt has been writing about technologies and products in computing and networking since the early 1980s. He has contributed to a number of technology-industry publications including InformationWeek, ChannelWeb, Network Computing, InfoWorld, PCWorld, DarkReading.com, and ITWorld.com on subjects ranging from mobile enterprise computing to enterprise security and wireless networking. He was online community manager for the Interop conference and a senior contributing analyst for the InfoWorld Test Center, where he focused on network infrastructure, wireless networking, and security.

Curt is the author of hundreds of articles, the co-author of three books, and has been a frequent speaker at computer and networking industry conferences across North America and Europe. His most popular book, The Absolute Beginner's Guide to Podcasting, with co-author George Colombo, was published by Que Books. His most recent book, Cloud Computing: Technologies & Strategies of the Ubiquitous Data Center, with co-author Brian Chee, was released in April 2010. When he's not writing, he is a painter, photographer, cook, and multi-instrumentalist musician, and he is active in amateur radio (KG4GWA), scuba diving, and the Florida Master Naturalist program.

Franklin@EnterpriseEfficiency.com

David Wagner
Senior Editor

David Wagner has been writing on business and technology for seven years and was most recently an assistant editor at MIT Sloan Management Review, where he covered a wide range of business topics including IT, innovation, and customer service. His work has also appeared in The New York Times and The Wall Street Journal. Prior to MIT, Wagner worked for Circulation: Journal of the AHA, as well as Harvard University and Emerson College. He has also been a freelance writer for many top consulting firms and academics in the business and technology sectors. Born in Silver Spring, Md., he grew up doodling on the back of used punch cards from the data center his father ran for over 25 years. He is pleased to be covering IT more exclusively and feels as if he is joining the family business.

Susan Nunziata
Director of Editorial
As Director of Editorial, Susan Nunziata works closely with the site's content team and contributors to guide topics, direct strategies, and pursue new ideas, all in the interest of sharing practicable insights with our community of visitors.

Prior to joining the E2 team, Nunziata was Editorial Director for the Ziff Davis Enterprise portfolio of Websites, which includes eWEEK, Baseline, and CIO Insight. Since 2010, she also served as Editor in Chief of CIO Insight. Prior to joining Ziff Davis Enterprise, she served as Editor in Chief of Mobile Enterprise from 2007 to 2010. A frequent public speaker, she has entertained audiences with compelling topics such as "Enterprise Mobility" and "The Multigenerational Workforce." She even managed to snag invitations to speak at the MIT Sloan CIO Symposium – not once, but twice (and those folks are smart). In a past life, she worked as a lead editor for entertainment and marketing publications, including Billboard, Music Business International, and Entertainment Marketing Letter.

A native New Yorker, in August 2011 Nunziata inexplicably picked up stakes and relocated to the only place in the country with a higher cost of living: The San Francisco Bay Area. A telecommuter, her office mates are two dogs and two extremely well fed cats. She holds a Bachelor's degree in Journalism from St. John's University in Jamaica, N.Y. (and she doesn't even watch basketball).



The blogs and comments posted on EnterpriseEfficiency.com do not reflect the views of TechWeb, EnterpriseEfficiency.com, or its sponsors. EnterpriseEfficiency.com, TechWeb, and its sponsors do not assume responsibility for any comments, claims, or opinions made by authors and bloggers. They are no substitute for your own research and should not be relied upon for trading or any other purpose.






Latest Archived Broadcast
We talk with Bernard Golden about accelerating application delivery in the cloud.

On-demand Video with Chat
Register for this video discussion to learn how tablets can provide true business usability and productivity.
4/29/2014 - Join Dell and Intel for an interactive discussion about implementing, refining and improving your virtual environment. Specifically we'll discuss pain points virtualization can solve and those that it can create and how to prevent them.


Why PowerShell Is Important
Reduce the Windows 8 Footprint for VDI
Rethinking Storage Management


SQL Server : 240 To de mémoire flash pour votre data warehouse
Quand Office vient booster les revenus Cloud et Android de Microsoft
Windows Phone : Nokia veut davantage d'applications (et les utilisateurs aussi)


Cloud Computing: Warum Unternehmen trotz NSA auf die "private" Wolke setzen sollten
Cloud Computing bleibt Wachstumsmarkt – Windows Azure ist Vorreiter
Enterprise Efficiency is looking for engaged readers to moderate the message boards on this site. Engage in high-IQ conversations with IT industry leaders; earn kudos and perks. Interested? E-mail:
moderators@enterpriseefficiency.com


Dell's Efficiency Modeling Tool

The major problem facing the CIO is how to measure the effectiveness of the IT department. Learn how Dell's Efficiency Modeling Tool gives the CIO two clear, powerful numbers: Efficiency Quotient and Impact Quotient. These numbers can be transforma¬tive not only to the department, but to the entire enterprise.
Read the full report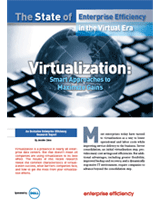 The State of Enterprise Efficiency in the Virtual Era: Virtualization – Smart Approaches to Maximize Gains

Virtualization is a presence in nearly all enterprise data centers. But not all companies are using it to its best effect. Learn the common characteristics of success, what barriers companies face, and how to get the most from your efforts.
Read the full report

Informed CIO: Dollars & Sense: Virtual Desktop Infrastructure

Cut through the VDI hype and get the full picture -- including ROI and the impact on your Data Center -- to make an informed decision about your virtual desktop infrastructure deployments.
Read the full report