Understanding the OODA Loop, a real-world feedback system created by a jet pilot, will help CIOs create the environment the business side needs to stay ahead.
The four steps in the OODA Loop are shown in the diagram below. Those steps are: observe, orient, decide, and act. And what connects these steps and influences how they operate is real-time feedback. The OODA Loop is a feedback loop and it drives a process of constant sensing and responding to high-change environments -- like those faced by the military and also by businesses.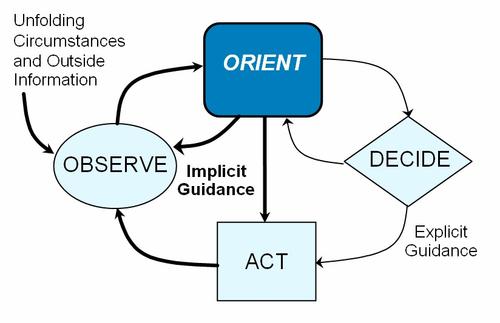 The steps in the game The first step is to observe -- to collect and communicate information about the environment.

The next step is to orient, which in a business setting means to turn information into understanding or situational awareness. Orienting is the most important step because it determines how the next two steps will be used.

If the situation shows the emergence of something brand-new then the "decide" step is invoked and people create different plans for responding to this new thing and evaluate which will work the best.

The last step is to act. If players are responding to a situation they already know, then they follow existing procedures (implicit guidance). If they are responding to something brand-new, they follow new procedures (explicit guidance). And their action produces results that are picked up by the observe step and the cycle continues.

The OODA Loop describes how soldiers and commanders behave in high-change environments, such as combat. It also describes how players in games such as World of Warcraft and EVE Online behave in the high-change environments of those massively multiplayer online games (MMOs). There is a big opportunity for businesses to learn from these two groups and adopt the OODA Loop to guide their own operations in that high-change world known as the real-time economy.

Each of the four steps needs to be supported by smart use of IT. Enterprise architects and system designers can use the process framework provided by the OODA Loop to organize their thinking about how best to employ IT to give their companies a competitive advantage.

The OODA Loop as business process blueprint Sensor networks and transaction processing systems already in place in many companies provide a rich source of data (big-data) for the observe step.

For the orient step, look at how the military and MMO games use technology. They create war rooms with animated maps and real-time data displays, and they create heads-up displays (HUDs) to concentrate important information into single easy to understand screens for moment to moment decision making.

In the decide step, both groups make extensive use of simulation to try out different courses of action and see which is the best way to proceed. In the act step, soldiers and gamers both employ technology that responds instantly to their movements and commands.

Business is already moving in this direction with online dashboards and scorecards that display daily operating status and results. Many companies also have systems that automate significant parts of their workflows. Good examples of this are companies in the financial services and commodities markets. They use war room-style trading environments to orient people and have automated trade execution systems that act instantly to carry out decisions.

The fighter pilot who created the OODA Loop (John Boyd) did it as a way to organize and teach the skills and practices needed to win in aerial combat dog fights. Now businesses can do the same. The military and the gamers have already done a lot of the work and their examples are ready to be adopted by business.

Military games and MMO games are driven by feedback loops. They employ technology to enable people to collaborate and coordinate their actions so as to accomplish common goals. They enable people to continually sense and respond to changing situations, and in the process, people learn and continually improve the skills they need to accomplish their goals.

That's why games and game-like operations are important to business, too. And the OODA Loop is a field-tested process blueprint to use as you explore the use of game-like operations in your company.