We're all used to the traditional command and control process where a few people at the top of an organization issue orders to everyone else and tell them what to do. But is there any other way to get things done?
I was CIO of an $8 billion cooperative that provided companies with food service disposables like paper cups, plastic forks, and cleaning supplies. In a traditional corporation, I would have had some power to order all the business units to operate in certain standard ways. But in a cooperative, I had no power at all to issue orders. The business units were members and owners of the cooperative, not just branch locations, and they could run their operations any way they wished.
At the same time, we had big national account customers such as Starbucks and Whole Foods Market and they insisted on demanding service level agreements (SLAs) in their contracts with us. My challenge was to get the member companies to agree on operating procedures and then cooperate with me and with each other to meet the SLAs that our customers expected.
A simple and effective way to drive performance I employed one of the simplest and most powerful game mechanics to make this happen: feedback systems. I created applications that provided daily and weekly feedback to focus people's attention and create peer group pressure to keep improving member performance as needed to meet customer expectations.
The applications I developed measured member performance against our SLA targets and reported their performance online for all to see. When everyone knew that everyone else could see how they were doing, they did not want to be seen as the one who was dragging down our collective performance. And those who did occasionally drag down our collective performance got a lot of attention from their fellow members. Those fellow members (unlike me) could and did call up the laggards and tell them how to get their act together.
Simple dashboards and score cards measured member performance in agreed-upon operations. A sample dashboard and a member scorecard are shown below. In the game world, dashboards would be called a leaderboard and scorecards would be called performance readouts, but they both serve the same purpose. They provide feedback that modifies and guides behavior.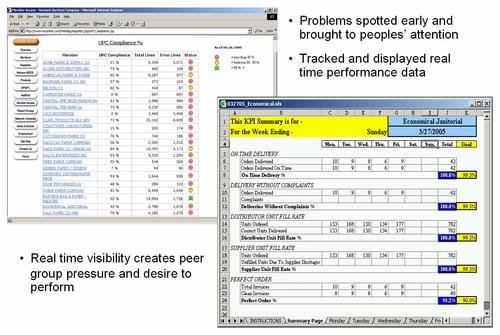 Feedback systems guide continuous response to changing conditions On the dashboard in the upper left, members earned a green star if they achieved agreed-upon performance levels. They got a yellow face if they got close, and they got a red frowny face if they were far off. How many green stars do you see and how many red frowny faces? That was the start of a new program and members were having a tough time coming up to speed. But this visibility created peer group pressure that insured every member would improve their operations quickly, and they did.

The member scorecard in the lower right shows performance of an individual member company for a given week. All members working together to serve a particular customer could look at the performance readouts for the other members on that account. Everyone could see which members were performing well, and those members could share their best-practices with other members who weren't doing so well. That way, everyone kept learning and adjusting their operations so that we met our collective SLA targets with our customers.

Game mechanics like this can be used to guide and coordinate behavior in situations where traditional methods of top-down command and control are not possible or no longer work so well. And there are more and more situations like this every year because business in our real-time economy is increasingly carried out in shifting alliances and partnerships between companies who come together to achieve common goals.