Yet, for the most part, business applications for collaboration and innovation are still pretty tame -- little more than document sharing, video conferencing, and project planning bundled together under clumsy user interfaces.
Business analytics and graphic displays are still little more than traditional formats such as line graph, pie charts, and scatter plots. They are fine as far as they go. But they don't go nearly far enough. They are just static snap shots of historic data. They cannot keep up with the enormous volumes of data generated by the real-time economy (known as big data). These graphics are starting to look as dated as finger paintings on a cave wall.
MMO games define state of the art in online collaboration
Over the last 10 years, massively multiplayer online role playing games (MMOs) have advanced the art and practice of displaying huge amounts of streaming real-time data in such a way that thousands of people can work together moment to moment on complex tasks. In these games, people collaborate and compete in real-time in high-change, unpredictable environments where players have to think, act, and communicate if they are going to succeed.
Central to technology that enables these games is the way the screens are designed. These screens use a design technique known as heads-up-display (HUD). They provide players with a steady readout of all the information needed from one moment to the next as they play the game. Because players don't waste time flipping from one screen to another to get information, they can focus intensely on using the information to work together and make things happen. The screen shots below illustrate the power of HUDs in a popular MMO called EVE Online.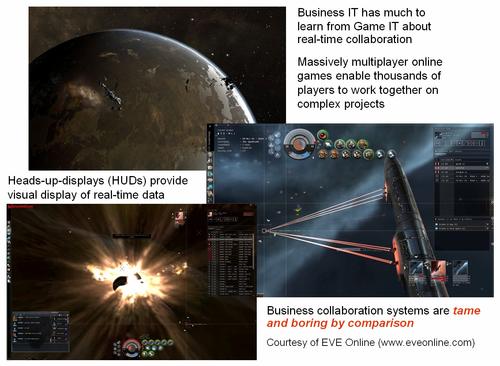 This works well in MMO games, so why not use the same techniques and technology to enable collaboration in business?
Use browser-based HUD screens to display real-time data from internal systems and use APIs to combine those screens with a web conferencing services and web-based voice and video communication services and what results is a massively multiplayer online business collaboration system. The screen shots below illustrate how these game IT techniques can be applied to business applications, such as supply chain management. This application uses APIs to combine existing social media and cloud based apps with proprietary systems to create a supply chain design and collaboration platform.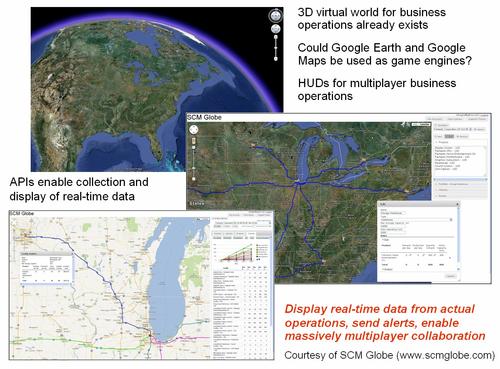 Game IT merges video games with business technology
Ben Sawyer is an influential game designer and thought leader in the serious games world, and has coined the term "game IT" to identify and discuss the issues related to merging video game technology with traditional business technology. In an interview I did with Ben, he said, "Game IT is a response to the growing use of games in corporate enterprises" as they experiment with game-like technology and techniques to handle big-data, cloud-based apps, document sharing, and voice and video conferencing.
I asked him for his thoughts on how game IT relates to the existing installed IT infrastructure of a typical mid-market company and what the implications of game IT were for daily operations.
Ben replied that with the advent of mobile devices and social media, game companies and other software vendors are changing their closed and proprietary technology stacks through use of APIs. He believes MMO game developers (like EVE Online, World of Warcraft, etc.) will work with the wider ecosystem of technology vendors and find ways to embed a game technology stack into the communication pipelines and system processing infrastructures that business organizations have in use today.
This is a fundamental reshaping of traditional business IT and a rethinking of the value that IT can deliver to the way business operates. It opens up potentials and redefines the role of IT in ways that are truly game-changers. Companies that learn from game IT and figure out how to leverage its potential will set the pace for others to follow.