Susan Nunziata, Director of Editorial | 2/15/2013 |

68 comments
This attack overwhelmed not only the AT&T datacenter at which our sites are hosted, but also nine others across the East Coast.
The attack took down all of UBM Tech's communities, including EnterpriseEfficiency.com, and our IT team worked round the clock to get the situation resolved. Our sites returned to full functionality at about 6:00 p.m. ET on Thursday.
That did not stop our tight-knit community, and for that we are eternally grateful. As we struggled through a trying day, you rallied around us, offering support (and humor) on our Enterprise Efficiency LinkedIn Group, on our Enterprise Efficiency Facebook page, and on Twitter @EnterpriseEff. You all demonstrated the true meaning of community, and we are grateful to each and every one of you for your support.
According to UBM Tech managing director Stephen Saunders, this was the first time in 13 years that we have had such an occurrence on our network. Saunders goes on to state:
Unfortunately, DDoS attacks are becoming increasingly common (two thirds of financial institutions were impacted by denial of service incidents in 2012; other victims include The New York Times, the FBI, Microsoft, Amazon, and eBay). While it is not possible for us to guarantee that we will not be affected again, we are currently undertaking an analysis of our Web infrastructure to limit the chance of a recurrence to the maximum extent that is possible.
As our investigation continues, we hope to share with you details about our experience. In the meantime, we'd love to hear your DDoS stories. Have you ever experienced one firsthand? What actions or best-practices do you recommend? Share your insights and experiences in our comments section below.


The blogs and comments posted on EnterpriseEfficiency.com do not reflect the views of TechWeb, EnterpriseEfficiency.com, or its sponsors. EnterpriseEfficiency.com, TechWeb, and its sponsors do not assume responsibility for any comments, claims, or opinions made by authors and bloggers. They are no substitute for your own research and should not be relied upon for trading or any other purpose.





More Blogs from Susan Nunziata
Susan Nunziata 5/17/2013

8 comments
Industrial equipment makers Tennant and Grundfos are among those finding that machine-to-machine (M2M) solutions can create new business opportunities for their enterprises.
Susan Nunziata 5/9/2013

15 comments
How do you keep a workforce of 24,000 employees plus some 2,000 biomedical devices wirelessly connected, along with 3,000 to 4,000 guest devices, all while ensuring that your healthcare ...
Susan Nunziata 4/25/2013

46 comments
The move toward bring-your-own-device (BYOD) enterprise mobility at the Green Clinic, in Ruston, La., was a series of step changes, according to Jason Thomas, CIO and IT director.
Susan Nunziata 4/19/2013

22 comments
Can OEM automation, robotics, and human manufacturing jobs peacefully coexist?
Susan Nunziata 4/16/2013

14 comments
If you're a healthcare CIO looking for a surefire way to boost your organization's bottom line, start by improving the speed with which patients pay their bills.

Latest Archived Broadcast
Data visualization can make complex data easier to grasp. Our expert guest will talk about the hows, whys, and whats of bringing the big picture to your enterprise.


May 30th 2pm EDT Thursday

On-demand Video with Chat
NBA CIO Michael Gliedman will tell us why the NBA decided to create NBA.com/stats
6/18/2013 -   Please join us for the "IT Convergence Strategies: Why, When and How " to learn more about: • 5 truths about infrastructure convergence today that go beyond the hype • How to exploit the 4 phases of convergence maximum efficiency and agility • Key milestones to plan for on the convergence journey • Why integrated management is a critical component of convergence plans • The importance of an open, modular approach, such as Dell's active infrastructure, to building a converged data center


Get Modern Apps on the Windows 8 Desktop
Application Audits Simplify Migration
Hardware Refresh Cycles Are Outdated


Windows Blue attendu en juin
Comment profiter d'une nouvelle expérience User Virtualization
S'équiper ou non d'un logiciel anti-virus ?


Leap Motion zeigt Gestensteuerung für Windows 8
Microsofts Surface Pro kommt nach Deutschland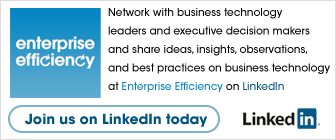 Enterprise Efficiency is looking for engaged readers to moderate the message boards on this site. Engage in high-IQ conversations with IT industry leaders; earn kudos and perks. Interested? E-mail:
moderators@enterpriseefficiency.com


Dell's Efficiency Modeling Tool

The major problem facing the CIO is how to measure the effectiveness of the IT department. Learn how Dell's Efficiency Modeling Tool gives the CIO two clear, powerful numbers: Efficiency Quotient and Impact Quotient. These numbers can be transforma¬tive not only to the department, but to the entire enterprise.
Read the full report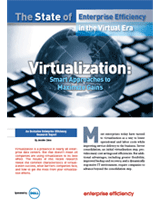 The State of Enterprise Efficiency in the Virtual Era: Virtualization – Smart Approaches to Maximize Gains

Virtualization is a presence in nearly all enterprise data centers. But not all companies are using it to its best effect. Learn the common characteristics of success, what barriers companies face, and how to get the most from your efforts.
Read the full report

Informed CIO: Dollars & Sense: Virtual Desktop Infrastructure

Cut through the VDI hype and get the full picture -- including ROI and the impact on your Data Center -- to make an informed decision about your virtual desktop infrastructure deployments.
Read the full report