Susan Nunziata, Director of Editorial | 2/15/2013 |

88 comments
This attack overwhelmed not only the AT&T datacenter at which our sites are hosted, but also nine others across the East Coast.
The attack took down all of UBM Tech's communities, including EnterpriseEfficiency.com, and our IT team worked round the clock to get the situation resolved. Our sites returned to full functionality at about 6:00 p.m. ET on Thursday.
That did not stop our tight-knit community, and for that we are eternally grateful. As we struggled through a trying day, you rallied around us, offering support (and humor) on our Enterprise Efficiency LinkedIn Group, on our Enterprise Efficiency Facebook page, and on Twitter @EnterpriseEff. You all demonstrated the true meaning of community, and we are grateful to each and every one of you for your support.
According to UBM Tech managing director Stephen Saunders, this was the first time in 13 years that we have had such an occurrence on our network. Saunders goes on to state:
Unfortunately, DDoS attacks are becoming increasingly common (two thirds of financial institutions were impacted by denial of service incidents in 2012; other victims include The New York Times, the FBI, Microsoft, Amazon, and eBay). While it is not possible for us to guarantee that we will not be affected again, we are currently undertaking an analysis of our Web infrastructure to limit the chance of a recurrence to the maximum extent that is possible.
As our investigation continues, we hope to share with you details about our experience. In the meantime, we'd love to hear your DDoS stories. Have you ever experienced one firsthand? What actions or best-practices do you recommend? Share your insights and experiences in our comments section below.


The blogs and comments posted on EnterpriseEfficiency.com do not reflect the views of TechWeb, EnterpriseEfficiency.com, or its sponsors. EnterpriseEfficiency.com, TechWeb, and its sponsors do not assume responsibility for any comments, claims, or opinions made by authors and bloggers. They are no substitute for your own research and should not be relied upon for trading or any other purpose.





More Blogs from Susan Nunziata
Susan Nunziata 3/3/2014

32 comments
How much were you paid when you were an intern? If your college internships were anything like mine, you were paid in experience, not dollars.
Susan Nunziata 2/27/2014

18 comments
How do you get corporate funding for cybersecurity when it's so challenging to measure and report ROI to your C suite and board of directors?
Susan Nunziata 2/24/2014

56 comments
Is your IT organization ready to lead your enterprise into the mobile future?
Susan Nunziata 2/20/2014

63 comments
Most of us have taken at least some action to keep our online identities private. Yet, even as we take steps -- such as religiously clearing our cookies, encrypting our email, or even ...
Susan Nunziata 2/10/2014

12 comments
Federal and state CIOs are setting the roadmap for 2014-2015 by focusing on innovation and strategic thinking. That sounds great, but there are major tactical obstacles to be overcome first.

Latest Archived Broadcast
Join us for an Interop Preview interview with Chris Murphy, editor of InformationWeek and Strategic CIO columnist on digital business issues.

March 14th 2pm EDT Friday

On-demand Video with Chat
Register for this video discussion to learn how tablets can provide true business usability and productivity.
3/12/2014 - How will the end of Windows XP support impact your organization? While a timely OS migration eases immediate IT concerns, it may have the added benefit of helping to drive larger business goals. Learn from an expert ways to achieve greater automation and reduce licensing costs while increasing manageability and security.
3/18/2014 - With Dell and Microsoft, you can build and deploy an enterprise-class storage platform to cost-effectively virtualize and cloud optimize your organization.
3/20/2014 - Learn what is new in SQL 2014 and gain the competitive edge in the marketplace. Join us for Gain the Competitive Edge with SQL 2014


Why PowerShell Is Important
Reduce the Windows 8 Footprint for VDI
Rethinking Storage Management


SQL Server : 240 To de mémoire flash pour votre data warehouse
Quand Office vient booster les revenus Cloud et Android de Microsoft
Windows Phone : Nokia veut davantage d'applications (et les utilisateurs aussi)


Cloud Computing: Warum Unternehmen trotz NSA auf die "private" Wolke setzen sollten
Cloud Computing bleibt Wachstumsmarkt – Windows Azure ist Vorreiter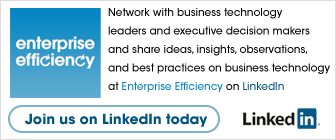 Enterprise Efficiency is looking for engaged readers to moderate the message boards on this site. Engage in high-IQ conversations with IT industry leaders; earn kudos and perks. Interested? E-mail:
moderators@enterpriseefficiency.com


Dell's Efficiency Modeling Tool

The major problem facing the CIO is how to measure the effectiveness of the IT department. Learn how Dell's Efficiency Modeling Tool gives the CIO two clear, powerful numbers: Efficiency Quotient and Impact Quotient. These numbers can be transforma¬tive not only to the department, but to the entire enterprise.
Read the full report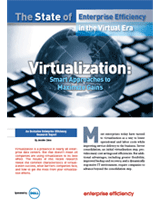 The State of Enterprise Efficiency in the Virtual Era: Virtualization – Smart Approaches to Maximize Gains

Virtualization is a presence in nearly all enterprise data centers. But not all companies are using it to its best effect. Learn the common characteristics of success, what barriers companies face, and how to get the most from your efforts.
Read the full report

Informed CIO: Dollars & Sense: Virtual Desktop Infrastructure

Cut through the VDI hype and get the full picture -- including ROI and the impact on your Data Center -- to make an informed decision about your virtual desktop infrastructure deployments.
Read the full report