Susan Nunziata, Director of Editorial | 1/30/2013 |

29 comments
The priorities include modernizing outdated infrastructure, bolstering cybersecurity, and encouraging collaboration and information exchange. Although there are public/private sector commonalities here, achieving these and other priorities on a national scale is exponentially more challenging than it might be for a single enterprise. Each state has multiple agencies that must interface with the federal government. These agencies must also interface within the state with other county and municipal departments, as well as with private-sector vendors. There's also a drive for enhancing state-to-state interfaces and shared services as well.
That said, most enterprises can likely relate to the spirit of these five NASCIO 2013 priorities:
Modernize regulations and guidance to meet current technology and service models.
Work together to protect citizen data and state digital assets.
Collaborate on a nationwide public safety communications network.
Support the adoption and expansion of the national information exchange model.
Support the state role in identity, credential, and access management solutions.
Brenda Decker, NASCIO president and CIO for the State of Nebraska, said in an interview with us:
What we're really trying to do through our priorities is make sure that we, as a group, are able to say to the federal government that these are things we need to be sitting down and discussing, so we can all make better decisions when it comes to choosing technology.
NASCIO members will meet with their federal government counterparts during the organization's midyear conference in Washington, D.C., April 28 to May 1, 2013. "I expect that's where we'll see the most pointed discussions," Decker told Enterprise Efficiency. "At this point they seem receptive to the ideas." She added:
We've put a lot of work into how we would come up with these priorities. Our CIOs did some brainstorming. We went to all 50 states and asked them questions. This is not one of those things written in a vacuum. This is a backdrop of what states need to move this all forward. If we can meet one, two, or three of these things in next three years even, states will be so much further ahead than they are now. Not only will state taxpayers benefit, federal taxpayers will benefit as well.
Decker was hard-pressed to identify which of the five priorities matters most because, she said, they are all so deeply entwined:
We, as CIOs, say if we don't modernize our systems and way we deliver technologies, we'll never be able to get to how to protect our assets more carefully. And if we don't get a way for us to get an information exchange model and standards, then our current standards don't let us get to a point where we're able to monitor and authenticate credentialing.
The first step in modernization involves changing how individual federal government agencies work with their state counterparts, a process that Decker says has largely led to silo'd operations that make it difficult to share infrastructure, information, and resources. Said Decker:
When we talk about modernizing systems, we think about how the federal government works with states when we are looking to upgrade and put in a new federal system. This is one that gives us a lot of heartburn as a state. [For example] if I roll out a managed Medicare system, the Federal agency says 'Here's what we want states to put in and report on.' A lot of those monies [provided for the project by the federal government] are identified for that specific project in a way that doesn't allow us to share our resources within the state. There are so many rules and regulations and laws that would require us not to be able to share the infrastructure. [Yet] sharing infrastructure could make it cheaper not only for the citizens of Nebraska, but also for the federal government. We see where we could share systems, and federal regulations don't allow us to.
Time for a national information exchange model Decker added that a national information exchange model would establish standard methodologies for each state to follow for solutions such as identity management. For example, Decker suggested, it would be very interesting to see an interstate MMIS system, rather than each state having its own. In addition, she noted, it would be helpful to have one standard state health information exchange, rather than having every state building its own. "If we're all using the same type of standards and identity management solutions, we all know we're getting the information moved around more securely, and providing correct security for all the PII data."
The combined trends of cloud computing and enterprise mobility make these priorities even more pressing, according to Decker:
As we look at putting up more and more mobile applications, and doing things in the cloud, we need to make sure the information we're putting out there is being handled in a secure manner and being treated in the same way. And we need to make sure that it's going over networks that are secured.
States have already begun to make strides in some areas, particularly around information sharing and infrastructure, according to Decker. For example, she says, one NASCIO consortium has launched a GIS service in the cloud that three states have currently signed up for. Another consortium is working on an infrastructure for processing unemployment insurance applications that can be shared across states.
Getting Federal agencies on the same page as the states will make such efforts even more successful, according to Decker. But she's not encouraging any state CIOs to sit around and wait. Decker said:
What we're telling our membership is that these are the Federal priorities we'd like to take forward. Start discussions within your own states about these things. For example, not a lot of states have started using National information exchange model within the state. Nebraska is just starting to look at that model for collaboration. We're telling state CIOs to start talking to their agencies that are heavily reliant on federal funds, and hopefully delivering same message we are: To make sure we're not building silos for Federal funding streams.
What do you think of NASCIO's priorities? Are they on the right track? Are they in line with the priorities of private sector enterprises? Discuss below.
Related posts:


The blogs and comments posted on EnterpriseEfficiency.com do not reflect the views of TechWeb, EnterpriseEfficiency.com, or its sponsors. EnterpriseEfficiency.com, TechWeb, and its sponsors do not assume responsibility for any comments, claims, or opinions made by authors and bloggers. They are no substitute for your own research and should not be relied upon for trading or any other purpose.





More Blogs from Susan Nunziata
Susan Nunziata 5/17/2013

8 comments
Industrial equipment makers Tennant and Grundfos are among those finding that machine-to-machine (M2M) solutions can create new business opportunities for their enterprises.
Susan Nunziata 5/9/2013

15 comments
How do you keep a workforce of 24,000 employees plus some 2,000 biomedical devices wirelessly connected, along with 3,000 to 4,000 guest devices, all while ensuring that your healthcare ...
Susan Nunziata 4/25/2013

46 comments
The move toward bring-your-own-device (BYOD) enterprise mobility at the Green Clinic, in Ruston, La., was a series of step changes, according to Jason Thomas, CIO and IT director.
Susan Nunziata 4/19/2013

22 comments
Can OEM automation, robotics, and human manufacturing jobs peacefully coexist?
Susan Nunziata 4/16/2013

14 comments
If you're a healthcare CIO looking for a surefire way to boost your organization's bottom line, start by improving the speed with which patients pay their bills.

Latest Archived Broadcast
Data visualization can make complex data easier to grasp. Our expert guest will talk about the hows, whys, and whats of bringing the big picture to your enterprise.


May 30th 2pm EDT Thursday

On-demand Video with Chat
NBA CIO Michael Gliedman will tell us why the NBA decided to create NBA.com/stats
6/18/2013 -   Please join us for the "IT Convergence Strategies: Why, When and How " to learn more about: • 5 truths about infrastructure convergence today that go beyond the hype • How to exploit the 4 phases of convergence maximum efficiency and agility • Key milestones to plan for on the convergence journey • Why integrated management is a critical component of convergence plans • The importance of an open, modular approach, such as Dell's active infrastructure, to building a converged data center


Application Audits Simplify Migration
Hardware Refresh Cycles Are Outdated
Office 365 Finds Fans


Windows Blue attendu en juin
Comment profiter d'une nouvelle expérience User Virtualization
S'équiper ou non d'un logiciel anti-virus ?


Leap Motion zeigt Gestensteuerung für Windows 8
Microsofts Surface Pro kommt nach Deutschland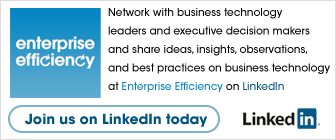 Enterprise Efficiency is looking for engaged readers to moderate the message boards on this site. Engage in high-IQ conversations with IT industry leaders; earn kudos and perks. Interested? E-mail:
moderators@enterpriseefficiency.com


Dell's Efficiency Modeling Tool

The major problem facing the CIO is how to measure the effectiveness of the IT department. Learn how Dell's Efficiency Modeling Tool gives the CIO two clear, powerful numbers: Efficiency Quotient and Impact Quotient. These numbers can be transforma¬tive not only to the department, but to the entire enterprise.
Read the full report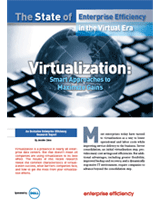 The State of Enterprise Efficiency in the Virtual Era: Virtualization – Smart Approaches to Maximize Gains

Virtualization is a presence in nearly all enterprise data centers. But not all companies are using it to its best effect. Learn the common characteristics of success, what barriers companies face, and how to get the most from your efforts.
Read the full report

Informed CIO: Dollars & Sense: Virtual Desktop Infrastructure

Cut through the VDI hype and get the full picture -- including ROI and the impact on your Data Center -- to make an informed decision about your virtual desktop infrastructure deployments.
Read the full report