Susan Nunziata, Director of Editorial | 12/7/2012 |

32 comments
The first is LearnLaunch, a nonprofit formed December 4, 2012, with the goal of supporting education technology startups throughout New England. The organization will hold its first conference, Across Boundaries: Innovation and the Future of Education, at the MIT Tang Center in Cambridge, Mass., February 1 to February 2, 2013. The conference will include presentations by teachers, as well as showcasing instructional technology in use in classrooms nationwide, according to a statement from LearnLaunch.
The second is an initiative in Maine, in which the state's Maine Learning Technology Initiative (MLTI) is forming an alliance with other states for cooperative purchasing of educational technology. They're doing so through the National Association of State Procurement Officials. According to apost in E2's sister site, Educational IT:
MLTI has published a request for proposal (RFP) accepting bids for 'equipment and services to empower a wireless, student-centered, digital learning environment that provides students with learning technology on a 1:1 (one machine per student/teacher) basis.'
LearnLaunch, meanwhile, describes its goals in a prepared statement:
LearnLaunch brings together innovators, K-12 and higher ed educators, investors, students, school leaders, buyers and distribution channels, and provides structured services such as classes, forums, conferences and networking opportunities for entrepreneurs. It also streamlines and enriches communication between investors and entrepreneurs, and incorporates two established Boston organizations, EdTechup and Kids Club, each of which was founded by LearnLaunch principals.
Seems it takes a village to get the education technology ecosystem sorted out. Yet, these initiatives, and others like them, are certainly a step in the right direction. Sharing knowledge, resources, and power in the form of negotiating good pricing for bulk purchases makes a lot of sense. The more that education IT executives can streamline and standardize the process the better, given the limited time and resources available.
Collaborative education technology initiatives such as these also open the door for unique ideas and solutions that may not otherwise have seen the light of day. The technology in use at schools is not just shaping the kids of today, it's shaping the workforce of tomorrow.
On the downside, the more players involved in any initiative, the more slowly things sometimes move. While it's important to have all voices heard, it's certain that skirmishes will arise between school districts and between states when it comes to which technologies are preferred. There's plenty of politics to account for in the education environment. Education IT professionals will have to be adept at diplomacy if they have any hope of benefiting from these collaborative initiatives.


The blogs and comments posted on EnterpriseEfficiency.com do not reflect the views of TechWeb, EnterpriseEfficiency.com, or its sponsors. EnterpriseEfficiency.com, TechWeb, and its sponsors do not assume responsibility for any comments, claims, or opinions made by authors and bloggers. They are no substitute for your own research and should not be relied upon for trading or any other purpose.





More Blogs from Susan Nunziata
Susan Nunziata 5/17/2013

8 comments
Industrial equipment makers Tennant and Grundfos are among those finding that machine-to-machine (M2M) solutions can create new business opportunities for their enterprises.
Susan Nunziata 5/9/2013

15 comments
How do you keep a workforce of 24,000 employees plus some 2,000 biomedical devices wirelessly connected, along with 3,000 to 4,000 guest devices, all while ensuring that your healthcare ...
Susan Nunziata 4/25/2013

46 comments
The move toward bring-your-own-device (BYOD) enterprise mobility at the Green Clinic, in Ruston, La., was a series of step changes, according to Jason Thomas, CIO and IT director.
Susan Nunziata 4/19/2013

22 comments
Can OEM automation, robotics, and human manufacturing jobs peacefully coexist?
Susan Nunziata 4/16/2013

14 comments
If you're a healthcare CIO looking for a surefire way to boost your organization's bottom line, start by improving the speed with which patients pay their bills.

Latest Archived Broadcast
Data visualization can make complex data easier to grasp. Our expert guest will talk about the hows, whys, and whats of bringing the big picture to your enterprise.


May 30th 2pm EDT Thursday

On-demand Video with Chat
NBA CIO Michael Gliedman will tell us why the NBA decided to create NBA.com/stats
6/18/2013 -   Please join us for the "IT Convergence Strategies: Why, When and How " to learn more about: • 5 truths about infrastructure convergence today that go beyond the hype • How to exploit the 4 phases of convergence maximum efficiency and agility • Key milestones to plan for on the convergence journey • Why integrated management is a critical component of convergence plans • The importance of an open, modular approach, such as Dell's active infrastructure, to building a converged data center


Hardware Refresh Cycles Are Outdated
Office 365 Finds Fans
Cutting Through the Modern App Confusion


S'équiper ou non d'un logiciel anti-virus ?
Microsoft passe au facteur deux
Windows Azure Infrastructure Services est disponible !


Microsofts Surface Pro kommt nach Deutschland
Zum Schmunzeln: drei neue Werbeclips für Windows 8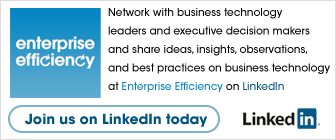 Enterprise Efficiency is looking for engaged readers to moderate the message boards on this site. Engage in high-IQ conversations with IT industry leaders; earn kudos and perks. Interested? E-mail:
moderators@enterpriseefficiency.com


Dell's Efficiency Modeling Tool

The major problem facing the CIO is how to measure the effectiveness of the IT department. Learn how Dell's Efficiency Modeling Tool gives the CIO two clear, powerful numbers: Efficiency Quotient and Impact Quotient. These numbers can be transforma¬tive not only to the department, but to the entire enterprise.
Read the full report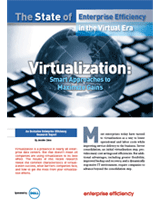 The State of Enterprise Efficiency in the Virtual Era: Virtualization – Smart Approaches to Maximize Gains

Virtualization is a presence in nearly all enterprise data centers. But not all companies are using it to its best effect. Learn the common characteristics of success, what barriers companies face, and how to get the most from your efforts.
Read the full report

Informed CIO: Dollars & Sense: Virtual Desktop Infrastructure

Cut through the VDI hype and get the full picture -- including ROI and the impact on your Data Center -- to make an informed decision about your virtual desktop infrastructure deployments.
Read the full report