Susan Nunziata, Director of Editorial | 11/9/2012 |

18 comments
According to ABI Research, the market for such devices -- which include heart rate monitors and wearable blood glucose meters -- will reach more than 100 million units annually by 2016.
According to a report by Machina Research, "Machine-to-Machine Communications in Healthcare 2011-20," the global market for machine-to-machine healthcare applications will reach $85 billion by 2020. This includes both personal consumer healthcare apps, as well as apps used within the medical environment.
Machina predicts that the installed base of M2M-connected devices within healthcare will reach 726 million worldwide by 2020, with North America accounting for the largest share.
Examples of some of these devices include T-shirts that can monitor a patient's vital signs, as well as sensors and meters that monitor a range of statistics, including blood glucose, sleep patterns, and even breaths taken per minute.
"Remote patient monitoring and on-site professional healthcare use will represent just over 20 percent of the wearable wireless device market by 2017, up from less than half that in 2011," said Jonathan Collins, principal analyst, wireless healthcare and M2M at ABI Research, in a prepared statement. "As the devices can be worn and can upload collected data to the network automatically, collected data can not only be more regularly collected, but also shared, analyzed, and acted on quicker and more efficiently than existing wired or manpower-laden techniques."
What does this mean for your network and IT infrastructure? Well, according to Machina's report, total mobile network traffic generated by M2M solutions in healthcare will exceed 37 petabytes of data by 2020, a compound annual growth rate of 64 percent from 2011. It's estimated that there are already 40,000 healthcare applications available today, according to Gartner analyst Tom Handler, MD, who presented at last month's Gartner Symposium/ITXpo.
According to Handler, as care moves toward wherever the patient is located, EHR and other clinical systems will need to connect to remote devices. Additionally, systems will be able to collect data that can influence care.
What's a healthcare CIO to do? Handler advises:
Create a formal strategy for using technology to engage the individual


Develop patient portals, especially those that are tethered to the healthcare organization's electronic health record (EHR) system


Provide online scheduling options, refill requests, test results, and answers to simple, non-acute questions, and more complicated e-visits through the patient portal
"Healthcare CIOs should not assume that the needs of patients are being considered as IT systems are implemented," said Handler in his presentation. He went on to say:
This is an area of frontier investment in which the CIO must play a key strategic role in looking at options, evolution, costs and operations questions for the enterprise. The key is to establish a multidisciplinary patient experience team composed of clinicians, patient advocates, community representatives, and, of course, legal counsel. This committee must fit in with the organization's clinical governance and must have the power to ensure that most, if not all, decisions are made with the goal of increasing patient engagement and satisfaction.
Is your healthcare organization ready for the M2M challenges ahead?


The blogs and comments posted on EnterpriseEfficiency.com do not reflect the views of TechWeb, EnterpriseEfficiency.com, or its sponsors. EnterpriseEfficiency.com, TechWeb, and its sponsors do not assume responsibility for any comments, claims, or opinions made by authors and bloggers. They are no substitute for your own research and should not be relied upon for trading or any other purpose.





More Blogs from Susan Nunziata
Susan Nunziata 5/17/2013

8 comments
Industrial equipment makers Tennant and Grundfos are among those finding that machine-to-machine (M2M) solutions can create new business opportunities for their enterprises.
Susan Nunziata 5/9/2013

15 comments
How do you keep a workforce of 24,000 employees plus some 2,000 biomedical devices wirelessly connected, along with 3,000 to 4,000 guest devices, all while ensuring that your healthcare ...
Susan Nunziata 4/25/2013

46 comments
The move toward bring-your-own-device (BYOD) enterprise mobility at the Green Clinic, in Ruston, La., was a series of step changes, according to Jason Thomas, CIO and IT director.
Susan Nunziata 4/19/2013

22 comments
Can OEM automation, robotics, and human manufacturing jobs peacefully coexist?
Susan Nunziata 4/16/2013

14 comments
If you're a healthcare CIO looking for a surefire way to boost your organization's bottom line, start by improving the speed with which patients pay their bills.

Latest Archived Broadcast
Data visualization can make complex data easier to grasp. Our expert guest will talk about the hows, whys, and whats of bringing the big picture to your enterprise.


May 30th 2pm EDT Thursday

On-demand Video with Chat
NBA CIO Michael Gliedman will tell us why the NBA decided to create NBA.com/stats
6/18/2013 -   Please join us for the "IT Convergence Strategies: Why, When and How " to learn more about: • 5 truths about infrastructure convergence today that go beyond the hype • How to exploit the 4 phases of convergence maximum efficiency and agility • Key milestones to plan for on the convergence journey • Why integrated management is a critical component of convergence plans • The importance of an open, modular approach, such as Dell's active infrastructure, to building a converged data center


Hardware Refresh Cycles Are Outdated
Office 365 Finds Fans
Cutting Through the Modern App Confusion


Windows Blue attendu en juin
Comment profiter d'une nouvelle expérience User Virtualization
S'équiper ou non d'un logiciel anti-virus ?


Microsofts Surface Pro kommt nach Deutschland
Zum Schmunzeln: drei neue Werbeclips für Windows 8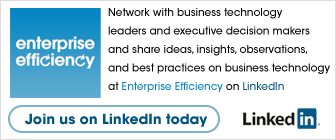 Enterprise Efficiency is looking for engaged readers to moderate the message boards on this site. Engage in high-IQ conversations with IT industry leaders; earn kudos and perks. Interested? E-mail:
moderators@enterpriseefficiency.com


Dell's Efficiency Modeling Tool

The major problem facing the CIO is how to measure the effectiveness of the IT department. Learn how Dell's Efficiency Modeling Tool gives the CIO two clear, powerful numbers: Efficiency Quotient and Impact Quotient. These numbers can be transforma¬tive not only to the department, but to the entire enterprise.
Read the full report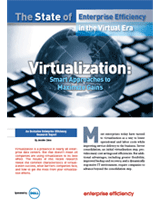 The State of Enterprise Efficiency in the Virtual Era: Virtualization – Smart Approaches to Maximize Gains

Virtualization is a presence in nearly all enterprise data centers. But not all companies are using it to its best effect. Learn the common characteristics of success, what barriers companies face, and how to get the most from your efforts.
Read the full report

Informed CIO: Dollars & Sense: Virtual Desktop Infrastructure

Cut through the VDI hype and get the full picture -- including ROI and the impact on your Data Center -- to make an informed decision about your virtual desktop infrastructure deployments.
Read the full report