Susan Nunziata, Director of Editorial | 11/2/2012 |

9 comments
The goal is to test and certify electronic health record (EHR) and health information exchange (HIE) platforms so that data can be transferred easily -- whether within a single healthcare enterprise or across organizational and state boundaries.
This is no small matter. In a single hospital campus today, disparate systems may be unable to exchange crucial data about a single patient, such as medication history, lab work, and vital statistics. Multiply this by the sheer number of patients being treated by our nation's public and private healthcare systems, and the magnitude of the problem quickly becomes mind-boggling.
A Website created by the coalition partners explains the challenges like this:
A custom interface has to be negotiated and developed from each electronic health record to each health information exchange as well as between exchanges. The development of the interface and negotiation of point-to-point agreements represents a significant expenditure of cost and time for all stakeholders (physicians, HIEs, and vendors), limiting adoption and utilization of HIE.
An automated testing system -- created by a coalition of 15 states, 37 technology vendors, and 34 health information exchanges -- is designed to verify that, once tested, a system is capable of exchanging health information with many other systems. Two main groups are leading the efforts: The EHR/HIE Interoperability Workgroup and Healtheway. The former is a consortium of states and vendors that's led by the New York eHealth Collaborative. The latter is a public-private partnership of the eHealth Exchange, a network of 34 public and private organizations representing hundreds of hospitals, thousands of providers and millions of patients in the US.
According to a prepared statement released by the groups, the coalition represents more than 50 percent of the U.S. population. Participants in the interoperability initiative include the states of California, Florida, Illinois, and New York; the Centers for Medicare and Medicaid Services; Children's Hospital of Dallas; the Department of Defense and Department of Veterans Affairs; Kaiser Permanente; and the University of California San Diego.
Testing will be done by the Certification Commission for Health Information Technology (CCHIT). The testing program is designed to align with, and complement, the EHR certification effort established by the US Office of the National Coordinator (ONC), which also uses CCHIT as its testing body. According to the coalition, the Compliance Testing Program:
Includes a technology certification component, building upon the EHR certification program established by ONC to support meaningful use
Utilizes an accredited and authorized testing laboratory and certification body, leveraging the strategy implemented for the EHR certification program
Verifies conformance with national standards
Leverages national standards and work from the ONC Standards & Interoperability (S&I) Framework Initiatives
The testing program aims to more than double participation and connectivity in the next nine to 12 months. According to a prepared statement:
The coalition's work covers the ability to send and receive encrypted health information over the Internet, look up and retrieve patient records, and produce a tightly constrained patient record summary which reduces variances and implementation-specific customization.
It seems to me that if these efforts to improve interoperability and communication among the disparate healthcare organizations across the US proceed on schedule, we can expect dramatic transformations in patient care by this time next year. Here's hoping.


The blogs and comments posted on EnterpriseEfficiency.com do not reflect the views of TechWeb, EnterpriseEfficiency.com, or its sponsors. EnterpriseEfficiency.com, TechWeb, and its sponsors do not assume responsibility for any comments, claims, or opinions made by authors and bloggers. They are no substitute for your own research and should not be relied upon for trading or any other purpose.





More Blogs from Susan Nunziata
Susan Nunziata 5/17/2013

8 comments
Industrial equipment makers Tennant and Grundfos are among those finding that machine-to-machine (M2M) solutions can create new business opportunities for their enterprises.
Susan Nunziata 5/9/2013

15 comments
How do you keep a workforce of 24,000 employees plus some 2,000 biomedical devices wirelessly connected, along with 3,000 to 4,000 guest devices, all while ensuring that your healthcare ...
Susan Nunziata 4/25/2013

46 comments
The move toward bring-your-own-device (BYOD) enterprise mobility at the Green Clinic, in Ruston, La., was a series of step changes, according to Jason Thomas, CIO and IT director.
Susan Nunziata 4/19/2013

22 comments
Can OEM automation, robotics, and human manufacturing jobs peacefully coexist?
Susan Nunziata 4/16/2013

14 comments
If you're a healthcare CIO looking for a surefire way to boost your organization's bottom line, start by improving the speed with which patients pay their bills.

Latest Archived Broadcast
Data visualization can make complex data easier to grasp. Our expert guest will talk about the hows, whys, and whats of bringing the big picture to your enterprise.


May 30th 2pm EDT Thursday

On-demand Video with Chat
NBA CIO Michael Gliedman will tell us why the NBA decided to create NBA.com/stats
6/18/2013 -   Please join us for the "IT Convergence Strategies: Why, When and How " to learn more about: • 5 truths about infrastructure convergence today that go beyond the hype • How to exploit the 4 phases of convergence maximum efficiency and agility • Key milestones to plan for on the convergence journey • Why integrated management is a critical component of convergence plans • The importance of an open, modular approach, such as Dell's active infrastructure, to building a converged data center


Get Modern Apps on the Windows 8 Desktop
Application Audits Simplify Migration
Hardware Refresh Cycles Are Outdated


Windows Blue attendu en juin
Comment profiter d'une nouvelle expérience User Virtualization
S'équiper ou non d'un logiciel anti-virus ?


Leap Motion zeigt Gestensteuerung für Windows 8
Microsofts Surface Pro kommt nach Deutschland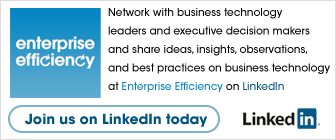 Enterprise Efficiency is looking for engaged readers to moderate the message boards on this site. Engage in high-IQ conversations with IT industry leaders; earn kudos and perks. Interested? E-mail:
moderators@enterpriseefficiency.com


Dell's Efficiency Modeling Tool

The major problem facing the CIO is how to measure the effectiveness of the IT department. Learn how Dell's Efficiency Modeling Tool gives the CIO two clear, powerful numbers: Efficiency Quotient and Impact Quotient. These numbers can be transforma¬tive not only to the department, but to the entire enterprise.
Read the full report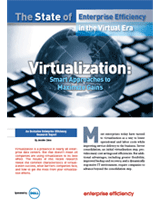 The State of Enterprise Efficiency in the Virtual Era: Virtualization – Smart Approaches to Maximize Gains

Virtualization is a presence in nearly all enterprise data centers. But not all companies are using it to its best effect. Learn the common characteristics of success, what barriers companies face, and how to get the most from your efforts.
Read the full report

Informed CIO: Dollars & Sense: Virtual Desktop Infrastructure

Cut through the VDI hype and get the full picture -- including ROI and the impact on your Data Center -- to make an informed decision about your virtual desktop infrastructure deployments.
Read the full report