Tempy Wright, Senior Segment Marketing Consultant, Dell SecureWorks | 11/9/2012 |

10 comments
PCI Compliance Resource Center. Dell SecureWorks has assembled a collection of tools and information to help you understand the PCI DSS requirements, and how we can help you address them with our information security services.

The resource center features links to whitepapers, frequently asked questions, videos, and other content designed to help de-mystify PCI compliance. You can even take a short quiz to test your PCI compliance aptitude. You'll also find links to recent and upcoming Webcasts such as Tuning Your PCI Program for Maximum Performance, Understanding the PCI Compliance Risk Ranking and Scanning Requirements, and Putting Out PCI Fires: How Next Gen Firewalls Can Help Your Compliance and Security Program, featuring PCI experts from Dell SecureWorks, Qualys, and Dell SonicWALL.

PCI DSS compliance requires any organization that transmits, processes, or stores data that contains payment card information to protect the privacy and confidentiality of that data. In addition to retailers, the PCI standards affect financial institutions, healthcare providers, transportation service providers, the food and hospitality industry, and payment service providers, among millions of others of organizations. The fines and penalties for non-compliance can be steep and can even lead to payment card privileges being revoked.

However, becoming PCI compliant can be difficult to achieve and even harder to maintain, even for larger merchants. According to the most recent statistics from Visa, approximately 97 percent of Level 1 merchants -- organizations with greater than 6 million transactions per year -- and 93 percent of Level 2 merchants have demonstrated PCI compliance within the past year. However, many of these organizations are still at risk for a data breach, as the PCI compliance standards are no substitute for a strong information security program.

In addition to meeting the requirements of PCI DSS, merchants and service providers must also validate their compliance each year, as well as submit a passing vulnerability scan performed by an ASV. Merchants must also undergo an annual onsite audit performed by a QSA or complete a Self-Assessment Questionnaire (SAQ), depending on their merchant level. If a Level 2 to 4 merchant suffers a breach that results in a data compromise, it may be escalated to a Level 1 validation level. As an Approved Scanning Vendor (ASV) and Qualified Security Assessor (QSA), Dell SecureWorks has helped hundreds of enterprise companies meet and maintain the PCI compliance requirements while improving their overall security program.

If your organization is dealing with PCI compliance, what are your biggest challenges or achievements? What information would you like to see included in future updates to the PCI Compliance Resource Center?


The blogs and comments posted on EnterpriseEfficiency.com do not reflect the views of TechWeb, EnterpriseEfficiency.com, or its sponsors. EnterpriseEfficiency.com, TechWeb, and its sponsors do not assume responsibility for any comments, claims, or opinions made by authors and bloggers. They are no substitute for your own research and should not be relied upon for trading or any other purpose.





More Enterprise Delliberation
Tempy Wright 11/14/2012

39 comments
In the past few years, targeted cyberthreats have emerged as one of the biggest information security issues for enterprise companies. Targeted threats are designed to infiltrate and harm a ...
Tempy Wright 8/2/2012

1 comment
Although some skeptics may dismiss the term "advanced threat" as a marketing catchphrase, the reality is that well resourced, malicious hackers are actively targeting information and ...

Latest Archived Broadcast
Data visualization can make complex data easier to grasp. Our expert guest will talk about the hows, whys, and whats of bringing the big picture to your enterprise.


May 30th 2pm EDT Thursday

On-demand Video with Chat
NBA CIO Michael Gliedman will tell us why the NBA decided to create NBA.com/stats
6/18/2013 -   Please join us for the "IT Convergence Strategies: Why, When and How " to learn more about: • 5 truths about infrastructure convergence today that go beyond the hype • How to exploit the 4 phases of convergence maximum efficiency and agility • Key milestones to plan for on the convergence journey • Why integrated management is a critical component of convergence plans • The importance of an open, modular approach, such as Dell's active infrastructure, to building a converged data center


Office 365 Finds Fans
Cutting Through the Modern App Confusion
Microsoft Hints at Changes to Windows 8


S'équiper ou non d'un logiciel anti-virus ?
Microsoft passe au facteur deux
Windows Azure Infrastructure Services est disponible !


Microsofts Surface Pro kommt nach Deutschland
Zum Schmunzeln: drei neue Werbeclips für Windows 8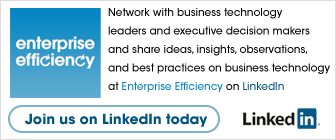 Enterprise Efficiency is looking for engaged readers to moderate the message boards on this site. Engage in high-IQ conversations with IT industry leaders; earn kudos and perks. Interested? E-mail:
moderators@enterpriseefficiency.com


Dell's Efficiency Modeling Tool

The major problem facing the CIO is how to measure the effectiveness of the IT department. Learn how Dell's Efficiency Modeling Tool gives the CIO two clear, powerful numbers: Efficiency Quotient and Impact Quotient. These numbers can be transforma¬tive not only to the department, but to the entire enterprise.
Read the full report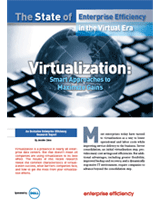 The State of Enterprise Efficiency in the Virtual Era: Virtualization – Smart Approaches to Maximize Gains

Virtualization is a presence in nearly all enterprise data centers. But not all companies are using it to its best effect. Learn the common characteristics of success, what barriers companies face, and how to get the most from your efforts.
Read the full report

Informed CIO: Dollars & Sense: Virtual Desktop Infrastructure

Cut through the VDI hype and get the full picture -- including ROI and the impact on your Data Center -- to make an informed decision about your virtual desktop infrastructure deployments.
Read the full report