Michael Beck, Executive Coach & Business Strategist | 2/13/2013 |

80 comments
There's a huge gap between someone just doing enough to keep their job and someone who's engaged, enthused, and willing to go the extra mile.
And while a good pay scale is important, it doesn't do the trick. Generally, money doesn't motivate many people. Years ago, I used to cite a study done in 1980 as proof, but lately, a number of current studies confirm that the things that matter to people are still the same. Human nature doesn't change.
If you're a manager, it must send chills down your spine to read that 65 percent of employees said they'd take a new boss over a pay raise!
So the question is, how do you make a difference with your team so that they're not only happy and loyal, but give you their best? The means to do this fall into two categories. The first relates to who you are as a leader, and the second pertains to what people want from their boss and their company.
Here are a few points to consider regarding who you are as a leader:
A leader who has no vision fails to inspire. It's one of the major gripes people have about their managers. People want a sense of purpose and it's our job to help provide one.

If you have no standards of performance, then anything will do. If you want to instill a sense of pride in people, you need to establish an expected level of performance and quality for your department and your team.

Have integrity. Simply put, do what you say you're going to do. Be the person you claim to be and be consistent in your actions. People respond to someone they respect and admire.
As far as what people want from their boss and their company, here is some further insight:
People want appreciation. Sounds simple enough, but often the demands of our job cause us to overlook this. Thank people for their effort. Acknowledge and recognize people publically for their accomplishments.

People want respect. One of the most powerful means of showing respect for someone is to listen to them. People want to be heard. Solicit ideas from people, empathize with them, and don't be dismissive. When we respect others, they respect us.

People want opportunity. No one wants to remain stagnant. When we help people grow, we make them more valuable and they feel more valued. When we look out for others, they look out for us.

People want enjoyment. There's enough stress in the workload and in the world without adding to it. Create a positive work environment where people actually want to show up. How do you do that? I don't know... ask them.
Simply paying people will yield good results. But if you really want high performance and outstanding results, give people what they really want.


The blogs and comments posted on EnterpriseEfficiency.com do not reflect the views of TechWeb, EnterpriseEfficiency.com, or its sponsors. EnterpriseEfficiency.com, TechWeb, and its sponsors do not assume responsibility for any comments, claims, or opinions made by authors and bloggers. They are no substitute for your own research and should not be relied upon for trading or any other purpose.





More Blogs from Michael Beck
Michael Beck 10/7/2013

26 comments
Transitioning from director to CIO means moving from a role as manager to one of leader. And although logically we all know that, the realities of what that means are a different story.
Michael Beck 9/25/2013

103 comments
What do Delta Airlines, Wal-Mart, MGM Resorts, Raytheon, and Walt Disney have in common? In 2012, they all had female CIOs.
Michael Beck 9/18/2013

27 comments
CIOs are like carpenters. Not literally, of course (although I know we'd often like to take a hammer to some of our equipment), but there are quite a few similarities.
Michael Beck 8/1/2013

27 comments
Most people hate meetings. They think they are a waste of time. And yet most of us spend a great deal of our time in meetings. If we think they're such a waste of time, why do we spend so ...
Michael Beck 7/11/2013

66 comments
Everyone talks about the importance of having integrity, but most people confuse being honest with having integrity. It's true that if you have integrity, you're honest, but just because ...

Latest Archived Broadcast
We talk with Bernard Golden about accelerating application delivery in the cloud.

On-demand Video with Chat
Register for this video discussion to learn how tablets can provide true business usability and productivity.


Why PowerShell Is Important
Reduce the Windows 8 Footprint for VDI
Rethinking Storage Management


SQL Server : 240 To de mémoire flash pour votre data warehouse
Quand Office vient booster les revenus Cloud et Android de Microsoft
Windows Phone : Nokia veut davantage d'applications (et les utilisateurs aussi)


Cloud Computing: Warum Unternehmen trotz NSA auf die "private" Wolke setzen sollten
Cloud Computing bleibt Wachstumsmarkt – Windows Azure ist Vorreiter
Enterprise Efficiency is looking for engaged readers to moderate the message boards on this site. Engage in high-IQ conversations with IT industry leaders; earn kudos and perks. Interested? E-mail:
moderators@enterpriseefficiency.com


Dell's Efficiency Modeling Tool

The major problem facing the CIO is how to measure the effectiveness of the IT department. Learn how Dell's Efficiency Modeling Tool gives the CIO two clear, powerful numbers: Efficiency Quotient and Impact Quotient. These numbers can be transforma¬tive not only to the department, but to the entire enterprise.
Read the full report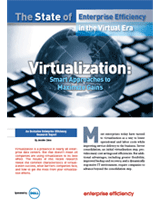 The State of Enterprise Efficiency in the Virtual Era: Virtualization – Smart Approaches to Maximize Gains

Virtualization is a presence in nearly all enterprise data centers. But not all companies are using it to its best effect. Learn the common characteristics of success, what barriers companies face, and how to get the most from your efforts.
Read the full report

Informed CIO: Dollars & Sense: Virtual Desktop Infrastructure

Cut through the VDI hype and get the full picture -- including ROI and the impact on your Data Center -- to make an informed decision about your virtual desktop infrastructure deployments.
Read the full report