Michael Beck, Executive Coach & Business Strategist | 2/13/2013 |

78 comments
There's a huge gap between someone just doing enough to keep their job and someone who's engaged, enthused, and willing to go the extra mile.
And while a good pay scale is important, it doesn't do the trick. Generally, money doesn't motivate many people. Years ago, I used to cite a study done in 1980 as proof, but lately, a number of current studies confirm that the things that matter to people are still the same. Human nature doesn't change.
If you're a manager, it must send chills down your spine to read that 65 percent of employees said they'd take a new boss over a pay raise!
So the question is, how do you make a difference with your team so that they're not only happy and loyal, but give you their best? The means to do this fall into two categories. The first relates to who you are as a leader, and the second pertains to what people want from their boss and their company.
Here are a few points to consider regarding who you are as a leader:
A leader who has no vision fails to inspire. It's one of the major gripes people have about their managers. People want a sense of purpose and it's our job to help provide one.

If you have no standards of performance, then anything will do. If you want to instill a sense of pride in people, you need to establish an expected level of performance and quality for your department and your team.

Have integrity. Simply put, do what you say you're going to do. Be the person you claim to be and be consistent in your actions. People respond to someone they respect and admire.
As far as what people want from their boss and their company, here is some further insight:
People want appreciation. Sounds simple enough, but often the demands of our job cause us to overlook this. Thank people for their effort. Acknowledge and recognize people publically for their accomplishments.

People want respect. One of the most powerful means of showing respect for someone is to listen to them. People want to be heard. Solicit ideas from people, empathize with them, and don't be dismissive. When we respect others, they respect us.

People want opportunity. No one wants to remain stagnant. When we help people grow, we make them more valuable and they feel more valued. When we look out for others, they look out for us.

People want enjoyment. There's enough stress in the workload and in the world without adding to it. Create a positive work environment where people actually want to show up. How do you do that? I don't know... ask them.
Simply paying people will yield good results. But if you really want high performance and outstanding results, give people what they really want.


The blogs and comments posted on EnterpriseEfficiency.com do not reflect the views of TechWeb, EnterpriseEfficiency.com, or its sponsors. EnterpriseEfficiency.com, TechWeb, and its sponsors do not assume responsibility for any comments, claims, or opinions made by authors and bloggers. They are no substitute for your own research and should not be relied upon for trading or any other purpose.





More Blogs from Michael Beck
Michael Beck 5/13/2013

9 comments
I've been thinking. (I do that a lot.) I've been thinking about what things propel a CIO forward in his career and what things hold him back.
Michael Beck 4/10/2013

21 comments
Over my years of guiding executives to better leadership and better careers, one recurring message has overshadowed all others. And it holds true whether we're talking about being ...
Michael Beck 3/21/2013

21 comments
I've written before about why a CIO is potentially in the best position to advance into the CEO role. One of the reasons is that they, more than any other executive, interact with every ...
Michael Beck 3/12/2013

61 comments
I don't think there's any doubt that LinkedIn is the king of social networking for business. It's a great platform with lots of features and high traffic.

Latest Archived Broadcast
Data visualization can make complex data easier to grasp. Our expert guest will talk about the hows, whys, and whats of bringing the big picture to your enterprise.


May 30th 2pm EDT Thursday

On-demand Video with Chat
NBA CIO Michael Gliedman will tell us why the NBA decided to create NBA.com/stats
6/18/2013 -   Please join us for the "IT Convergence Strategies: Why, When and How " to learn more about: • 5 truths about infrastructure convergence today that go beyond the hype • How to exploit the 4 phases of convergence maximum efficiency and agility • Key milestones to plan for on the convergence journey • Why integrated management is a critical component of convergence plans • The importance of an open, modular approach, such as Dell's active infrastructure, to building a converged data center


Hardware Refresh Cycles Are Outdated
Office 365 Finds Fans
Cutting Through the Modern App Confusion


Comment profiter d'une nouvelle expérience User Virtualization
S'équiper ou non d'un logiciel anti-virus ?
Microsoft passe au facteur deux


Microsofts Surface Pro kommt nach Deutschland
Zum Schmunzeln: drei neue Werbeclips für Windows 8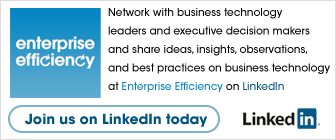 Enterprise Efficiency is looking for engaged readers to moderate the message boards on this site. Engage in high-IQ conversations with IT industry leaders; earn kudos and perks. Interested? E-mail:
moderators@enterpriseefficiency.com


Dell's Efficiency Modeling Tool

The major problem facing the CIO is how to measure the effectiveness of the IT department. Learn how Dell's Efficiency Modeling Tool gives the CIO two clear, powerful numbers: Efficiency Quotient and Impact Quotient. These numbers can be transforma¬tive not only to the department, but to the entire enterprise.
Read the full report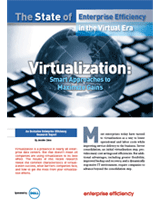 The State of Enterprise Efficiency in the Virtual Era: Virtualization – Smart Approaches to Maximize Gains

Virtualization is a presence in nearly all enterprise data centers. But not all companies are using it to its best effect. Learn the common characteristics of success, what barriers companies face, and how to get the most from your efforts.
Read the full report

Informed CIO: Dollars & Sense: Virtual Desktop Infrastructure

Cut through the VDI hype and get the full picture -- including ROI and the impact on your Data Center -- to make an informed decision about your virtual desktop infrastructure deployments.
Read the full report