Susan Fourtané, Journalist, Writer | 2/5/2013 |

39 comments
The EU's European Cloud Computing Strategy focuses on standards, partnerships, and cross-border interoperability. One of the main goals of this strategy is to speed up the adoption of cloud computing within EU member nations and, ultimately, accelerate the process of technological growth across the Union.
According to an IDC survey of 1,056 businesses in the EU, 64 percent of respondents are using cloud services in some fashion; of these, 34 percent are using cloud computing across multiple areas of their organizations. The European Commission is aiming to use its strategy to encourage new standards and partnerships to make cloud usage virtually ubiquitous in the EU. The European Cloud Computing Strategy is based on the following three key actions:
Standards and Certification: Identifying technical standards for optimum interoperability, data portability, and reversibility by year-end 2013, with an eye toward developing a list of what the strategy statement calls "EU-wide voluntary certification schemes" by 2014.
Contract Terms and Conditions: Developing model contract terms for issues such as data ownership, preservation, and disclosure. The European Commission strategy plan claims that this will "accelerate the take-up of cloud computing by increasing the trust of prospective consumers."
European Cloud Partnership: Promoting what the strategy plan identifies as "better public procurement" of cloud services in Europe, including "procurement across borders." Goals of this action include improving efficiencies in the public sector and promoting what the strategy document calls a "European cloud industry." To achieve this, the European Commission is investing 383 million Euros in funding research projects using cloud computing for information and communication technologies (ICT).
Achieving European standards in cloud computing will help governments and enterprises alike move toward a clear cloud adoption strategy while reducing fears of security and privacy issues.

Nations line up "cloud-first" strategies
The EU is not alone in its efforts toward developing cloud standards. For example, Australia's Department of Finance and Deregulation, a division of the government's Information Management Office, has consulted with government agencies, industry, and the public to develop a detailed paper. This paper explores the opportunities and impact of cloud computing on the Australian government. This initiative is particularly important because the Australian government's business operations are highly dependent upon ICT.

The Government of New Zealand is also moving ahead with its cloud computing strategy, originally announced in August 2012. New Zealand's all-of-government cloud computing approach means that as cloud-based service offerings become available, core public services will be expected to transition to them.

New Zealand's "cloud-first" policy, led by the Government CIO, means that agencies will adopt the cloud when faced with new procurements, or when preparing for an upcoming contract extension decision. However, with security concerns top-of-mind, New Zealand's government is waiting before it takes its data hosting offshore, demonstrating a balance between accelerating cloud adoption and taking a conservative approach to data hosting.

Cloud computing use in national governments is taking big steps around the globe. How do your cloud computing efforts stack up? Do you think these and other government initiatives will achieve the goal of accelerating cloud adoption? Tell us below.

Related posts:


The blogs and comments posted on EnterpriseEfficiency.com do not reflect the views of TechWeb, EnterpriseEfficiency.com, or its sponsors. EnterpriseEfficiency.com, TechWeb, and its sponsors do not assume responsibility for any comments, claims, or opinions made by authors and bloggers. They are no substitute for your own research and should not be relied upon for trading or any other purpose.





More Blogs from Susan Fourtané
Susan Fourtané 2/21/2013

17 comments
If you're a bank CIO, you're no doubt struggling with startups eating your lunch with smart innovations and disruptive products.
Susan Fourtané 1/16/2013

116 comments
Education CIOs looking to add new tools to the learning environment will want to have a look at Skype in the Classroom, a low-cost collaborative option for teachers.
Susan Fourtané 12/13/2012

39 comments
Technology may be just the ticket to flip the classroom.
Susan Fourtané 12/11/2012

38 comments
In part one, we gave examples of clever uses of augmented reality in retail and showed how AR can be a great tool for increasing sales, customer engagement, and enhancing the brand.

Latest Archived Broadcast
Data visualization can make complex data easier to grasp. Our expert guest will talk about the hows, whys, and whats of bringing the big picture to your enterprise.


May 30th 2pm EDT Thursday

On-demand Video with Chat
NBA CIO Michael Gliedman will tell us why the NBA decided to create NBA.com/stats
6/18/2013 -   Please join us for the "IT Convergence Strategies: Why, When and How " to learn more about: • 5 truths about infrastructure convergence today that go beyond the hype • How to exploit the 4 phases of convergence maximum efficiency and agility • Key milestones to plan for on the convergence journey • Why integrated management is a critical component of convergence plans • The importance of an open, modular approach, such as Dell's active infrastructure, to building a converged data center


Hardware Refresh Cycles Are Outdated
Office 365 Finds Fans
Cutting Through the Modern App Confusion


Comment profiter d'une nouvelle expérience User Virtualization
S'équiper ou non d'un logiciel anti-virus ?
Microsoft passe au facteur deux


Microsofts Surface Pro kommt nach Deutschland
Zum Schmunzeln: drei neue Werbeclips für Windows 8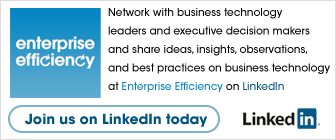 Enterprise Efficiency is looking for engaged readers to moderate the message boards on this site. Engage in high-IQ conversations with IT industry leaders; earn kudos and perks. Interested? E-mail:
moderators@enterpriseefficiency.com


Dell's Efficiency Modeling Tool

The major problem facing the CIO is how to measure the effectiveness of the IT department. Learn how Dell's Efficiency Modeling Tool gives the CIO two clear, powerful numbers: Efficiency Quotient and Impact Quotient. These numbers can be transforma¬tive not only to the department, but to the entire enterprise.
Read the full report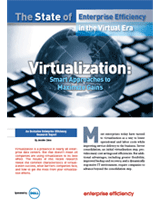 The State of Enterprise Efficiency in the Virtual Era: Virtualization – Smart Approaches to Maximize Gains

Virtualization is a presence in nearly all enterprise data centers. But not all companies are using it to its best effect. Learn the common characteristics of success, what barriers companies face, and how to get the most from your efforts.
Read the full report

Informed CIO: Dollars & Sense: Virtual Desktop Infrastructure

Cut through the VDI hype and get the full picture -- including ROI and the impact on your Data Center -- to make an informed decision about your virtual desktop infrastructure deployments.
Read the full report