Susan Fourtané, Journalist, Writer | 1/16/2013 |

116 comments
Skype in the Classroom, a low-cost collaborative option for teachers.

Skype in the Classroom is just one of the many offerings from VoIP service Skype -- which was acquired by Microsoft in October 2011 -- that will appeal to education CIOs who have already deployed other Microsoft products. For example, ZDNet reports that Microsoft is planning to discontinue Microsoft Live Messenger on March 15, 2013, and replace it with Skype, which includes built-in messaging. The latest version, Skype 6.1, released on January 10, integrates with Windows 7, Windows Vista, and Windows XP, enabling users to initiate Skype calls directly with contacts in Microsoft Outlook.

Launched in March 2011, Skype in the Classroom has been used by more than 47,000 teachers to date to conduct more than 2,400 lessons, according to the company. In addition, Skype in the Classroom has 17 partners including NASA, The Virginia Historical Society, The Science Museum in London, The New York Philharmonic, and The National Museum of the Royal Navy.

Bringing Skype in the Classroom to your school doesn't require a big investment. Even schools with low budgets can take advantage of this useful tool. Skype in the Classroom uses simple VoIP technology, it's free, and it's easy for IT to implement and maintain. The greatest challenge for some schools may be the availability of reliable WLAN WiFi network that can handle the video bandwidth required. You also need to budget for monitors or projection screens for the classrooms in which you wish to use the solution.

Training teachers and administrators to use Skype in the Classroom should be relatively easy. According to the StatisticBrain website, 560 million people worldwide have tried Skype at least once, and, as of January 2012, the service had 31 million regular users. This level of familiarity, and the solution's user-friendly interface, means that most teachers won't need any special training.

Once Skype in the Classroom is up and running, the possibilities for learning are endless. For example, a French-language teacher in the US might be able to use the solution to connect his class with a class in France, enabling students to practice conversing with native-speakers their own age. Imagine such students being able to have a real conversation with French students in which they discuss topics of interest to them and learn about one another's culture.

Here are some additional real-world examples of how Skype in the Classroom is being used:
NASA uses Skype in the Classroom to offer lessons about galaxies, planet discoveries, the current space missions, life and work in space, and everything about the universe. The courses are taught by NASA experts through NASA's Digital Learning Network (DLN).
A museum educator from the Virginia Historical Society guides a Skype lesson that includes a question-and-answer period. The society emails a PDF package to the educator with suggested pre- and post-program activities, vocabulary, historical background, and sources. The programs are set up for different age groups. If, for example, the teacher needs to teach about Pocahontas and the Powhatan Indians, a one-hour program can be arranged with a school program educator for that class.
Penguin Books, another Skype in the Classroom partner, arranges for authors to speak to English classes. In the video below, we see how Penguin Books and the participating school arranged a lesson in which author Jojo Moyes gives advice on writing and answers questions from the students.
How to be an IT hero at school
If you want to be an IT hero at your school, then at the end of the year, you can surprise the teachers and younger students by arranging a Skype visit to Santa's office in Lapland, Finland. The children can ask for what they want for Christmas. (Make sure you get all the details and email all the parents immediately with the secret information. Everyone will love you.)

For inspiration, watch this video, in which Santa visits a classroom in the UK. Lynn Edwards, the IT Coordinator at Cronton Primary School, won a competition and received $10,000 in Microsoft technology for her school. As a bonus, she was granted a Skype call with Santa for the little ones:

How would you deploy Skype in the Classroom in your education environment? What challenges do you see in making this option available in your school? Tell us how you'd most like to see Skype in the Classroom applied to education.


The blogs and comments posted on EnterpriseEfficiency.com do not reflect the views of TechWeb, EnterpriseEfficiency.com, or its sponsors. EnterpriseEfficiency.com, TechWeb, and its sponsors do not assume responsibility for any comments, claims, or opinions made by authors and bloggers. They are no substitute for your own research and should not be relied upon for trading or any other purpose.





More Blogs from Susan Fourtané
Susan Fourtané 2/21/2013

17 comments
If you're a bank CIO, you're no doubt struggling with startups eating your lunch with smart innovations and disruptive products.
Susan Fourtané 2/5/2013

39 comments
As the European Union moves ahead with its cloud computing strategy, a number of other nations around the world are aiming toward similar goals.
Susan Fourtané 12/13/2012

39 comments
Technology may be just the ticket to flip the classroom.
Susan Fourtané 12/11/2012

38 comments
In part one, we gave examples of clever uses of augmented reality in retail and showed how AR can be a great tool for increasing sales, customer engagement, and enhancing the brand.

Latest Archived Broadcast
Data visualization can make complex data easier to grasp. Our expert guest will talk about the hows, whys, and whats of bringing the big picture to your enterprise.


May 30th 2pm EDT Thursday

On-demand Video with Chat
NBA CIO Michael Gliedman will tell us why the NBA decided to create NBA.com/stats
6/18/2013 -   Please join us for the "IT Convergence Strategies: Why, When and How " to learn more about: • 5 truths about infrastructure convergence today that go beyond the hype • How to exploit the 4 phases of convergence maximum efficiency and agility • Key milestones to plan for on the convergence journey • Why integrated management is a critical component of convergence plans • The importance of an open, modular approach, such as Dell's active infrastructure, to building a converged data center


Hardware Refresh Cycles Are Outdated
Office 365 Finds Fans
Cutting Through the Modern App Confusion


S'équiper ou non d'un logiciel anti-virus ?
Microsoft passe au facteur deux
Windows Azure Infrastructure Services est disponible !


Microsofts Surface Pro kommt nach Deutschland
Zum Schmunzeln: drei neue Werbeclips für Windows 8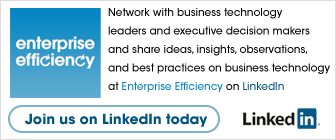 Enterprise Efficiency is looking for engaged readers to moderate the message boards on this site. Engage in high-IQ conversations with IT industry leaders; earn kudos and perks. Interested? E-mail:
moderators@enterpriseefficiency.com


Dell's Efficiency Modeling Tool

The major problem facing the CIO is how to measure the effectiveness of the IT department. Learn how Dell's Efficiency Modeling Tool gives the CIO two clear, powerful numbers: Efficiency Quotient and Impact Quotient. These numbers can be transforma¬tive not only to the department, but to the entire enterprise.
Read the full report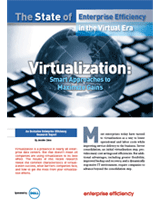 The State of Enterprise Efficiency in the Virtual Era: Virtualization – Smart Approaches to Maximize Gains

Virtualization is a presence in nearly all enterprise data centers. But not all companies are using it to its best effect. Learn the common characteristics of success, what barriers companies face, and how to get the most from your efforts.
Read the full report

Informed CIO: Dollars & Sense: Virtual Desktop Infrastructure

Cut through the VDI hype and get the full picture -- including ROI and the impact on your Data Center -- to make an informed decision about your virtual desktop infrastructure deployments.
Read the full report