Greg Laugero, President, Industrial Wisdom | 4/23/2012 |

23 comments
From Jars to the Stars, the Deep Impact mission is a story that appeals to those interested in the history of space exploration. It's also a good read for managers who want to foster innovation in their organizations. I bought copies for all my employees.

We read a lot these days about innovation and "failing fast." We read a lot about "lean startups" and rapid iterations to arrive at successful products and services. The Deep Impact story makes these endeavors seem simple by comparison, but it also puts these ideas in stark relief.

For those not familiar with Deep Impact, the objective was to send an "impactor" to hit a comet (Tempel 1) that was 83 million miles away from Earth and traveling at 64,000mph. The collision would kick up a bunch of ice and dust, which would be photographed by a "flyby" craft and several terrestrial and orbital telescopes, including the Hubble.

To spoil the ending (for those not already familiar with it), the project was a major success. The impactor struck its mark at the precise time and location as planned. The images returned were spectacular to say the least.

It is easy to think of this story as an exercise in explaining complex science. There is plenty of that, but this story is a good read for managers and executives because it covers so much about innovation leadership and management of massively uncertain endeavors. Here are just a few of the lessons that I derived from it.
Strive for a common, cannot-fail goal. At its core, the Deep Impact story is about a team of people committed to a clear goal: Hit a comet millions of miles away, so the results can be photographed. This commitment focused everyone involved so that they deeply understood their roles, their dependencies, and their relationships to everyone else striving for the same goal. No one in this story is punching the clock with no idea what the work means. Too many of our much simpler projects have no clearly stated goals and therefore no measure of success and no common motivation.
Embrace a trial and error mentality. People working on complex projects with massive amounts of uncertainty need to have the space and time to build, test, and learn repeatedly. Expect solutions to one problem to bring to light new problems that need to be solved. Failure is a byproduct of moving toward a common goal. Expect it, but make sure it yields knowledge of how to do it better.
Get creative. Creative problem-solving is essential to overcoming massive uncertainty. There is a great story about how the team conducted "acoustic testing" on the Deep Impact spacecraft. They needed to find a way to create 143dB of noise (13 times louder than a typical rock concert) to ensure the payload could survive the roar of the rockets. They turned to Maryland Sound International and borrowed speakers for an upcoming Hall & Oates tour.
There is a lot more to the story, including good lessons about keeping people motivated, dealing with partner organizations with different motivations, and delivering bad news early. Stories like Deep Impact help us see innovation at work in the face of complexity and uncertainty, therefore shedding light on our own management practices.


The blogs and comments posted on EnterpriseEfficiency.com do not reflect the views of TechWeb, EnterpriseEfficiency.com, or its sponsors. EnterpriseEfficiency.com, TechWeb, and its sponsors do not assume responsibility for any comments, claims, or opinions made by authors and bloggers. They are no substitute for your own research and should not be relied upon for trading or any other purpose.






Latest Archived Broadcast
Data visualization can make complex data easier to grasp. Our expert guest will talk about the hows, whys, and whats of bringing the big picture to your enterprise.


May 30th 2pm EDT Thursday

On-demand Video with Chat
NBA CIO Michael Gliedman will tell us why the NBA decided to create NBA.com/stats
6/18/2013 -   Please join us for the "IT Convergence Strategies: Why, When and How " to learn more about: • 5 truths about infrastructure convergence today that go beyond the hype • How to exploit the 4 phases of convergence maximum efficiency and agility • Key milestones to plan for on the convergence journey • Why integrated management is a critical component of convergence plans • The importance of an open, modular approach, such as Dell's active infrastructure, to building a converged data center


Application Audits Simplify Migration
Hardware Refresh Cycles Are Outdated
Office 365 Finds Fans


Windows Blue attendu en juin
Comment profiter d'une nouvelle expérience User Virtualization
S'équiper ou non d'un logiciel anti-virus ?


Leap Motion zeigt Gestensteuerung für Windows 8
Microsofts Surface Pro kommt nach Deutschland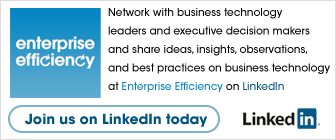 Enterprise Efficiency is looking for engaged readers to moderate the message boards on this site. Engage in high-IQ conversations with IT industry leaders; earn kudos and perks. Interested? E-mail:
moderators@enterpriseefficiency.com


Dell's Efficiency Modeling Tool

The major problem facing the CIO is how to measure the effectiveness of the IT department. Learn how Dell's Efficiency Modeling Tool gives the CIO two clear, powerful numbers: Efficiency Quotient and Impact Quotient. These numbers can be transforma¬tive not only to the department, but to the entire enterprise.
Read the full report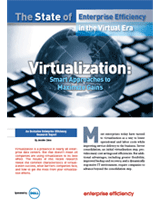 The State of Enterprise Efficiency in the Virtual Era: Virtualization – Smart Approaches to Maximize Gains

Virtualization is a presence in nearly all enterprise data centers. But not all companies are using it to its best effect. Learn the common characteristics of success, what barriers companies face, and how to get the most from your efforts.
Read the full report

Informed CIO: Dollars & Sense: Virtual Desktop Infrastructure

Cut through the VDI hype and get the full picture -- including ROI and the impact on your Data Center -- to make an informed decision about your virtual desktop infrastructure deployments.
Read the full report