Greg Laugero, President, Industrial Wisdom | 2/24/2012 |

13 comments
Even though startups around the world are making use of MVPs, there are lessons to be learned for CIOs and IT Pros in larger organizations. Let's break down the essential ideas behind the MVP.
First, a Minimum Viable Product is a mechanism for testing the fundamental assumptions that need to be true for the product to have any chance of success. It allows you to make the smallest possible investment to validate those assumptions before you invest in the larger project. For the Minimum Viable Product, the hypothesis replaces the requirement.
Second, a Minimum Viable Product doesn't even have to be a product to test hypotheses. Probably the most famous example is Dropbox. The company used a video to test the validity of what it envisioned. When the video went viral, it knew it had something. Zynga (the social gaming company behind Farmville) uses a very disciplined process for testing new game ideas. It uses landing pages that have a measurable call to action. If a sufficient number of users express interest, Zynga builds a simple version of the game to further measure interest and iterate features from there. Clickable prototypes are another way to create MVPs. Build out the basic idea as a set of linked pages or even a simple HTML mockup. Put it in front of potential users and see how they react.
Third, MVPs are useful when you have some fundamental uncertainty that you need to overcome before heavily investing in the larger vision. While "extreme uncertainty" defines a startup (according to Ries), larger companies face uncertainties in a lot of their customer-facing systems. When those uncertainties are fundamental to the success of a new system (or a significant enhancement), you can use MVPs to help determine if the larger investment is warranted.
How can larger IT shops put Minimum Viable Products to work? MVPs are useful in the following situations:
Leaps of faith. When your company is contemplating a new system, but there are some grand assumptions that, if wrong, would sink the project and never allow it to be successful. For any project in the queue, ask yourself, "What's the leap of faith we're making that, if wrong, would mean wasted time and effort?" There is probably more than one leap of faith for any major effort.

Prioritizing enhancements. Let's say you have a list of possible enhancements for a product, but you're not sure how to prioritize them. MVPs are ways to test and prioritize. Start by looking at the list of enhancements and ask the leap of faith question for each one. This will provide you with a shorter list of assumptions you need to test.
While the MVP is fundamental to how we now think about startups, peeling back the onion on the concept opens up many possibilities for larger companies. Many projects face some level of uncertainty and leaps of faith that could determine whether the large investment is worth it. It often doesn't take a big investment in the whole thing to prove out the basic assumptions.


The blogs and comments posted on EnterpriseEfficiency.com do not reflect the views of TechWeb, EnterpriseEfficiency.com, or its sponsors. EnterpriseEfficiency.com, TechWeb, and its sponsors do not assume responsibility for any comments, claims, or opinions made by authors and bloggers. They are no substitute for your own research and should not be relied upon for trading or any other purpose.






Latest Archived Broadcast
Data visualization can make complex data easier to grasp. Our expert guest will talk about the hows, whys, and whats of bringing the big picture to your enterprise.


May 30th 2pm EDT Thursday

On-demand Video with Chat
NBA CIO Michael Gliedman will tell us why the NBA decided to create NBA.com/stats
6/18/2013 -   Please join us for the "IT Convergence Strategies: Why, When and How " to learn more about: • 5 truths about infrastructure convergence today that go beyond the hype • How to exploit the 4 phases of convergence maximum efficiency and agility • Key milestones to plan for on the convergence journey • Why integrated management is a critical component of convergence plans • The importance of an open, modular approach, such as Dell's active infrastructure, to building a converged data center


Hardware Refresh Cycles Are Outdated
Office 365 Finds Fans
Cutting Through the Modern App Confusion


Comment profiter d'une nouvelle expérience User Virtualization
S'équiper ou non d'un logiciel anti-virus ?
Microsoft passe au facteur deux


Microsofts Surface Pro kommt nach Deutschland
Zum Schmunzeln: drei neue Werbeclips für Windows 8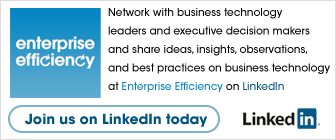 Enterprise Efficiency is looking for engaged readers to moderate the message boards on this site. Engage in high-IQ conversations with IT industry leaders; earn kudos and perks. Interested? E-mail:
moderators@enterpriseefficiency.com


Dell's Efficiency Modeling Tool

The major problem facing the CIO is how to measure the effectiveness of the IT department. Learn how Dell's Efficiency Modeling Tool gives the CIO two clear, powerful numbers: Efficiency Quotient and Impact Quotient. These numbers can be transforma¬tive not only to the department, but to the entire enterprise.
Read the full report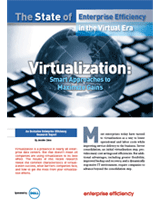 The State of Enterprise Efficiency in the Virtual Era: Virtualization – Smart Approaches to Maximize Gains

Virtualization is a presence in nearly all enterprise data centers. But not all companies are using it to its best effect. Learn the common characteristics of success, what barriers companies face, and how to get the most from your efforts.
Read the full report

Informed CIO: Dollars & Sense: Virtual Desktop Infrastructure

Cut through the VDI hype and get the full picture -- including ROI and the impact on your Data Center -- to make an informed decision about your virtual desktop infrastructure deployments.
Read the full report