Stephen Spector, Cloud Evangelist, Dell | 4/9/2012 |

5 comments
Direct2Dell blog post, I discussed the current trend of enterprises running private clouds starting to engage in the public cloud concept via a hybrid cloud. As part of my recent blog posts on the basics of clouds, I would like to introduce the concept of a hybrid cloud in more detail, as this new cloud feature is becoming a significant trend in 2012.

Companies currently running private clouds within their enterprise and datacenters are comfortable with the foundational concepts of cloud computing, including instant access to computing resources, shared machines, and the pay-for use concept.

However, moving their services outside the company firewall to a publicly shared service hosted by a third-party provider is currently not a well-accepted concept for many large enterprises or companies concerned about security and privacy. Thus, a pure public cloud option is not yet viable for a large segment of cloud customers.

To solve this concern, the cloud computing industry has responded with a new cloud concept: hybrid cloud. A hybrid cloud creates a bridge for a private cloud to a public cloud where the management interface allows workload movement between private and hybrid clouds within a single, secure system.

The image below shows how the hybrid cloud overlaps between the private and public cloud, giving the enterprise customer the features they need to move workloads out of their internal firewall.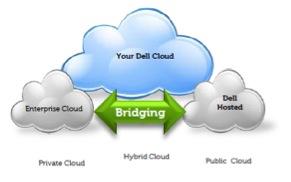 With this cloud advancement, enterprise customers can begin moving less critical workloads into the public cloud space without jeopardizing their existing infrastructure or security, as the same tools and utilities manage both the private and hybrid clouds.
Here are some recent articles on the growth of hybrid cloud computing:
Red River, "'2012 is a tipping point year for hybrid cloud adoption as businesses move production workloads to the cloud,' said Adam Wray, president and CEO of a data center provider. 'Virtual private cloud offerings... are uniquely positioned to serve this growing demand.'"
Analysys Mason, "At the Data Centre World 2012 conference, it seemed that the debate is slowly moving away from public or private cloud, to the possibility of having a public and private cloud, known as hybrid cloud, where internal enterprise data centres and cloud continue to support mission-critical business processes, and public cloud is used to enable on-demand hosting capacity for less critical assets."
McAfee, "The source cited Deloitte Consulting's recent technology trends report, a study that revealed enterprises are moving toward cloud solutions composed of public and private clouds. The research found that many companies are migrating critical business applications and infrastructure services to the hybrid cloud."


The blogs and comments posted on EnterpriseEfficiency.com do not reflect the views of TechWeb, EnterpriseEfficiency.com, or its sponsors. EnterpriseEfficiency.com, TechWeb, and its sponsors do not assume responsibility for any comments, claims, or opinions made by authors and bloggers. They are no substitute for your own research and should not be relied upon for trading or any other purpose.






Latest Archived Broadcast
We talk with Bernard Golden about accelerating application delivery in the cloud.

On-demand Video with Chat
Register for this video discussion to learn how tablets can provide true business usability and productivity.
4/29/2014 - Join Dell and Intel for an interactive discussion about implementing, refining and improving your virtual environment. Specifically we'll discuss pain points virtualization can solve and those that it can create and how to prevent them.


Why PowerShell Is Important
Reduce the Windows 8 Footprint for VDI
Rethinking Storage Management


SQL Server : 240 To de mémoire flash pour votre data warehouse
Quand Office vient booster les revenus Cloud et Android de Microsoft
Windows Phone : Nokia veut davantage d'applications (et les utilisateurs aussi)


Cloud Computing: Warum Unternehmen trotz NSA auf die "private" Wolke setzen sollten
Cloud Computing bleibt Wachstumsmarkt – Windows Azure ist Vorreiter
Enterprise Efficiency is looking for engaged readers to moderate the message boards on this site. Engage in high-IQ conversations with IT industry leaders; earn kudos and perks. Interested? E-mail:
moderators@enterpriseefficiency.com


Dell's Efficiency Modeling Tool

The major problem facing the CIO is how to measure the effectiveness of the IT department. Learn how Dell's Efficiency Modeling Tool gives the CIO two clear, powerful numbers: Efficiency Quotient and Impact Quotient. These numbers can be transforma¬tive not only to the department, but to the entire enterprise.
Read the full report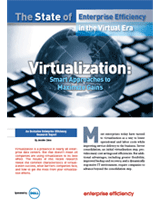 The State of Enterprise Efficiency in the Virtual Era: Virtualization – Smart Approaches to Maximize Gains

Virtualization is a presence in nearly all enterprise data centers. But not all companies are using it to its best effect. Learn the common characteristics of success, what barriers companies face, and how to get the most from your efforts.
Read the full report

Informed CIO: Dollars & Sense: Virtual Desktop Infrastructure

Cut through the VDI hype and get the full picture -- including ROI and the impact on your Data Center -- to make an informed decision about your virtual desktop infrastructure deployments.
Read the full report