Extreme weather events and other disasters -- like tornadoes, fires, and hurricanes -- often send people who've lost power and access to other forms of media to networks like Facebook and Twitter for help and information.
In the wake of flooding in Louisiana, the Red Cross posted valuable information on what to do if a flood threatens your home on its Facebook page. With large swaths of the US vulnerable to tornados, the organization also tweeted a series of tips on disaster preparedness.
In addition to posting news updates on its blog, the Red Cross also maintains free mobile apps that provide shelter locations and teach first aid and CPR. And its Safe & Well Website, which allows users in a disaster area to tell people they're OK, can sync updates with Facebook and Twitter.
Those kinds of innovations come in handy, especially considering the Red Cross responded to nearly 63,000 fires, nearly 2,000 floods, more than 520 tornadoes, and other incidents in 2011.
To make its humanitarian efforts more efficient, the Red Cross recently launched its Digital Operations Center to assist disaster victims as well as coordinate the efforts of volunteers. The center is modeled on Dell's Social Media Listening Command Center and uses Dell technology solutions and consulting services.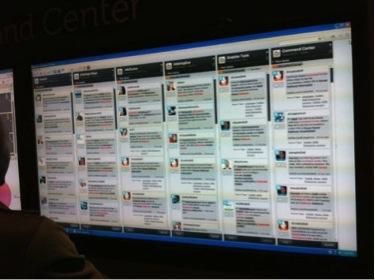 Like Dell's command center, the Red Cross version pulls in data from various platforms and aggregates it to give volunteers a clear idea of the situation on the ground and connect those affected with resources.
One reason the Red Cross has been so effective on social networks is that its efforts build on the hard work that its employees and volunteers do every day. Social media just offers one more way to fulfill its mission -- to alleviate suffering and ensure that people are prepared to respond to any disaster.
Follow me (@AnaCatDell) on Twitter for technology news and commentary.