a huge success with record-breaking attendance and standing room only at every presentation.

Tens of thousands attended what organizers bill as one of the largest medical tradeshows, which included more than 300 education sessions in nearly two dozen categories.

At the Interoperability Showcase, attendees watched demonstrations of how vendor systems can help them meet regulatory requirements like Meaningful Use -- a hot topic at HIMSS -- as well as how those systems hold the potential to improve the delivery of care.

Another key topic was the emergence of social media as a tool for healthcare organizations to communicate both internally and with patients. To underscore social media's growing importance in the industry, the conference included a keynote from Twitter co-founder Biz Stone and an on-site social media center.

On Feb. 22, Dell harnessed the power of social media during the first Healthcare Think Tank, which brought together about two dozen health IT experts to talk about the challenges and opportunities facing the industry today.

The moderated discussion -- which simultaneously unfolded on Twitter under the hashtag #DoMoreHIT -- covered issues like how to handle the flood of Big Data and how the US lags other nations in using healthcare IT effectively.

And though, as Think Tank participants said, the US healthcare industry as a whole has a way to go in maximizing IT, Dell recognized three standout organizations that use data to provide better care.
Seton Healthcare Family received the healthcare innovator honor for developing a Health Information Exchange to better manage its patient base, and to mine EMR data both to understand why patients are returning to the hospital for the same health problems and to develop early intervention programs.
Intermountain Healthcare, which created one of the nation's first versions of an EMR, uses its advanced information systems to automate routine functions, facilitate communication among caregivers, and allow statistical analysis to help implement best-practices. It received Dell's information-driven healthcare pioneer honor.
The Translational Genomics Research Institute (TGen), an industry leader in genomic research, leads the world's first personalized medicine trial for pediatric cancer. For its trailblazing efforts, TGen received Dell's collaborative care ground-breaker honor.
At HIMSS 2012, the goal was to share knowledge to improve healthcare. And, by every measure, that goal was achieved.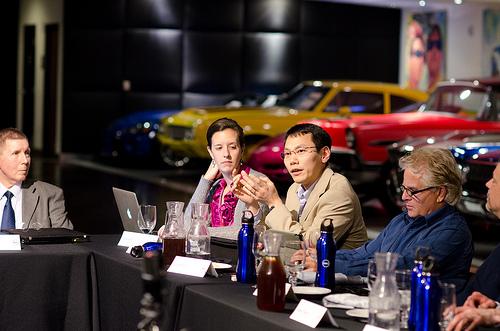 Learn more:
Follow me (@AnaCatDell) on Twitter for more technology news and commentary.