Dave Piscitello, Internet Security Skeptic | 7/26/2011 |

19 comments
A phisher uses a routine correspondence from domain name registrars in an attempt to gain control over legitimately registered domain names. Phishers (criminals, in general) see a great benefit from using a domain name that is held by a registrant in good standing because of the uncertainty they cause when claims of misuse are registered. Any uncertainty on the part of interveners or registrars may delay efforts to suspend any illegal activities conducted in association with that domain name. A recent example against GoDaddy.com is described here.
A chronology of this phishing attack scenario follows:
The phisher hosts a fraudulent copy of the registrar's login portal. The login form on the fraudulent page hosts a script that accepts the visitor's username and password and delivers this to the phisher.

The phisher spams a copy of a routine correspondence that registrars send to customers. Registrars contact customers by email to notify them to renew or update contact information domains, or to inform them when changes have been made to a domain registration or the name server configuration for their domain. These correspondences are familiar to customers, and more importantly, they ask the customer to log into his account. They are perfect bait for a phish.

The registrars' customer takes the bait, visits the fraudulent login page, and unwittingly discloses his registration account credentials to the phisher.
Only the initial purpose of registrar phishing attacks is to gain control over domain names. A common secondary objective is to exploit the DNS to facilitate other criminal acts. A phisher will first change the name servers for a domain managed through the account to point to a name server also under the phisher's control. The name servers in a domain name registration record identify the name servers to which top-level domains like .com refer DNS queries for resolution of names delegated from a registered domain name.

For example, the .com name servers refer DNS queries for my domain, securityskeptic.com, to NS25.DOMAINCONTROL.COM or NS26.DOMAINCONTROL.COM. These two name servers host the DNS data for my domain -- e.g., both will return the IP address 97.74.144.109 for my Website, www.securityskeptic.com. If a phisher were to compromise my registration account, he would change the name server information to point to a name server he's owned, and .com's name servers would be updated to reflect this change in configuration. The attacker can now control the responses for any DNS query about my domain because he controls the name server and the DNS data it publishes.

This is a very powerful attack platform. Here's a short list of attacks that he can facilitate, for himself or others who "contract his services" (A fuller list is identified in the ICANN SSAC report on registrar phishing):
Modify IP address records to point to spoofed Web or other servers under the attacker's control. The attacker can then host whatever content he chooses at the phony site; for example, the attacker might choose to deface the Website and embarrass the registrant.

Modify IP address records to point to spoofed login pages for intranet, wiki, or customer Web portals. Like other forms of phishing, the attacker seeks to dupe unsuspecting employees into disclosing usernames and passwords so he can access and steal sensitive information.

Modify mail exchange (MX) resource records in the domain zone data he controls to point to addresses of mail servers under his control and send spam from mail servers he controls. Altering MX records will in many cases disrupt mail delivery to points of contact for the domain name registration and will keep the organization in the dark regarding the compromise.

Set time to live values (TTLs) and alter DNS records of the domain zone data on the name servers he operates at those addresses to support fast flux or double flux attacks.
Given the advantages we've considered, it's pretty obvious why phishers find registrar phishing "good for business." It's worth your while to be as vigilant in protecting your organization from such attacks. In my next blog, I'll discuss measures to detect and respond to registration account compromise.


The blogs and comments posted on EnterpriseEfficiency.com do not reflect the views of TechWeb, EnterpriseEfficiency.com, or its sponsors. EnterpriseEfficiency.com, TechWeb, and its sponsors do not assume responsibility for any comments, claims, or opinions made by authors and bloggers. They are no substitute for your own research and should not be relied upon for trading or any other purpose.






Latest Archived Broadcast
Storage is a critical asset in the datacenter -- but it can be more. New technology can turn storage into a system that gives your enterprise a competitive IT advantage.

December 19th 2pm EST Thursday

On-demand Video with Chat
Register for this video discussion to learn how tablets can provide true business usability and productivity.
12/17/2013 - This webcast will show how you can: -Transform your IT infrastructure by leveraging Dell's OpenManage integrated with System Center, our Hyper-Scale technologies, and factory capabilities -Connect with people-centric solutions with Dell Desktop Virtualization Solutions (DVS) -Inform your users with business intelligence based on Dell deployment, applications like Boomi, and comprehensive reference architectures


Why PowerShell Is Important
Reduce the Windows 8 Footprint for VDI
Rethinking Storage Management


SQL Server : 240 To de mémoire flash pour votre data warehouse
Quand Office vient booster les revenus Cloud et Android de Microsoft
Windows Phone : Nokia veut davantage d'applications (et les utilisateurs aussi)


Cloud Computing: Warum Unternehmen trotz NSA auf die "private" Wolke setzen sollten
Cloud Computing bleibt Wachstumsmarkt – Windows Azure ist Vorreiter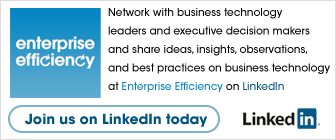 Enterprise Efficiency is looking for engaged readers to moderate the message boards on this site. Engage in high-IQ conversations with IT industry leaders; earn kudos and perks. Interested? E-mail:
moderators@enterpriseefficiency.com


Dell's Efficiency Modeling Tool

The major problem facing the CIO is how to measure the effectiveness of the IT department. Learn how Dell's Efficiency Modeling Tool gives the CIO two clear, powerful numbers: Efficiency Quotient and Impact Quotient. These numbers can be transforma¬tive not only to the department, but to the entire enterprise.
Read the full report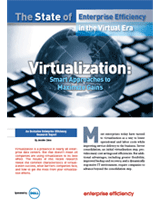 The State of Enterprise Efficiency in the Virtual Era: Virtualization – Smart Approaches to Maximize Gains

Virtualization is a presence in nearly all enterprise data centers. But not all companies are using it to its best effect. Learn the common characteristics of success, what barriers companies face, and how to get the most from your efforts.
Read the full report

Informed CIO: Dollars & Sense: Virtual Desktop Infrastructure

Cut through the VDI hype and get the full picture -- including ROI and the impact on your Data Center -- to make an informed decision about your virtual desktop infrastructure deployments.
Read the full report