an algorithm that can predict with uncanny accuracy who you are dating and when you will break up.

Facebook uses something they call dispersion to see how closely connected you are with others in your network. With 50 percent accuracy, it can guess your spouse or significant other (and of course, they use their relationship status settings to check the results). And when they get it wrong, they almost always end up picking out sibling or a close friend instead.

Most importantly, when they get it wrong it also means you're probably breaking up. People with a low "dispersion" rate have a 50 percent more likely chance than a normal couple of breaking up within 60 days.

Dispersion measures the way you are connected throughout the other person's social network. Traditional social media metrics (often called embeddedness) measure who you comment the most on and who comments most on your posts. This works fine if everyone you know uses Facebook the same way. But your significant other might log on once a week while some dude at work is on all day. With embeddedness, the dude at work looks more important to you, but he really isn't.

Dispersion instead sees the overlap between you and your friends across your life. Your significant other is far more likely to be connected across a much wider range of your friends, your likes, your activities, etc.

The obvious goal here is for Facebook to make more money by being able to serve better content. With old metrics, they might miss people who are crucial in your life but posting less. If they serve a better news feed, they can serve your needs (and more ads you'll like) and add revenue.

But I don't care about their revenue. What I care about it this breakup thing. A few weeks ago you'll remember I talked about stalking your ex on Facebook. Now, Facebook knows when you are about to go from snuggle buddy to stalker.

They pretty much know that you're doomed before you do. It is almost like those friends of yours who makes bets behind your back on how quickly you guys are going to break up.

So here's my proposal Facebook -- share the info. Make it an app. You know those e-dating sites that say they match you on 527 levels of deep compatibility? Forget that. Cut to the chase. Tell me if the guy I hooked up with at the bar last night is the one, Facebook. If I'm going to break up with them right after the holidays, save me the money on the present and tell me now.

Before you scoff at this too much, there's already a fairly rich research into the break up habits of people on Facebook. If you look at the chart below, you'll see people break up in very predictable patterns.

Breakups peak before and after certain holidays. For instance, no one wants to be alone on Valentine's Day so they hang in bad relationships until the beginning of March. On the other hand, some people can't face making the long trip to meet the parents before a holiday like Christmas so a huge number of breakups happen two weeks before the winter holidays.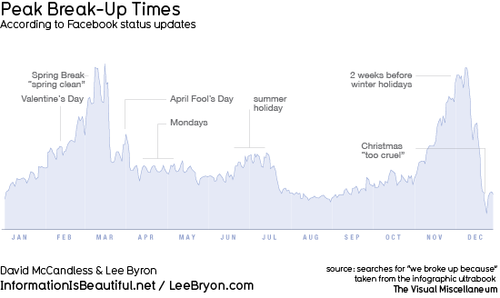 So if we know that there are patterns to breakups, and we know certain types of relationships are more likely to stick together, it really isn't all that strange to imagine that Facebook is going to start being able to pick the exact day and time you are going to break up. Wouldn't you pay for that information?
How much trouble and heartache would that save? I mean who wants to go through this:
And big data doesn't have to stop there. Once they've started figure out when we break up, Facebook can probably figure out when we're about to get fired or when we're about to go eat dinner at a bad restaurant. Rather than just being a place where we post about our lives, Facebook can be the place that tells us how to live our lives. Maybe then it can even start making decisions for us.
Imagine coming home and reading that your own status has been changed to "is now single." No muss. No fuss. Facebook will unfriend your ex, get him a new apartment, and contract someone on Yelp to pack up their clothes all while you were at work. The only thing left for it to do is contact Amazon to get you a pint of ice cream to drown your sorrows in. Don't worry, they've got hour delivery now.
What do you think? Can a social network really predict your breakup? Do you want it to? Are you the sum of your data? Have you ever made a decision to break up and then waited because of a holiday? Comment below.