David Wagner, Managing Editor | 10/21/2013 |

53 comments
Whether it's PB&J or lobster, we don't care. Everybody knows we love technology. We also know how much each of us in the E2 community loves our food. And we know lunch powers us to do the great things we all achieve every day. Email your favorite lunch selfies to editors@enterpriseefficiency.com.
E2 has a vast community the world over, including Spain, Brazil, India, Australia, and across the US and North America. Wouldn't you want to see what lunch looks like all around our IT world?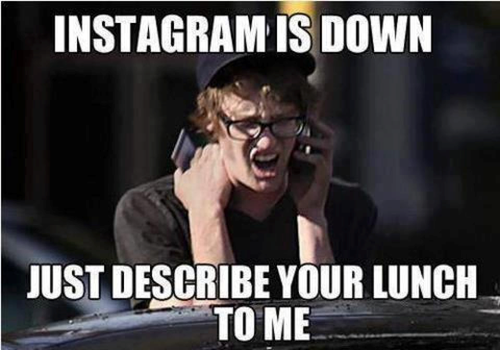 So, whether lunch for you means scarfing down some Doritos and Red Bull at your desk, visiting the company cafeteria or break room, or dining al fresco with your work pals, we want to see it. Don't be shy. We want to get to know you, your colleagues, and, of course, the food -- so make sure that's all in your pictures. We'll turn your submissions into a slideshow so we can all get to know one another better.
Fear not -- your trusty E2 editors will be right there alongside you, sharing photos of our own favorite food moments: Where we eat, what we like, and who we like to dine with. Join us in the fun. Send your lunchtime selfies to editors@enterpriseefficiency.com. We want to see your food--and you! Please be sure to include your name, title, and location in your email.
You'll love what we do with them. We promise.


The blogs and comments posted on EnterpriseEfficiency.com do not reflect the views of TechWeb, EnterpriseEfficiency.com, or its sponsors. EnterpriseEfficiency.com, TechWeb, and its sponsors do not assume responsibility for any comments, claims, or opinions made by authors and bloggers. They are no substitute for your own research and should not be relied upon for trading or any other purpose.





More Blogs from David Wagner
David Wagner 3/6/2014

34 comments
The Internet of Everything is on its way, but it will start by being the Internet of Silly Things.
David Wagner 3/5/2014

11 comments
Long-time gamers, especially lovers of the megahit Halo, are probably aware of Cortana, the super intelligent (and scantily clad) holographic artificial intelligence partner of ...
David Wagner 2/28/2014

68 comments
News flash: We're all going to die. The only question is when. Would you want to know the answer to that question if you could? And how much warning would you want? A day? A year? A decade?
David Wagner 2/27/2014

66 comments
Today at the HIMSS Conference, Marilyn Tavenner, administrator for the Centers for Medicare and Medicaid Services (CMS), dashed the dreams of any CIOs hoping for an extension of the date ...
David Wagner 2/26/2014

35 comments
Who is your CIO's worst enemy? We know he has one. Whether it is straight-out dislike, honest disagreement, or conflicting priorities, someone is obstructing your CIO from doing his job.

Latest Archived Broadcast
Join us for an Interop Preview interview with Chris Murphy, editor of InformationWeek and Strategic CIO columnist on digital business issues.

March 14th 2pm EDT Friday

On-demand Video with Chat
Register for this video discussion to learn how tablets can provide true business usability and productivity.
3/12/2014 - How will the end of Windows XP support impact your organization? While a timely OS migration eases immediate IT concerns, it may have the added benefit of helping to drive larger business goals. Learn from an expert ways to achieve greater automation and reduce licensing costs while increasing manageability and security.
3/18/2014 - With Dell and Microsoft, you can build and deploy an enterprise-class storage platform to cost-effectively virtualize and cloud optimize your organization.
3/20/2014 - Learn what is new in SQL 2014 and gain the competitive edge in the marketplace. Join us for Gain the Competitive Edge with SQL 2014


Why PowerShell Is Important
Reduce the Windows 8 Footprint for VDI
Rethinking Storage Management


SQL Server : 240 To de mémoire flash pour votre data warehouse
Quand Office vient booster les revenus Cloud et Android de Microsoft
Windows Phone : Nokia veut davantage d'applications (et les utilisateurs aussi)


Cloud Computing: Warum Unternehmen trotz NSA auf die "private" Wolke setzen sollten
Cloud Computing bleibt Wachstumsmarkt – Windows Azure ist Vorreiter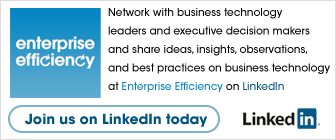 Enterprise Efficiency is looking for engaged readers to moderate the message boards on this site. Engage in high-IQ conversations with IT industry leaders; earn kudos and perks. Interested? E-mail:
moderators@enterpriseefficiency.com


Dell's Efficiency Modeling Tool

The major problem facing the CIO is how to measure the effectiveness of the IT department. Learn how Dell's Efficiency Modeling Tool gives the CIO two clear, powerful numbers: Efficiency Quotient and Impact Quotient. These numbers can be transforma¬tive not only to the department, but to the entire enterprise.
Read the full report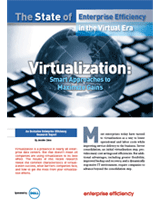 The State of Enterprise Efficiency in the Virtual Era: Virtualization – Smart Approaches to Maximize Gains

Virtualization is a presence in nearly all enterprise data centers. But not all companies are using it to its best effect. Learn the common characteristics of success, what barriers companies face, and how to get the most from your efforts.
Read the full report

Informed CIO: Dollars & Sense: Virtual Desktop Infrastructure

Cut through the VDI hype and get the full picture -- including ROI and the impact on your Data Center -- to make an informed decision about your virtual desktop infrastructure deployments.
Read the full report