going to pass closer to the earth than some of our satellites orbit.

One can only look at the shocking video at the beginning of this ABC News report and wonder how anyone held the camera steady enough to record it:

People must have thought the world was ending. Over a thousand people were hurt in the explosions, but, thankfully, most of those were minor injuries due to broken glass. My thoughts go out to those more seriously injured.

Interestingly enough, there are no known human fatalities from meteor strikes, but it seems to have been a constant source of fear among humans since our earliest ancestors walked upright. There are cave paintings depicting meteor strikes, as well as art from early civilizations also showing comets and meteors.

I think the fear of instant, random death from above makes meteors scary enough, but since we've become fairly certain that the only reason mammals rule the Earth instead of Dinosaurs is because of a meteor strike, it has entered the psyche of most humans. And this time, we won't have the dinosaurs to protect us: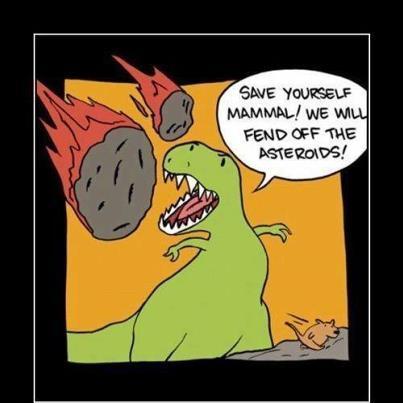 The problem for humans is that whether it is space travel or giant rocks hurtling to the Earth, space still means instant death if you make a mistake. The aura of danger around space is evident in every Geekend discussion we have of space travel or research. We're tiny earthbound creatures, and the idea of moving into that awesome, limitless, blackness is too much. And the fact that the blackness occasionally hurls something out of the dark at us just makes it worse.
So, in the wake of the biggest near-miss we've gotten on camera, I felt a desire to also restore the beauty of space. So here are some pictures taken by the Hubble Space Telescope: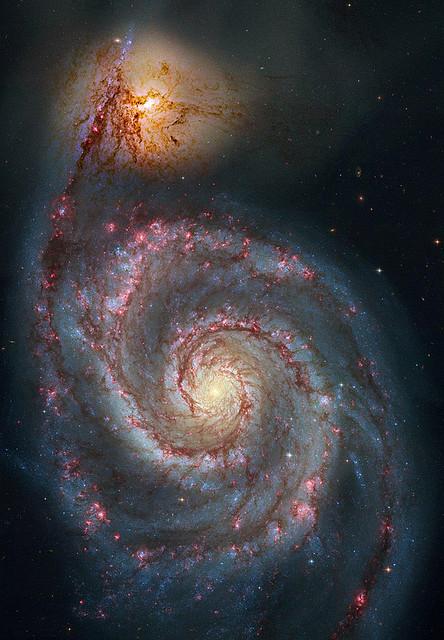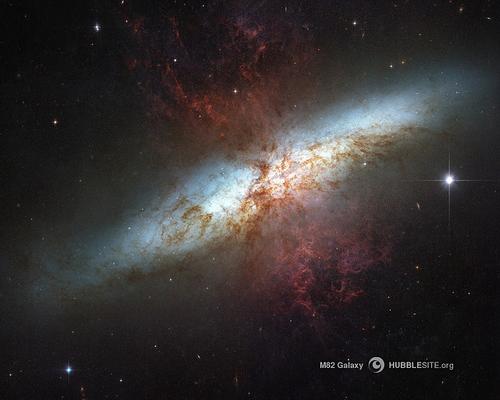 I also wanted to share with you the first song to debut from space, from just four days ago. Geekend favorite Barenaked Ladies recorded a live duet with Canadian astronaut Chris Hadfield (who made up his mind to become an astronaut at the age of nine when he saw Neil Armstrong land on the moon). The song is about the connection between ISS astronauts and home. I'm especially a fan of the lines, "That ball of shining blue houses everybody anybody ever knew. So sing your song, I'm listening, out where stars are glistening. I can hear your voices bouncing off the moon."
Amazingly, this wasn't the first duet from the International Space Station. U2 (another Geekend favorite) did live concert duets with ISS commander Mark Kelly in 2011, shortly after his wife, Rep. Gabby Giffords, had been shot. Commander Kelly is obviously a little less musical, but the sentiment was equally beautiful.
If you have trouble seeing Kelly's part well in the first video, here is official video of just that part.
I'd have just used that one, but they cut off the second part of the duet, which I like very much.
Anyway, in the wake of a giant rock slamming into Russia, it seemed a good time to remember that we're one planet and one people. And it seemed important to show people who, in the face of the sheer terror that space (and in the case of Cmdr. Kelly, also the violence of a man towards his wife) can sometimes provide, can also find a way to do the most human of things -- produce art for their fellow men. I hope you find a little beauty in space today to help balance the fear.
What do you think? Are you worried an asteroid will slam into your house? Do you take more inspiration or fear from space? What would you do if you knew there was an asteroid heading to destroy earth and you only had a week to live? Comment below.