There are approximately 16,000 vacant buildings and 14,000 vacant lots in the city of Baltimore, Md. Nevertheless, two years ago Baltimore Mayor Stephanie Rawlings-Blake declared that she wanted to attract 10,000 new families to the city within a decade.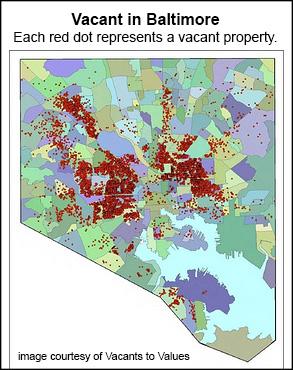 Baltimore City CIO Chris Tonjes says it's not an unreasonable goal. Under Mayor Rawlings-Blake's leadership the city is making major strides, and Tonjes tells me that her goal is central to almost everything his office does.

"We ask ourselves, can we count how many [new families] came to Baltimore based on what we've done," said Tonjes.

One way Tonjes and his team help is by supporting the Vacants to Values (V2V) program. Created in 2010, and run by the city's department of housing, V2V is at the core of the city's efforts to combat urban blight. The program "streamlines the sale of city-owned properties and uses the private market to maximize the repair and rehabilitation of vacant properties." They conduct a market analysis of Baltimore's neighborhoods on a block-by-block basis, to identify which neighborhoods are the best candidates for rehabilitation and development incentives -- determining which properties can be repaired, which just need to be demolished.

Tonjes said that his office helps by giving the housing department the ability to gather and share very good data -- data they can use to help prevent the spread of urban blight and plan what can be done to reclaim value in those properties. The housing department is one of the many organizations that uses the OpenBaltimore data warehouse, currently in beta. It is a place where both the government and the public can access and aggregate data, and is a part of creating a more open government.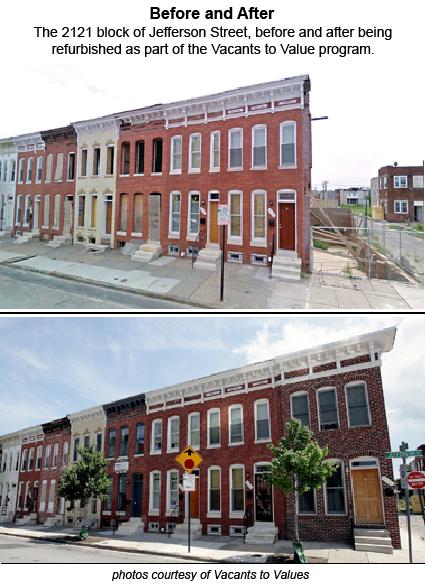 One of the bright spots in the city's economy, said Tonjes, is the fact that Baltimore has a lively, growing group of small technology businesses.
One of the reasons for this is the city's technology incubator, ETC. ETC provides space and services to early-stage tech and biotech companies based in the city. Since it was created in 1999, 60 percent of the companies that have "graduated" from ETC remain in the city of Baltimore itself, and all of them remain within the Baltimore region. The organization estimates that "together, ETC companies have created more than 2,325 new jobs and have generated in excess of $375.8 million in economic activity" for the city of Baltimore.
"We want to link ourselves to the innovation community," said Tonjes. "What we can do is nurture that innovation. Introduce them to partners and customers."
Another way that Tonjes is working to draw new businesses and new residents to Baltimore is by enhancing the city's broadband access (which hasn't been easy).
"There are parts of town I call digital deserts," said Tonjes. He wants to eliminate those deserts and make broadband options more affordable. "We think it's a draw for commercial development and for young people who want to move here."
It seems that Baltimore is on the right track. Mayor Rawlings-Blake is a very popular mayor, the Vacants to Value project is showing tangible results, and more people are beginning to move back to the city, slowly closing in on the mayor's goal of 10,000 families.
What do you think of Baltimore's progress thusfar? Can you point us to other programs that are using IT to revitalize depressed urban economies? Let us know in the comments below.
Related posts:

Add me to your Google+ circles.

Follow me on Twitter.

Like EnterpriseEfficiency on Facebook.