Eric Snowden or any other citizen who has chosen to watch the watchers legitimately fears that his own country will torture him, perhaps my assumptions are naive.

Who's watching the watchers these days? And who's watching the guy who's watching the watchers? Since Snowden leaked the information about the National Security Agency's controversial electronic surveillance activities, both the intelligence agencies and the US government as a whole have faced closer public scrutiny. The Supreme Court in particular is supposed to determine whether the government's actions are unconstitutional. However, further investigation insinuates that the Foreign Intelligence Surveillance Court is overstepping its bounds, too -- in effect, writing legislation instead of solely determining whether a law is unconstitutional. Can we trust the watchers of the watchers? Who will properly surveil government surveillance?

Of course, this can get out of hand. It reminds me of this passage from the Dr. Seuss book Did I Ever Tell You How Lucky You Are?:
Oh the jobs people work at!
Out west, near Hawtch-Hawtch,
there's a Hawtch-Hawtcher Bee-Watcher,
His job is to watch…
Is to keep both his eyes on the lazy town bee.
A bee that is watched will work harder, you see.
Well… he watched and he watched.
But, in spite of his watch,
that bee didn't work any harder. Not mawtch.
So then somebody said,
"Our old bee-watching man
just isn't bee-watching as hard as he can.
He ought to be watched by another Hawtch-Hawtcher!
The thing that we need
is a Bee-Watcher-Watcher!"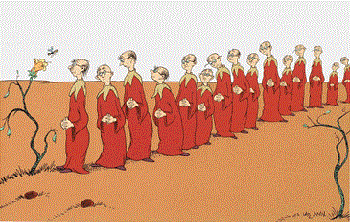 The Bee-Watcher-Watcher watched the Bee-Watcher.
He didn't watch well. So another Hawtch-Hawtcher
had to come in as a Watch-Watcher-Watcher!
And today all the Hawtchers who live in Hawtch-Hawtch
are watching on Watch-Watcher-Watchering-Watch,
Watch-Watching the Watcher who's watching that bee.
You're not a Hawtch-Watcher. You're lucky, you see!
It doesn't seem like the Hawtch-Hawtch job market is in very good shape. Yet, all joking aside, perhaps this is a job for every single citizen. Maybe each of us needs to be a watch-watcher-watcher. Maybe we all have this civic duty to surveil government surveillance.
If that's the case, IT professionals may have a bigger duty than most. You understand the technology. You have access to sensitive data. You will be asked to deliver that data to the men in black who ask for it.
At what point would you just choose to say no? At what point would you decide that defying the government's demands is worth running the risk of losing your job or even being charged with crimes against your country?
If you're not ready to answer that question, then perhaps you shouldn't work for a telecommunications company. They are the first ones to be asked to violate their customers' trust and rights. Even if you don't work for a telecom, you CIOs and IT professionals should ponder this question. One day, the NSA might come knocking on your door.
Let's take it a step further. There are organizations like the Electronic Frontier Foundation that serve as government watchdogs. Should IT security professionals be watchdogs, as well? Would you want that job, or would you be worried that you'd cross the line from watchdog to traitor? What do you think? Let us know in the comments below.