Sara Peters, Editor in Chief | 11/28/2012 |

60 comments
our last E2 poll you remain cool, calm, and collected during even the most hectic times. We asked "What is your biggest worry about Cyber Monday?" and your answers were slightly surprising.

Over a third of you weren't concerned at all... but maybe you should have been. E2 user impactnow told us, "sorry to say I experienced many issues shopping on Cyber Monday and on Black Friday. When I called the retailers they all confirmed they had significant issues and offered to take my order on the phone, so maybe it was phone Monday."

Hopefully none of our E2 users work for any of the unfortunate retailers that poor impactnow tried to order from on Monday. However, since you're here on E2, amongst friends, tell us the truth: Was Cyber Monday just as easy-breezy as you'd expected, or were there some unpleasant surprises? Did you have to take a sick day Tuesday to recover?

Conversely, was Cyber Monday pleasantly uneventful for those of you who were a little anxious? You told us that your main Cyber Monday concerns were:
Service disruptions from too much sales traffic -- 22.86%
Enterprise network swamped from employees shopping at work -- 5.71%
Website and/or our brand compromised by attackers -- 8.57%
Staff falling victim to Cyber Monday-related phishing attacks -- 25.71%
Other/Don't Know -- 2.86%
We certainly hope that you made it through Cyber Monday with nary a scratch... but if you did suffer a few blows, we'd like to know how you responded. Did you have any service disruptions? Were your call centers busier than ever accepting phone orders? Did you have any unhappy conversations with cloud or telecom providers? Did your security team have to work double-time to fend off attackers? Did you have to do triage on the PCs of users who were snookered by phishing attacks?
Let us know how Cyber Monday went for you in the comments below. Also, don't forget to take our new poll, which asks you what market you think will be the first to truly master the art of big-data.


The blogs and comments posted on EnterpriseEfficiency.com do not reflect the views of TechWeb, EnterpriseEfficiency.com, or its sponsors. EnterpriseEfficiency.com, TechWeb, and its sponsors do not assume responsibility for any comments, claims, or opinions made by authors and bloggers. They are no substitute for your own research and should not be relied upon for trading or any other purpose.





More Blogs from Sara Peters
Sara Peters 5/14/2013

43 comments
Essay-grading software might be very useful... just maybe not for grading essays.
Sara Peters 5/8/2013

9 comments
Cue Queen's "We Are the Champions." It is time to crown the winner of the E2 Tournament of IT Revolutionaries. The crown, the mantle, the scepter, the glory, and the responsibility go ...
Sara Peters 5/2/2013

13 comments
Collaboration, creativity, and change were common themes throughout this week's mid-year conference of the National Association of State CIOs.
Sara Peters 5/1/2013

6 comments
Two weeks ago, Michael Gliedman, CIO of the National Basketball Association (NBA), joined us for a live video discussion about the NBA's new big-data project. Gliedman explained why and ...
Sara Peters 4/26/2013

25 comments
The controversy over House Resolution 624, the proposed Cyber Intelligence Sharing and Protection Act (CISPA), isn't entirely much ado about nothing, although it's close.

Latest Archived Broadcast
Data visualization can make complex data easier to grasp. Our expert guest will talk about the hows, whys, and whats of bringing the big picture to your enterprise.


May 30th 2pm EDT Thursday

On-demand Video with Chat
NBA CIO Michael Gliedman will tell us why the NBA decided to create NBA.com/stats
6/18/2013 -   Please join us for the "IT Convergence Strategies: Why, When and How " to learn more about: • 5 truths about infrastructure convergence today that go beyond the hype • How to exploit the 4 phases of convergence maximum efficiency and agility • Key milestones to plan for on the convergence journey • Why integrated management is a critical component of convergence plans • The importance of an open, modular approach, such as Dell's active infrastructure, to building a converged data center


Hardware Refresh Cycles Are Outdated
Office 365 Finds Fans
Cutting Through the Modern App Confusion


Comment profiter d'une nouvelle expérience User Virtualization
S'équiper ou non d'un logiciel anti-virus ?
Microsoft passe au facteur deux


Microsofts Surface Pro kommt nach Deutschland
Zum Schmunzeln: drei neue Werbeclips für Windows 8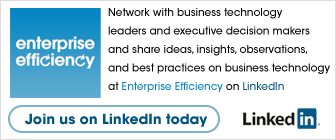 Enterprise Efficiency is looking for engaged readers to moderate the message boards on this site. Engage in high-IQ conversations with IT industry leaders; earn kudos and perks. Interested? E-mail:
moderators@enterpriseefficiency.com


Dell's Efficiency Modeling Tool

The major problem facing the CIO is how to measure the effectiveness of the IT department. Learn how Dell's Efficiency Modeling Tool gives the CIO two clear, powerful numbers: Efficiency Quotient and Impact Quotient. These numbers can be transforma¬tive not only to the department, but to the entire enterprise.
Read the full report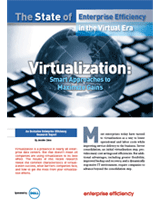 The State of Enterprise Efficiency in the Virtual Era: Virtualization – Smart Approaches to Maximize Gains

Virtualization is a presence in nearly all enterprise data centers. But not all companies are using it to its best effect. Learn the common characteristics of success, what barriers companies face, and how to get the most from your efforts.
Read the full report

Informed CIO: Dollars & Sense: Virtual Desktop Infrastructure

Cut through the VDI hype and get the full picture -- including ROI and the impact on your Data Center -- to make an informed decision about your virtual desktop infrastructure deployments.
Read the full report