Curtis Franklin Jr., Executive Editor | 10/7/2013 |

3 comments
You can get help answering that question from a special, sponsored episode of E2 Radio, Virtualization & the Path to the Cloud: Getting the Most out of Your Virtual Environment With Dell & Microsoft, brought to you by Dell and Microsoft at 2:00 p.m. EDT (1800 GMT) on Thursday, Oct. 10. If you've wondered whether your virtual infrastructure is providing all the benefit it should, or if you want to make sure that virtualization is setting you up for the easiest transition to a cloud architecture, then you'll want to be sure to make time for this valuable special episode.
In the wide-ranging conversation between E2 editors and expert guests, we'll discuss the pain points virtualization can solve and those it can create -- and how to prevent them. New technologies on the horizon allow for automated VM backup, automated VM activation, and multi-host, multi-VM replication. Will you be ready?
In addition to the opinions from our expert guests, we'll take a look at real success stories (and cautionary tales) from real customers. You'll hear about those who are experiencing success and efficiency from virtualizing their infrastructures, including faster recovery, reduced datacenter power consumption and size, hardware consolidation with less to manage, performance improvements, and rapid server/application deployments -- and learn how you can achieve the same results and benefits from virtualization.
Register here and plan to join us at 2:00 p.m. EDT (1800 GMT) on Thursday, Oct. 10 for Virtualization & the Path to the Cloud: Getting the Most out of Your Virtual Environment With Dell & Microsoft. It will be an interview and discussion you'll be glad you took the time to join!


The blogs and comments posted on EnterpriseEfficiency.com do not reflect the views of TechWeb, EnterpriseEfficiency.com, or its sponsors. EnterpriseEfficiency.com, TechWeb, and its sponsors do not assume responsibility for any comments, claims, or opinions made by authors and bloggers. They are no substitute for your own research and should not be relied upon for trading or any other purpose.





More Blogs from Curtis Franklin Jr.
Curtis Franklin Jr. 12/6/2013

11 comments
If you're looking for something to fear in IT security, don't look at the NSA: Look at the Man in the Middle.
Curtis Franklin Jr. 12/4/2013

20 comments
We've become accustomed to systems that let us spy on employees. Systems that spy on executives may change the formula.
Curtis Franklin Jr. 11/29/2013

58 comments
If you don't know the economic development leaders of your local, state, and national government, you're throwing away money.
Curtis Franklin Jr. 11/27/2013

31 comments
If you've ever seen a singer with a really good accompanist you've witnessed the most intimate relationship that doesn't require shielding the eyes of children.
Curtis Franklin Jr. 11/22/2013

15 comments
Crowdsource collaboration can open the doors to creative solutions -- if you know how to get the most from the crowd.

Latest Archived Broadcast
Storage is a critical asset in the datacenter -- but it can be more. New technology can turn storage into a system that gives your enterprise a competitive IT advantage.

December 19th 2pm EST Thursday

On-demand Video with Chat
Register for this video discussion to learn how tablets can provide true business usability and productivity.
12/17/2013 - This webcast will show how you can: -Transform your IT infrastructure by leveraging Dell's OpenManage integrated with System Center, our Hyper-Scale technologies, and factory capabilities -Connect with people-centric solutions with Dell Desktop Virtualization Solutions (DVS) -Inform your users with business intelligence based on Dell deployment, applications like Boomi, and comprehensive reference architectures


Why PowerShell Is Important
Reduce the Windows 8 Footprint for VDI
Rethinking Storage Management


SQL Server : 240 To de mémoire flash pour votre data warehouse
Quand Office vient booster les revenus Cloud et Android de Microsoft
Windows Phone : Nokia veut davantage d'applications (et les utilisateurs aussi)


Cloud Computing: Warum Unternehmen trotz NSA auf die "private" Wolke setzen sollten
Cloud Computing bleibt Wachstumsmarkt – Windows Azure ist Vorreiter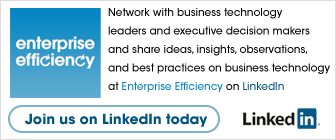 Enterprise Efficiency is looking for engaged readers to moderate the message boards on this site. Engage in high-IQ conversations with IT industry leaders; earn kudos and perks. Interested? E-mail:
moderators@enterpriseefficiency.com


Dell's Efficiency Modeling Tool

The major problem facing the CIO is how to measure the effectiveness of the IT department. Learn how Dell's Efficiency Modeling Tool gives the CIO two clear, powerful numbers: Efficiency Quotient and Impact Quotient. These numbers can be transforma¬tive not only to the department, but to the entire enterprise.
Read the full report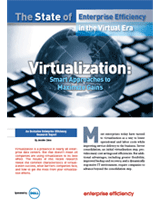 The State of Enterprise Efficiency in the Virtual Era: Virtualization – Smart Approaches to Maximize Gains

Virtualization is a presence in nearly all enterprise data centers. But not all companies are using it to its best effect. Learn the common characteristics of success, what barriers companies face, and how to get the most from your efforts.
Read the full report

Informed CIO: Dollars & Sense: Virtual Desktop Infrastructure

Cut through the VDI hype and get the full picture -- including ROI and the impact on your Data Center -- to make an informed decision about your virtual desktop infrastructure deployments.
Read the full report