I spent a lot of time thinking about freedom and control this weekend. While many of my fellow citizens were celebrating the Labor Day weekend with picnics and sporting events, I was enjoying quality time with a Hitachi DH38YE Rotary Hammer.
According to the specifications, it delivers 2,800 blows per minute into whatever lies beneath its metal bit. That number becomes important to my story. It's also important to understand that when I first picked it up, it weighed roughly 18 pounds (8.16 kg). By the time I finally put it down, it had mysteriously increased to approximately 53 pounds (24.4 kg). I'm not sure I'll mention that again -- I just wanted someone to know.
I was using the Hitachi to chip thin-set mortar off of a concrete slab. I found that it was possible to very finely control where the rapidly vibrating chisel point landed if I kept one hand firmly on the handle nearest the business end of the hammer. If my grip loosened too much, the chisel would go bouncing around the floor, never striking the same point twice and dissipating most of the energy. With too tight a grip, though, the drill didn't vibrate with as much enthusiasm and tended to dig a small crater under the chisel tip. The key, then, was figuring out just how tightly to hold the drill to allow for maximum effect while maintaining control.
I had only been working to find that balance for about six hours when it occurred to me that CIOs in rapidly changing enterprises strive for precisely the same balance in managing their departments. For many of the more traditional-minded CIOs, the instinct to keep a firm hand on the department is strong. It can even be a useful strategy when all of a department's resources need to be concentrated on a single problem. When the issues that face the CIO's office are spread over a wider range of concerns, though, a lighter hand can allow for much more effective impact while keeping the effort sufficiently focused to avoid waste or damage.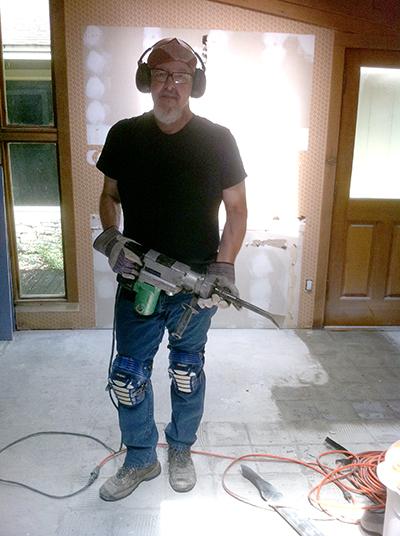 There are limits to this analogy, as there are to most. The modern enterprise is far more complex than the average concrete slab, but there are still lessons to be learned from hours spent wrestling a small jackhammer. One is that trying to exert too much control exhausts the operator while leaving more work to be done at the end of the day. Another is that using a faulty technique can leave you with scars. (I look a bit like I took part in a boxing match using only my thumbs as weapons.) If you use the right technique, though, the results are most gratifying.
Most IT executives will learn a lot of the lessons about control and freedom on their way up the corporate ladder. When you first sit behind the desk in the corner office, though, it can be like the first time you take hold of a very large industrial tool: The basic operation is familiar, but there's a sound and fury beyond what you're accustomed to handling.
So take care when you're given charge of the department or division. To quote an old Southern Rock song, Hold On Loosely. You'll find that allowing the employees to work for you brings the best results while exhausting you (and them) the least. That's the lesson I learned from the DH38YE. What lessons do you think I should have learned? What tools or experiences have taught you lessons? I'd love to know. And if I can type my responses without using my thumbs, I'll look forward to the conversation.