Curtis Franklin Jr., Executive Editor | 6/14/2013 |

16 comments
We'll begin on Tuesday morning at 9:30 a.m. ET with coverage of the opening keynote addresses. These speeches, talks, and discussions will last until noon and feature a who's who of collaborative technology, including:
Amit Singh, President of Enterprise, Google
James McQuivey, VP and Principal Analyst, Forrester Research and author of Digital Disruption
Noorrudin (Rudy) S. KAarsan, Chairman and CEO, Kenexa
Bill Oates, CIO, City of Boston
Nikhil Govindraj, VP Products, Moxie Software
Martin Teat, Chief Privacy Officer, Vice President of Healthcare Computing and Principal Architect, Netsmart Technologies
Matt Tucker, Co-founder and CTO, Jive Software
Sameer Patel, Global Vice President and GM, Enterprise Social and Collaborative Software, SAP
Alistair Rennie, General Manager, Collaboration Solutions, IBM
After that, we all get to catch our breath (and I get to rest my fingers) before things pick up again on Tuesday afternoon at 4:00 p.m. ET with The Big-Data Hour. This session will be a round-table discussion featuring James Markarian, EVP and CTO, Informatica; Stefan Groschupf, CEO, Datameer; Matt Asay, VP of Corporate Strategy, 10gen; and John Bungert, IT Architect, Enterprise Infrastructure and Architecture, Global Technology and Operations, MetLife.
On Wednesday morning things pick up once again with the Second Day Keynote Speeches beginning at 9:30 a.m. ET. You won't want to miss coverage of speeches, discussions, and talks featuring:
Stan Swete, CTO, Workday
John McGeachie, VP of Sales Evernote Business, Evernote
Jason Maynard, Managing Direct and Software Analyst, Wells Fargo
Erika Jolly Brookes, VP of Product Strategy, Oracle Social Cloud, Oracle
SAanjay Dholakia, CMO, Marketo
Brian Halligan, CEO and Founder, HubSpot
Adam Pisoni, Co-Founder and GM of Engineering, Yammer
We'll break for lunch, informal discussions (and lots of social networking coverage on Twitter, Facebook, LinkedIn, and Google+), followed by the final set of sessions for the conference. Beginning at 4:30 p.m. ET, we'll cover the Fireside Chats featuring Bill Schlough, CIO, San Francisco Giants; Jay Wessel, VP of Technology, Boston Celtics; Steve Conley, Director of IT, Boston Red Sox; and Michael Crowley, CEO, InfoMotion Sports Technologies.
It's going to be two full days of coverage and you won't want to miss a moment. Follow the event, and join the discussion as we look closely at the most disruptive technology for today's enterprise: social networking and online collaboration!


The blogs and comments posted on EnterpriseEfficiency.com do not reflect the views of TechWeb, EnterpriseEfficiency.com, or its sponsors. EnterpriseEfficiency.com, TechWeb, and its sponsors do not assume responsibility for any comments, claims, or opinions made by authors and bloggers. They are no substitute for your own research and should not be relied upon for trading or any other purpose.





More Blogs from Curtis Franklin Jr.
Curtis Franklin Jr. 4/18/2014

15 comments
When a difficult problem rears its head, modern business has a reliable response: Start a contest.
Curtis Franklin Jr. 4/11/2014

18 comments
In 1960, Carroll Shelby was told he had two years to live. He spent the next 50 years making the most of that two-year sentence.
Curtis Franklin Jr. 4/8/2014

16 comments
Speed. It's what every user and every enterprise wants from IT. And it's what we're talking about this week on E2 Radio.
Curtis Franklin Jr. 3/28/2014

25 comments
It took Microsoft CEO Satya Nadella about two months to put his mark on the company. And his first mark could completely change enterprise IT.
Curtis Franklin Jr. 3/27/2014

2 comments
Interop 2014 takes place in Las Vegas March 31 through April 4, and Enterprise Efficiency will be there to bring all the excitement to our community members who can't make it to the annual ...

Latest Archived Broadcast
We talk with Bernard Golden about accelerating application delivery in the cloud.

On-demand Video with Chat
Register for this video discussion to learn how tablets can provide true business usability and productivity.
4/29/2014 - Join Dell and Intel for an interactive discussion about implementing, refining and improving your virtual environment. Specifically we'll discuss pain points virtualization can solve and those that it can create and how to prevent them.


Why PowerShell Is Important
Reduce the Windows 8 Footprint for VDI
Rethinking Storage Management


SQL Server : 240 To de mémoire flash pour votre data warehouse
Quand Office vient booster les revenus Cloud et Android de Microsoft
Windows Phone : Nokia veut davantage d'applications (et les utilisateurs aussi)


Cloud Computing: Warum Unternehmen trotz NSA auf die "private" Wolke setzen sollten
Cloud Computing bleibt Wachstumsmarkt – Windows Azure ist Vorreiter
Enterprise Efficiency is looking for engaged readers to moderate the message boards on this site. Engage in high-IQ conversations with IT industry leaders; earn kudos and perks. Interested? E-mail:
moderators@enterpriseefficiency.com


Dell's Efficiency Modeling Tool

The major problem facing the CIO is how to measure the effectiveness of the IT department. Learn how Dell's Efficiency Modeling Tool gives the CIO two clear, powerful numbers: Efficiency Quotient and Impact Quotient. These numbers can be transforma¬tive not only to the department, but to the entire enterprise.
Read the full report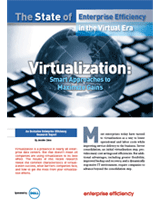 The State of Enterprise Efficiency in the Virtual Era: Virtualization – Smart Approaches to Maximize Gains

Virtualization is a presence in nearly all enterprise data centers. But not all companies are using it to its best effect. Learn the common characteristics of success, what barriers companies face, and how to get the most from your efforts.
Read the full report

Informed CIO: Dollars & Sense: Virtual Desktop Infrastructure

Cut through the VDI hype and get the full picture -- including ROI and the impact on your Data Center -- to make an informed decision about your virtual desktop infrastructure deployments.
Read the full report