Curtis Franklin Jr., Executive Editor | 1/23/2013 |

11 comments
Cash. Personal checks. Credit cards. That defined the options that most in the Western World used to pay for goods and services for 50 years (OK, with traveler's checks and money orders thrown in for special purposes). But we're now seeing an explosion of payment options available for consumers. Many see this as a boon to both vendors and customers, but regulators and watchdog agencies are taking a close look at new payment options to insure that customers (and vendors) don't fall prey to exciting new forms of crime and corruption.
If we look back at the last year, we see that changes in the fees banks are allowed to charge for some types of credit card transactions are pushing institutions to allow other, less-heavily regulated forms of payment. At the same time, many customers who might not be able (or willing) to qualify for a traditional credit card or bank checking account are now able to take part in non-cash transactions through systems such as American Express's Bluebird -- a "non-bank bank" system that can involve a pre-paid chip-and-pin card, smartphone e-wallet, or online transactions.
In the face of all this change, we decided that it's a good time to ask the E2 community an important question: What new forms of payment is your organization planning to accept in 2013? Of course, it's possible that you already accept every form of payment ever considered, but if you don't, are you planning to do anything new this year? Take the new E2 poll, and let us know your thoughts on the matter. Beyond the numbers, we're interested in which of the new forms of payment you think hold the most promise and which might be "flashes in the pan"; interesting experiments that will fade in a short time.
The question isn't whether the options are going to increase: It's really which options will gain transaction most quickly and how government regulators and financial institutions will cope with the challenges posed by new technologies and systems. What's your take? Are we entering a brave new world of payment options, or will the risks outweigh the advantages and send us back to the "old reliables" that have served for half a century? Let us know -- and let the discussion begin.


The blogs and comments posted on EnterpriseEfficiency.com do not reflect the views of TechWeb, EnterpriseEfficiency.com, or its sponsors. EnterpriseEfficiency.com, TechWeb, and its sponsors do not assume responsibility for any comments, claims, or opinions made by authors and bloggers. They are no substitute for your own research and should not be relied upon for trading or any other purpose.





More Blogs from Curtis Franklin Jr.
Curtis Franklin Jr. 5/20/2013

0 comments
Two weeks on the road, two major conferences, lots of info -- and three key lessons for CIOs.
Curtis Franklin Jr. 5/15/2013

16 comments
Remember the old highway safety slogan, "Speed Kills"? In today's business environment, it's lack of speed that's fatal.
Curtis Franklin Jr. 5/14/2013

1 comment
Between webcasts, con calls, and Internet chats, you need a pretty good reason to actually get on a plane and go to a meeting. Last week's Interop gave me a lot of great reasons to be in ...
Curtis Franklin Jr. 5/10/2013

22 comments
It's rare to hear that security breaches are too cheap to matter. That's exactly what I heard yesterday in Las Vegas.
Curtis Franklin Jr. 5/8/2013

8 comments
Innovation is a matter of discipline and culture in the enterprise. CIOs can help build that culture of innovation -- but only if they understand what's involved and what's at stake.

Latest Archived Broadcast
Data visualization can make complex data easier to grasp. Our expert guest will talk about the hows, whys, and whats of bringing the big picture to your enterprise.


May 30th 2pm EDT Thursday

On-demand Video with Chat
NBA CIO Michael Gliedman will tell us why the NBA decided to create NBA.com/stats
6/18/2013 -   Please join us for the "IT Convergence Strategies: Why, When and How " to learn more about: • 5 truths about infrastructure convergence today that go beyond the hype • How to exploit the 4 phases of convergence maximum efficiency and agility • Key milestones to plan for on the convergence journey • Why integrated management is a critical component of convergence plans • The importance of an open, modular approach, such as Dell's active infrastructure, to building a converged data center


Hardware Refresh Cycles Are Outdated
Office 365 Finds Fans
Cutting Through the Modern App Confusion


Comment profiter d'une nouvelle expérience User Virtualization
S'équiper ou non d'un logiciel anti-virus ?
Microsoft passe au facteur deux


Microsofts Surface Pro kommt nach Deutschland
Zum Schmunzeln: drei neue Werbeclips für Windows 8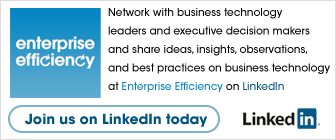 Enterprise Efficiency is looking for engaged readers to moderate the message boards on this site. Engage in high-IQ conversations with IT industry leaders; earn kudos and perks. Interested? E-mail:
moderators@enterpriseefficiency.com


Dell's Efficiency Modeling Tool

The major problem facing the CIO is how to measure the effectiveness of the IT department. Learn how Dell's Efficiency Modeling Tool gives the CIO two clear, powerful numbers: Efficiency Quotient and Impact Quotient. These numbers can be transforma¬tive not only to the department, but to the entire enterprise.
Read the full report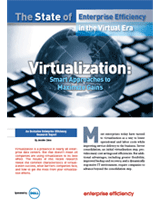 The State of Enterprise Efficiency in the Virtual Era: Virtualization – Smart Approaches to Maximize Gains

Virtualization is a presence in nearly all enterprise data centers. But not all companies are using it to its best effect. Learn the common characteristics of success, what barriers companies face, and how to get the most from your efforts.
Read the full report

Informed CIO: Dollars & Sense: Virtual Desktop Infrastructure

Cut through the VDI hype and get the full picture -- including ROI and the impact on your Data Center -- to make an informed decision about your virtual desktop infrastructure deployments.
Read the full report