Curtis Franklin Jr., Executive Editor | 4/16/2012 |

11 comments
Brian Cox's Wonders of the Universe, the answer is, "Everything."

An electronic application built as a supporting medium for the BBC television series of the same name, the combination of text, video, and on-screen graphics makes for a rich experience that has interesting implications for groups ranging from parents to textbook publishers.

I had a chance to talk with Alex Gatrell, digital publisher with Collins, the UK-based trade book division of HarperCollins Publishers. We discussed the nature of the application, why it's an application rather than a book, and what its success might mean for the publishing industry.

When I asked Gatrell about the decision to create an application based on the series, he was effusive in his praise of tablets as a publishing medium. "I think tablets themselves are wonderful because you can bring all this content together, and for publishers our skill is to bring information together. It uses some old-school publishing traits and skills, but it's totally new."

Once Collins had taken the decision to put the content on a tablet, the question was whether it should be in one of the electronic book formats, or as a separate application. Gatrell says:
I think we'd like to make immersive educational experiences. As a publisher we do beautiful illustrated books, and we want to take that into beautiful immersive applications. Ebooks don't really give us enough control, so apps are very attractive in allowing a broader palette of resources.
Looking forward, Gatrell says that the experience of Wonders of the Universe is encouraging for Collins. "We recouped costs within three days, we're very pleased, and we'd like to continue, but it's going to be fewer, bigger, better for apps. I think other publishers are of similar view."

Among the differences between an application (sold through Apple's App Store) and a traditional book is the global scope of the app's reach. Gatrell says that a global reach has significant legal and financial ramifications for publishers:
It does change it to a global market. Our sales are roughly split between the US and UK. We used to do deals with publishers in territories where we didn't have distribution, but the App Store really subverts the traditional rights deals because it changes the territories available.
That reach isn't without issues, though.
The only problem is that Apple doesn't take tax on delivery in every jurisdiction and we have to deal with those separately. Right now we're not selling in places where the tax deals aren't in place, but we're looking at ways to deal with it. It's one of the only drawbacks to being able to sell so broadly.
Gatrell is careful to call Wonders of the Universe a mainstream application that could complement a textbook, rather than a textbook application that stands alone. For parents, libraries, or school systems looking for "enrichment," it's a model that seems almost certain to expand into other topics with time.
For educators and textbook publishers, though, it could well be considered the practical definition of "disruptive technology," though it's a disruption wrapped in a visually stunning and beautifully interactive cover.


The blogs and comments posted on EnterpriseEfficiency.com do not reflect the views of TechWeb, EnterpriseEfficiency.com, or its sponsors. EnterpriseEfficiency.com, TechWeb, and its sponsors do not assume responsibility for any comments, claims, or opinions made by authors and bloggers. They are no substitute for your own research and should not be relied upon for trading or any other purpose.





More Blogs from Curtis Franklin Jr.
Curtis Franklin Jr. 5/24/2013

2 comments
There's a "digital divide" among the world's enterprise networks and it looks as if US-based firms are standing on the wrong side.
Curtis Franklin Jr. 5/22/2013

9 comments
It's the dawn of a new age in helpful machines. It's the first step toward Skynet. Smarter, more intelligent computers are here. How will you use them?
Curtis Franklin Jr. 5/21/2013

13 comments
If you're old enough, you will remember when "Service with a smile" was a common company slogan. In the enterprise datacenter, it just might be the new mission statement.
Curtis Franklin Jr. 5/20/2013

1 comment
Two weeks on the road, two major conferences, lots of info -- and three key lessons for CIOs.
Curtis Franklin Jr. 5/15/2013

17 comments
Remember the old highway safety slogan, "Speed Kills"? In today's business environment, it's lack of speed that's fatal.

Latest Archived Broadcast
Data visualization can make complex data easier to grasp. Our expert guest will talk about the hows, whys, and whats of bringing the big picture to your enterprise.


May 30th 2pm EDT Thursday

On-demand Video with Chat
NBA CIO Michael Gliedman will tell us why the NBA decided to create NBA.com/stats
6/18/2013 -   Please join us for the "IT Convergence Strategies: Why, When and How " to learn more about: • 5 truths about infrastructure convergence today that go beyond the hype • How to exploit the 4 phases of convergence maximum efficiency and agility • Key milestones to plan for on the convergence journey • Why integrated management is a critical component of convergence plans • The importance of an open, modular approach, such as Dell's active infrastructure, to building a converged data center


Get Modern Apps on the Windows 8 Desktop
Application Audits Simplify Migration
Hardware Refresh Cycles Are Outdated


BrandCache sous Windows Server 2012
Windows Blue attendu en juin
Comment profiter d'une nouvelle expérience User Virtualization


Leap Motion zeigt Gestensteuerung für Windows 8
Microsofts Surface Pro kommt nach Deutschland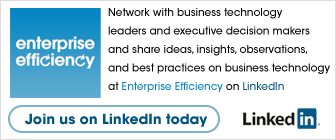 Enterprise Efficiency is looking for engaged readers to moderate the message boards on this site. Engage in high-IQ conversations with IT industry leaders; earn kudos and perks. Interested? E-mail:
moderators@enterpriseefficiency.com


Dell's Efficiency Modeling Tool

The major problem facing the CIO is how to measure the effectiveness of the IT department. Learn how Dell's Efficiency Modeling Tool gives the CIO two clear, powerful numbers: Efficiency Quotient and Impact Quotient. These numbers can be transforma¬tive not only to the department, but to the entire enterprise.
Read the full report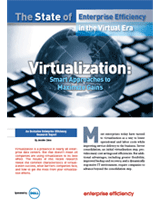 The State of Enterprise Efficiency in the Virtual Era: Virtualization – Smart Approaches to Maximize Gains

Virtualization is a presence in nearly all enterprise data centers. But not all companies are using it to its best effect. Learn the common characteristics of success, what barriers companies face, and how to get the most from your efforts.
Read the full report

Informed CIO: Dollars & Sense: Virtual Desktop Infrastructure

Cut through the VDI hype and get the full picture -- including ROI and the impact on your Data Center -- to make an informed decision about your virtual desktop infrastructure deployments.
Read the full report