Curtis Franklin Jr., Executive Editor | 3/16/2012 |

28 comments
At Inside Higher Education, Eric Stoller has written an interesting article, "Supporting Online Students: New Paradigms for an Evolving Profession." In it, he talks about the importance of changing the way institutions look at the task of supporting online students -- and at the relatively few schools that are actually doing anything about making that change.
Let's admit right now that larger universities and colleges (and, to be honest, universities and schools of any size) can be remarkably resistant to change. It can take years to make the most modest changes. Figuring out how to support students who never set foot on campus can be the work of an entire career (though we really don't have that long to figure things out if schools are going to continue to be relevant to a rapidly-changing economy and society).
How will Student Affairs offices adapt themselves to help students who may be hundreds of miles from the office? At the large university in the town where I live, Student Affairs devotes a great deal of effort to issues like dorm living, relationships between students, on-campus activities, and career counseling. Which of these could safely be ignored, and which should be dramatically strengthened, in a distance-learning orientation for student affairs? Or is even this set of questions too tied to the past: Do we need to re-think the notion of student affairs entirely, separating it completely from its residential campus roots?
I think there's a strong case to be made for totally revising the concept of student affairs to meet the needs of modern distance students. The first principle in all this revision, though, should be that online students have a different need for support -- not a lesser need. Universities that view the rise of distance-learning as an opportunity to increase revenue while cutting student support to an absolute minimum are doomed to long-term failure. While there are certainly cost-savings to be had in physical-plant infrastructure, those institutions that best adapt to and support every member of their learning community, whether local or distant, will prosper.
Looking for a model? You could do a lot worse than Southern New Hampshire University. Fast Company named the university one of its 50 Most Innovative Companies -- the only educational institution so honored. Why aren't more universities racing to be more innovative? That may be the most fundamental question of all.
Related posts:


The blogs and comments posted on EnterpriseEfficiency.com do not reflect the views of TechWeb, EnterpriseEfficiency.com, or its sponsors. EnterpriseEfficiency.com, TechWeb, and its sponsors do not assume responsibility for any comments, claims, or opinions made by authors and bloggers. They are no substitute for your own research and should not be relied upon for trading or any other purpose.





More Blogs from Curtis Franklin Jr.
Curtis Franklin Jr. 5/22/2013

4 comments
It's the dawn of a new age in helpful machines. It's the first step toward Skynet. Smarter, more intelligent computers are here. How will you use them?
Curtis Franklin Jr. 5/21/2013

10 comments
If you're old enough, you will remember when "Service with a smile" was a common company slogan. In the enterprise datacenter, it just might be the new mission statement.
Curtis Franklin Jr. 5/20/2013

1 comment
Two weeks on the road, two major conferences, lots of info -- and three key lessons for CIOs.
Curtis Franklin Jr. 5/15/2013

17 comments
Remember the old highway safety slogan, "Speed Kills"? In today's business environment, it's lack of speed that's fatal.
Curtis Franklin Jr. 5/14/2013

1 comment
Between webcasts, con calls, and Internet chats, you need a pretty good reason to actually get on a plane and go to a meeting. Last week's Interop gave me a lot of great reasons to be in ...

Latest Archived Broadcast
Data visualization can make complex data easier to grasp. Our expert guest will talk about the hows, whys, and whats of bringing the big picture to your enterprise.


May 30th 2pm EDT Thursday

On-demand Video with Chat
NBA CIO Michael Gliedman will tell us why the NBA decided to create NBA.com/stats
6/18/2013 -   Please join us for the "IT Convergence Strategies: Why, When and How " to learn more about: • 5 truths about infrastructure convergence today that go beyond the hype • How to exploit the 4 phases of convergence maximum efficiency and agility • Key milestones to plan for on the convergence journey • Why integrated management is a critical component of convergence plans • The importance of an open, modular approach, such as Dell's active infrastructure, to building a converged data center


Application Audits Simplify Migration
Hardware Refresh Cycles Are Outdated
Office 365 Finds Fans


Windows Blue attendu en juin
Comment profiter d'une nouvelle expérience User Virtualization
S'équiper ou non d'un logiciel anti-virus ?


Leap Motion zeigt Gestensteuerung für Windows 8
Microsofts Surface Pro kommt nach Deutschland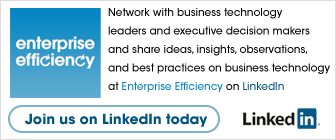 Enterprise Efficiency is looking for engaged readers to moderate the message boards on this site. Engage in high-IQ conversations with IT industry leaders; earn kudos and perks. Interested? E-mail:
moderators@enterpriseefficiency.com


Dell's Efficiency Modeling Tool

The major problem facing the CIO is how to measure the effectiveness of the IT department. Learn how Dell's Efficiency Modeling Tool gives the CIO two clear, powerful numbers: Efficiency Quotient and Impact Quotient. These numbers can be transforma¬tive not only to the department, but to the entire enterprise.
Read the full report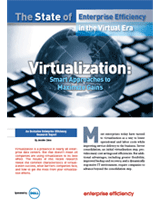 The State of Enterprise Efficiency in the Virtual Era: Virtualization – Smart Approaches to Maximize Gains

Virtualization is a presence in nearly all enterprise data centers. But not all companies are using it to its best effect. Learn the common characteristics of success, what barriers companies face, and how to get the most from your efforts.
Read the full report

Informed CIO: Dollars & Sense: Virtual Desktop Infrastructure

Cut through the VDI hype and get the full picture -- including ROI and the impact on your Data Center -- to make an informed decision about your virtual desktop infrastructure deployments.
Read the full report