Curtis Franklin Jr., Executive Editor | 2/27/2012 |

21 comments
the ultimate result was the Jeep. Roughly a million units later, the second world war had ended and a new "car" went from a single set of customers -- military organizations -- to one of the most recognizable multi-purpose vehicles in the world. It's amazing what a functional, low-cost design can do when it's let loose upon the world.

The basic philosophy of the Jeep, washed through the open-source software movement of the last 20 years, has given the industry the Open Compute Project, the process by which Facebook is designing and deploying the servers in its new datacenters and then giving those designs to the rest of the world. Now, the company has announced that it's moving past servers and datacenters into storage design, and the potential for market disruption seems great.

According to an article on Wired.com, the design considerations for the Open Compute Project storage section extend down to the size and placement of screws in hot-swappable storage units. For enterprise customers, attention to storage, servers, and datacenters is almost certainly a good thing, but there are very real questions that can arise about the impact "open standard" hardware might have on competitive advantage and relationships with vendors.

We can admit from the beginning that very few enterprises are big enough to have a significant voice in the design of the hardware they purchase. In most cases, the advantage an enterprise can derive from a particular vendor's hardware boils down to how easy it is to configure systems in order to maximize support for software and support hardware.

If significant numbers of vendors begin offering Open Compute Project-derived designs, those basic advantages won't go away. The case can be made, in fact, that configuration, integration, and support will become even more critical in the Open Computer Project world because vendors will be able to devote more time to those aspects of a total system deployment.

When vendors are competing against one another on configuration, integration, and support, it will tend to strengthen relationships rather than weaken them, though Open Compute Project designs should help remove some of the "vendor lock-in" fear that takes a toll on many CIOs. Given that storage is one of the areas in which the basic building blocks are already reasonably well-standardized, Open Compute Project definitions will represent an extension of the current way of doing business, not a wholesale change in the industry business model.

We've already seen a bit of this evolutionary change in open projects like OpenStack, a cloud operating system being developed in an open model. Some vendors, such as Dell, have signed on to both projects (and others) to develop products that meet multiple design specs.

For enterprise customers, building new data centers may become a process of choosing a standard, working with a vendor on systems that meet the specs, then turning internal developers loose on applications and utilities that draw on the accumulated wisdom of the open community's participants. That is, indeed, a new model for data center rollout, but it's one that has real promise for reducing costs and increasing creativity and productivity. It's hard to see a lot of losers in the transition.

Related posts:


The blogs and comments posted on EnterpriseEfficiency.com do not reflect the views of TechWeb, EnterpriseEfficiency.com, or its sponsors. EnterpriseEfficiency.com, TechWeb, and its sponsors do not assume responsibility for any comments, claims, or opinions made by authors and bloggers. They are no substitute for your own research and should not be relied upon for trading or any other purpose.





More Blogs from Curtis Franklin Jr.
Curtis Franklin Jr. 5/22/2013

5 comments
It's the dawn of a new age in helpful machines. It's the first step toward Skynet. Smarter, more intelligent computers are here. How will you use them?
Curtis Franklin Jr. 5/21/2013

10 comments
If you're old enough, you will remember when "Service with a smile" was a common company slogan. In the enterprise datacenter, it just might be the new mission statement.
Curtis Franklin Jr. 5/20/2013

1 comment
Two weeks on the road, two major conferences, lots of info -- and three key lessons for CIOs.
Curtis Franklin Jr. 5/15/2013

17 comments
Remember the old highway safety slogan, "Speed Kills"? In today's business environment, it's lack of speed that's fatal.
Curtis Franklin Jr. 5/14/2013

1 comment
Between webcasts, con calls, and Internet chats, you need a pretty good reason to actually get on a plane and go to a meeting. Last week's Interop gave me a lot of great reasons to be in ...

Latest Archived Broadcast
In this episode, you'll learn how to stretch the limits of your private cloud -- and how to recognize the limits that can't be exceeded.

On-demand Video with Chat
IT has to deploy Server 2012 in a way that fits the architecture of its application delivery system.


Get Modern Apps on the Windows 8 Desktop
Application Audits Simplify Migration
Hardware Refresh Cycles Are Outdated


Windows Blue attendu en juin
Comment profiter d'une nouvelle expérience User Virtualization
S'équiper ou non d'un logiciel anti-virus ?


Leap Motion zeigt Gestensteuerung für Windows 8
Microsofts Surface Pro kommt nach Deutschland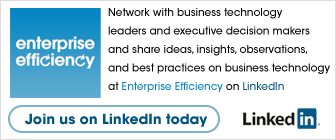 Enterprise Efficiency is looking for engaged readers to moderate the message boards on this site. Engage in high-IQ conversations with IT industry leaders; earn kudos and perks. Interested? E-mail:
moderators@enterpriseefficiency.com

Informed CIO: Dollars & Sense: Virtual Desktop Infrastructure

Cut through the VDI hype and get the full picture -- including ROI and the impact on your Data Center -- to make an informed decision about your virtual desktop infrastructure deployments.
Read the full report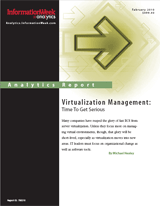 Virtualization Management: Time To Get Serious

Welcome to the backside of the virtualization wave. Discover the state of virtualization management and where analysts are predicting it is heading
Read the full report