Curtis Franklin Jr., Executive Editor | 11/29/2011 |

41 comments
The evolution of general software development is being repeated on the Web, as the average size of a page and its contents grows. An article over at WebMonkey.com says that we're building a fatter, slower Web. Oh. Goody. What joy does that news bring to you as a CIO? Let's walk through some of enterprise pleasures to come.

First, if you look at the data presented at httparchive.org, it's obvious that object size is growing faster than the number of requests. This means, basically, that more Web pages are being requested, and the size of the files fulfilling those requests is growing rapidly. That's not terribly surprising, but there are surprising nuggets in the data. One is that the size of Flash files isn't growing. Another is that the size of CSS and JavaScript files are.

Now, it's easy to say that the real problem is that the pages are getting more complex, and there's a kernel of truth to that. More important, though, is the idea that we've stopped caring about whether the pages we build are optimal. When the Web was young and dial-up was common, we built Web pages that would download and display rapidly at 57 kbps, or so.

Now, we assume that everyone has multi-megabit data links and powerful display processors. As a result, we build code quickly and don't care how big our CSS or JavaScript files might be. The problem is, even though the pipes are bigger, they're still finite, and lots of big files requested by lots of impatient people will still have an impact on overall network performance.

What's a CIO to do? You're not developing Web pages or even leading development teams, so you aren't going to review code. What you can do, though, is exercise the most powerful tool in a C-level exec's toolbox: You can define a culture.

If you let it be known that efficiency and elegance are qualities you demand, and reinforce those qualities with both your words and your actions, the effects will trickle down to every development group in your sphere of control.

There are solid financial reasons to do this (see the sentence on finite pipes, above), but the cultural reasons may be more compelling. Treating every corporate resource as important and refusing to waste even abundant raw materials (like CPU cycles and I/O operations) leads to an organization that embraces cost savings as a virtue rather than a punishment, and takes the lead on "green" initiatives as a matter of course.

It's easy to get sloppy when resources are plentiful, but there are advantages to discipline. The latest Web statistics are a wake-up call -- don't let your IT organization hit the bloated JavaScript "snooze" button.


The blogs and comments posted on EnterpriseEfficiency.com do not reflect the views of TechWeb, EnterpriseEfficiency.com, or its sponsors. EnterpriseEfficiency.com, TechWeb, and its sponsors do not assume responsibility for any comments, claims, or opinions made by authors and bloggers. They are no substitute for your own research and should not be relied upon for trading or any other purpose.





More Blogs from Curtis Franklin Jr.
Curtis Franklin Jr. 5/24/2013

2 comments
There's a "digital divide" among the world's enterprise networks and it looks as if US-based firms are standing on the wrong side.
Curtis Franklin Jr. 5/22/2013

9 comments
It's the dawn of a new age in helpful machines. It's the first step toward Skynet. Smarter, more intelligent computers are here. How will you use them?
Curtis Franklin Jr. 5/21/2013

13 comments
If you're old enough, you will remember when "Service with a smile" was a common company slogan. In the enterprise datacenter, it just might be the new mission statement.
Curtis Franklin Jr. 5/20/2013

1 comment
Two weeks on the road, two major conferences, lots of info -- and three key lessons for CIOs.
Curtis Franklin Jr. 5/15/2013

17 comments
Remember the old highway safety slogan, "Speed Kills"? In today's business environment, it's lack of speed that's fatal.

Latest Archived Broadcast
Data visualization can make complex data easier to grasp. Our expert guest will talk about the hows, whys, and whats of bringing the big picture to your enterprise.


May 30th 2pm EDT Thursday

On-demand Video with Chat
NBA CIO Michael Gliedman will tell us why the NBA decided to create NBA.com/stats
6/18/2013 -   Please join us for the "IT Convergence Strategies: Why, When and How " to learn more about: • 5 truths about infrastructure convergence today that go beyond the hype • How to exploit the 4 phases of convergence maximum efficiency and agility • Key milestones to plan for on the convergence journey • Why integrated management is a critical component of convergence plans • The importance of an open, modular approach, such as Dell's active infrastructure, to building a converged data center


Get Modern Apps on the Windows 8 Desktop
Application Audits Simplify Migration
Hardware Refresh Cycles Are Outdated


BrandCache sous Windows Server 2012
Windows Blue attendu en juin
Comment profiter d'une nouvelle expérience User Virtualization


Leap Motion zeigt Gestensteuerung für Windows 8
Microsofts Surface Pro kommt nach Deutschland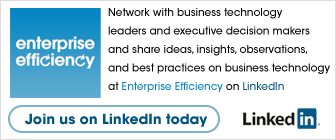 Enterprise Efficiency is looking for engaged readers to moderate the message boards on this site. Engage in high-IQ conversations with IT industry leaders; earn kudos and perks. Interested? E-mail:
moderators@enterpriseefficiency.com


Dell's Efficiency Modeling Tool

The major problem facing the CIO is how to measure the effectiveness of the IT department. Learn how Dell's Efficiency Modeling Tool gives the CIO two clear, powerful numbers: Efficiency Quotient and Impact Quotient. These numbers can be transforma¬tive not only to the department, but to the entire enterprise.
Read the full report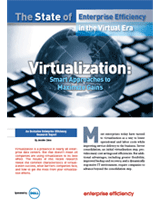 The State of Enterprise Efficiency in the Virtual Era: Virtualization – Smart Approaches to Maximize Gains

Virtualization is a presence in nearly all enterprise data centers. But not all companies are using it to its best effect. Learn the common characteristics of success, what barriers companies face, and how to get the most from your efforts.
Read the full report

Informed CIO: Dollars & Sense: Virtual Desktop Infrastructure

Cut through the VDI hype and get the full picture -- including ROI and the impact on your Data Center -- to make an informed decision about your virtual desktop infrastructure deployments.
Read the full report