Andrew Froehlich, Network Engineer & IT Consultant | 4/9/2012 |

7 comments
If you're like me, you don't exactly have the opportunity to chat with a big-name tech founder on a regular basis. But now might be your chance to receive some sound advice from some of the top technology founders in the world. A startup called EXEC recently announced a "rent a tech founder" initiative -- an opportunity to bend the ear of a highly respected startup owner.
Justin Kan, the founder of EXEC (and the creator of Justin.tv) wrote in a blog post about how the process works:
The founders will be available to give you a call or Skype to give you advice for your business, serve as a sounding board for your startup idea, or just to chat. We hope to provide you with a simple, valuable opportunity to get access to successful entrepreneurs that you might not have an easy way to get in touch with.
I believe many CIOs will take advantage of this ingenious idea. In addition to Kan himself, the participants include:
Alexis Ohanian and Steve Huffman, who founded the social news Website Reddit.com after graduating from the University of Virginia in 2005. If you need advice on the social network aspect of your business, either of these two guys would be a great choice.
Matt Brezina, cofounder of Xobni (inbox spelled backward), which designs software applications for Microsoft Outlook and, more recently, mobile apps. If you are looking to create applications that optimize worker efficiency, you can't go wrong with Matt.
Tikhon Bernstam, cofounder of Parse, a cloud-based mobile application development platform. Sign up to talk to Tikhon if you have cloud computing or mobile application ambitions.
I know what you're thinking: "This all sounds well and good. What's the cost?" Surprisingly, a full hour of time with the tech founder of your choice is available now at a promotional price of only $100. That's an absolute steal in my book. Even better, all the proceeds generated will go to DonorsChoose.org.
Let's face it. Technology founders have a special knack for making successful business decisions with the aid of current or emerging technologies. We all can't possess this ability, but now we can at least pick the brain of someone who does to help us make the best decisions for our next project or startup.
Is it really worth a CIO's time to discuss technology plans with these people? If so, what critical information do you think these people possess?


The blogs and comments posted on EnterpriseEfficiency.com do not reflect the views of TechWeb, EnterpriseEfficiency.com, or its sponsors. EnterpriseEfficiency.com, TechWeb, and its sponsors do not assume responsibility for any comments, claims, or opinions made by authors and bloggers. They are no substitute for your own research and should not be relied upon for trading or any other purpose.






Latest Archived Broadcast
Data visualization can make complex data easier to grasp. Our expert guest will talk about the hows, whys, and whats of bringing the big picture to your enterprise.


May 30th 2pm EDT Thursday

On-demand Video with Chat
NBA CIO Michael Gliedman will tell us why the NBA decided to create NBA.com/stats
6/18/2013 -   Please join us for the "IT Convergence Strategies: Why, When and How " to learn more about: • 5 truths about infrastructure convergence today that go beyond the hype • How to exploit the 4 phases of convergence maximum efficiency and agility • Key milestones to plan for on the convergence journey • Why integrated management is a critical component of convergence plans • The importance of an open, modular approach, such as Dell's active infrastructure, to building a converged data center


Hardware Refresh Cycles Are Outdated
Office 365 Finds Fans
Cutting Through the Modern App Confusion


Comment profiter d'une nouvelle expérience User Virtualization
S'équiper ou non d'un logiciel anti-virus ?
Microsoft passe au facteur deux


Microsofts Surface Pro kommt nach Deutschland
Zum Schmunzeln: drei neue Werbeclips für Windows 8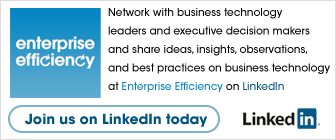 Enterprise Efficiency is looking for engaged readers to moderate the message boards on this site. Engage in high-IQ conversations with IT industry leaders; earn kudos and perks. Interested? E-mail:
moderators@enterpriseefficiency.com


Dell's Efficiency Modeling Tool

The major problem facing the CIO is how to measure the effectiveness of the IT department. Learn how Dell's Efficiency Modeling Tool gives the CIO two clear, powerful numbers: Efficiency Quotient and Impact Quotient. These numbers can be transforma¬tive not only to the department, but to the entire enterprise.
Read the full report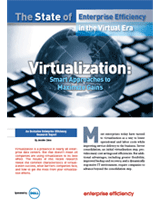 The State of Enterprise Efficiency in the Virtual Era: Virtualization – Smart Approaches to Maximize Gains

Virtualization is a presence in nearly all enterprise data centers. But not all companies are using it to its best effect. Learn the common characteristics of success, what barriers companies face, and how to get the most from your efforts.
Read the full report

Informed CIO: Dollars & Sense: Virtual Desktop Infrastructure

Cut through the VDI hype and get the full picture -- including ROI and the impact on your Data Center -- to make an informed decision about your virtual desktop infrastructure deployments.
Read the full report