Ivan Schneider, Writer, specializing in financial technology | 1/4/2012 |

7 comments
." To monitor compliance, metrics has been proposed using factors such as the timing of revenues, revenue-to-risk metrics, inventory turnover, and the flow of customer-initiated orders relative to all trading orders. Regulators expect that these metrics will enable them to distinguish risky proprietary trading profits from day-to-day profits derived from permitted activities. Again, establishing these metrics will be a major project for IT departments at financial services firms. As my colleague David Wagner pointed out in an earlier article on this topic, the data-driven requirements of the Volcker Rule will lead to large and significant new projects for bank IT departments. That's the good news. The bad news is that to the extent that banks shed staff and operations formerly dedicated to proprietary trading, total financial services industry IT headcount and budgets will also be reduced. There may be countervailing hiring activity at newly-formed proprietary trading shops, market infrastructure players, and in other parts of the industry, but the net effect will likely be a decline in overall headcount in financial services IT. The Volcker Rule will also have an impact outside of the banking industry. Nobody knows for certain how it will shake out, but credible analysts have sketched several eye-opening scenarios: a large reduction in market-making activities, wider spreads on traded instruments, lack of liquidity in the secondary markets for corporate bond issues, and higher cost of capital for issuers of corporate debt. Prominent industry observer Larry Tabb suggests [registration required] that we're returning to the industry structure circa 1980, in that companies will raise money directly from banks' own balance sheets, rather than from issuing tradable swaps and bonds in the capital markets. If such predictions bear out, the higher cost of capital would put a crimp upon capital expenditures, which in turn -- wait for it -- would lead to downward pressure on IT budgets across the economy, not just in banking. Yet there's no going back. The global economy paid a huge price for the excesses of the financial services industry, and we haven't finished paying the bill. To ensure that such excesses are not repeated, governments worldwide are reining in the financial services sector, and this, too, will incur a high cost. Reconstituting the financial sector will take time, energy, and effort, and there will be numerous challenges along the way. Financial services IT departments will be responsible not only for building a robust infrastructure capable of Dodd-Frank compliance, but also integrating those changes alongside of earlier, massive pieces of banking regulation from Sarbanes-Oxley to Gramm-Leach-Bliley. (In a future post, I'll describe the overlap between successive regulatory overhauls of the banking industry and suggest a strategy for IT leadership in compliance.) At the end of the transition period, we can expect clear delineation between risk-averse banking activities and risk-tolerant securities activities, with transparent markets operating through regulated exchanges. Individual transactions may encounter more "friction" than during the heyday of the financial industry, but as a whole, the system will be safer, sounder, and more resistant to shocks. Once we have a more solid financial infrastructure at the foundation, we should expect a renaissance of innovation, the next time channeled through entities that can be safely allowed to fail. To my mind, having such a financial system is worth the effort. What's your take? Do you support the restructuring of the financial services industry along the Volcker model, even if the transition leads to short-term contraction in IT budgets and job opportunities? Let's hear it in the comments.


The blogs and comments posted on EnterpriseEfficiency.com do not reflect the views of TechWeb, EnterpriseEfficiency.com, or its sponsors. EnterpriseEfficiency.com, TechWeb, and its sponsors do not assume responsibility for any comments, claims, or opinions made by authors and bloggers. They are no substitute for your own research and should not be relied upon for trading or any other purpose.






Latest Archived Broadcast
We talk with Bernard Golden about accelerating application delivery in the cloud.

On-demand Video with Chat
Register for this video discussion to learn how tablets can provide true business usability and productivity.


Why PowerShell Is Important
Reduce the Windows 8 Footprint for VDI
Rethinking Storage Management


SQL Server : 240 To de mémoire flash pour votre data warehouse
Quand Office vient booster les revenus Cloud et Android de Microsoft
Windows Phone : Nokia veut davantage d'applications (et les utilisateurs aussi)


Cloud Computing: Warum Unternehmen trotz NSA auf die "private" Wolke setzen sollten
Cloud Computing bleibt Wachstumsmarkt – Windows Azure ist Vorreiter
Enterprise Efficiency is looking for engaged readers to moderate the message boards on this site. Engage in high-IQ conversations with IT industry leaders; earn kudos and perks. Interested? E-mail:
moderators@enterpriseefficiency.com


Dell's Efficiency Modeling Tool

The major problem facing the CIO is how to measure the effectiveness of the IT department. Learn how Dell's Efficiency Modeling Tool gives the CIO two clear, powerful numbers: Efficiency Quotient and Impact Quotient. These numbers can be transforma¬tive not only to the department, but to the entire enterprise.
Read the full report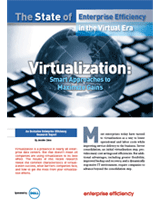 The State of Enterprise Efficiency in the Virtual Era: Virtualization – Smart Approaches to Maximize Gains

Virtualization is a presence in nearly all enterprise data centers. But not all companies are using it to its best effect. Learn the common characteristics of success, what barriers companies face, and how to get the most from your efforts.
Read the full report

Informed CIO: Dollars & Sense: Virtual Desktop Infrastructure

Cut through the VDI hype and get the full picture -- including ROI and the impact on your Data Center -- to make an informed decision about your virtual desktop infrastructure deployments.
Read the full report