Latest Content tagged with Mobile/Wireless



Sudha Nagaraj Bharadwaj 12/20/2013

3 comments
In response to varying vendor standards, the complexity of the systems, and inefficiencies, the Indian government announced new standards for electronic health records this year.
Michael Hugos 12/19/2013

4 comments
This part of an ongoing four-part series on the seven core techniques of agile development. If you have not read the first two parts start here for part one and here for part two.
Michael Hugos 12/17/2013

6 comments
This is part two of my overview of the seven techniques required for agile development. Start here if you have not read the first article.
Susan Nunziata 12/16/2013

49 comments
The US Department of Transportation isn't usually the first government agency I think of when considering ways to make life less stressful.
Brian Moore 12/16/2013

19 comments
Sorry if we keep droning on about this topic.

Latest Archived Broadcast
IT organizations want maximum efficiency out of their virtual environments, but years of virtualizing often present significant roadblocks to that goal. If you can't overcome the complexity to streamline operations, you're leaving IT benefits on the table.

On-demand Video with Chat
Register for this video discussion to learn how tablets can provide true business usability and productivity.


Why PowerShell Is Important
Reduce the Windows 8 Footprint for VDI
Rethinking Storage Management


SQL Server : 240 To de mémoire flash pour votre data warehouse
Quand Office vient booster les revenus Cloud et Android de Microsoft
Windows Phone : Nokia veut davantage d'applications (et les utilisateurs aussi)


Cloud Computing: Warum Unternehmen trotz NSA auf die "private" Wolke setzen sollten
Cloud Computing bleibt Wachstumsmarkt – Windows Azure ist Vorreiter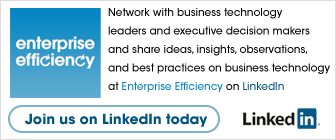 Enterprise Efficiency is looking for engaged readers to moderate the message boards on this site. Engage in high-IQ conversations with IT industry leaders; earn kudos and perks. Interested? E-mail:
moderators@enterpriseefficiency.com


Dell's Efficiency Modeling Tool

The major problem facing the CIO is how to measure the effectiveness of the IT department. Learn how Dell's Efficiency Modeling Tool gives the CIO two clear, powerful numbers: Efficiency Quotient and Impact Quotient. These numbers can be transforma¬tive not only to the department, but to the entire enterprise.
Read the full report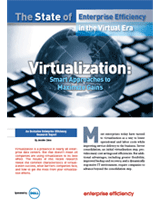 The State of Enterprise Efficiency in the Virtual Era: Virtualization – Smart Approaches to Maximize Gains

Virtualization is a presence in nearly all enterprise data centers. But not all companies are using it to its best effect. Learn the common characteristics of success, what barriers companies face, and how to get the most from your efforts.
Read the full report

Informed CIO: Dollars & Sense: Virtual Desktop Infrastructure

Cut through the VDI hype and get the full picture -- including ROI and the impact on your Data Center -- to make an informed decision about your virtual desktop infrastructure deployments.
Read the full report